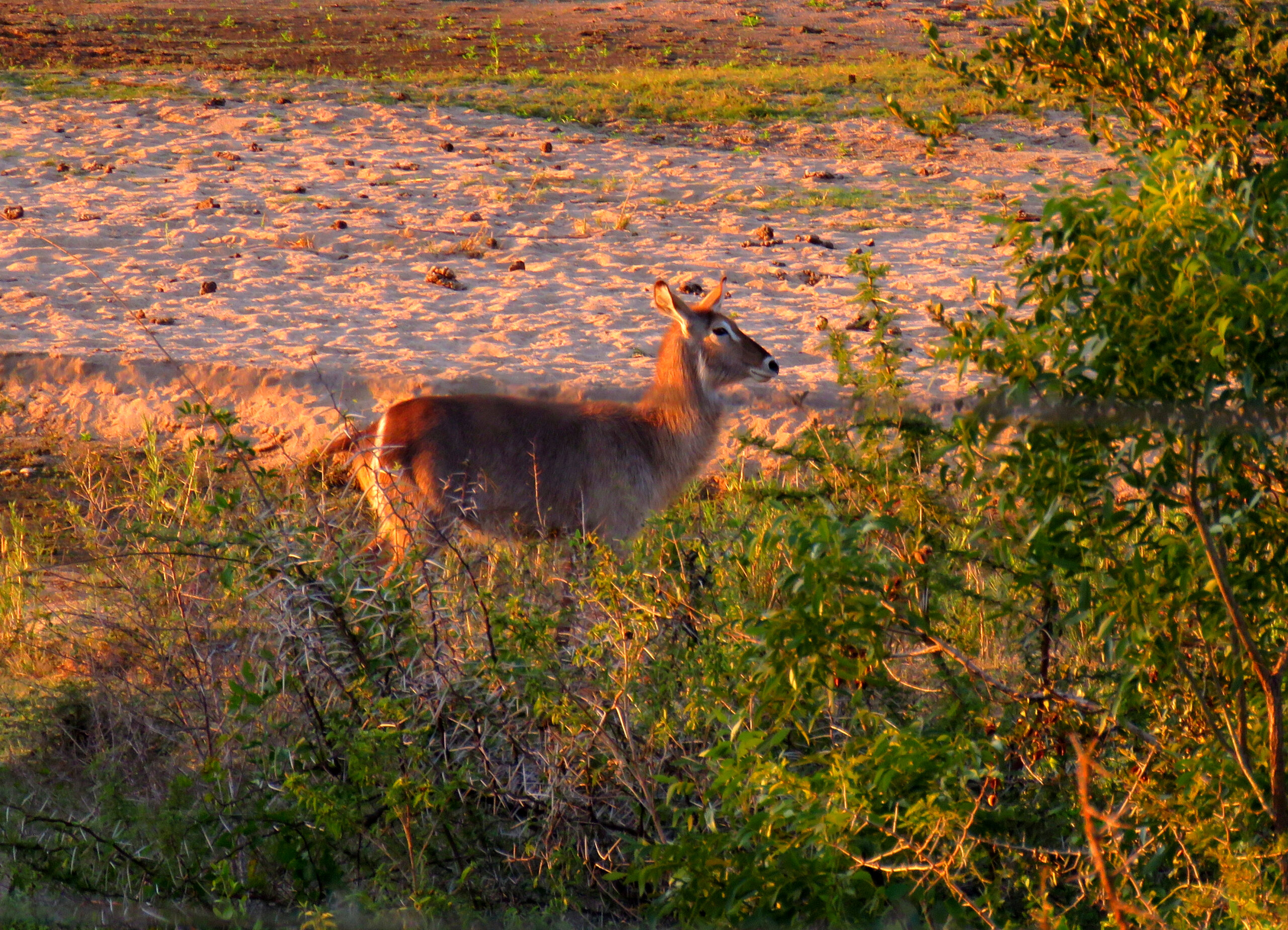 Who's in the garden this morning?
5 warthogs – inc. Lonely Girl, Fred and Ethel, and others
10 bushbucks – inc. Chewy, Thick Neck, Bad Leg, Spikey, and others
5 kudus – inc. Bossy and others
48 helmeted guinea-fowl
1 duiker
2 Frank and The Misses
Yesterday, Rita and Gerhard picked us up at 3:00 pm, excited to show us their new vehicle, an upscale 4-door Toyota pickup known as a bakkie in South Africa. They couldn't have been more thrilled with their purchase, and we shared the excitement with them.
The ride to the Crocodile River in this four-wheel-drive vehicle was comfortable on the bumpy dirt roads in Marloth Park, compared to the cheap small car rentals we hire when more smooth riding vehicles are three times the cost of what we're willing to pay. Unfortunately, the cost of car rentals throughout the world has increased outrageously over the past year of the pandemic, as have many travel-related expenses.
You'd think that the prices of travel-related venues and services would be a little lower to encourage hesitant travelers to begin booking again after this long haul. But, no, the prices continue to climb, which ultimately will impact the future of the travel industry.
Once we arrived at the river, we pulled out our camping chairs, arranging them in a tight row to leave room for others who'd come to the river hoping for exciting sightings. It was busier at Two Trees than we'd seen in a long time. Louise told us that bookings were up, mainly with South Africans, who longed to get out to the bush from the bigger cities in South Africa.
Few guests were international. For most travelers, flying into South Africa is not appealing at this time, with the Covid variants, increased cases lately, and the lack of available vaccines. We've yet to hear back on an opportunity for booking the vaccine in South Africa. However, our friends Linda and Ken, living in Johannesburg, did manage to get called for the first jab.
But, we've yet to hear of anyone getting vaccinated in this more remote area, other than healthcare professionals. We doubt we'll listen to anything before we leave in 16 days to head to the US, where we feel confident we'll be able to get the jab, now that walk-ins are available at some locations in Minnesota.
After the river, around 4:45, we left, and Rita and Gerhard dropped us off at our house, where we picked up our car and followed them to Jabula for dinner. Tom suggested we drive ourselves to avoid them having to backtrack to take us home at the end of the night. It all worked out fine, and we reached Jabula at 5:30, with plenty of time for fun at the bar and dinner shortly after that.
For a Saturday night, it wasn't as busy as it had been pre-Covid. The four of us sat at the bar, chatting among ourselves and others, and by 6:30, our meals were ready, and we headed to our usual table on the veranda. It wasn't as cold as it had been a week earlier, and we all thoroughly enjoyed our delicious meals and the lively conversation.
We'll be busy getting ready for guests coming for dinner tomorrow, including Don (of Kathy and Don), Rita, and Gerhard. Kathy will arrive in Marloth Park a few weeks before returning from the US at the end of July. Even more, fun social times are on the horizon!
Have a fantastic Sunday! We plan to!
Photo from one year ago today, June 13, 2020:
Us in front of one of the most exciting ruins of Ephesus Jordan on this date in 2013. For more year-ago photos, please click here.