One of the Big Five, the Leopard, was one of our early sightings.  They are nocturnal.  This photo was taken midday, a rare treat.  During early evening we had several other sightings
which we'll post as we move along.
Upon arriving at the landing strip (no building) in the village of Kichwa, Kenya, we were greeted by our guide Anderson, a native of the area, a man of great character and knowledge. 

The photos presented today were all taken in the first 90 minutes as Anderson, our amazing guide, took us on safari while we waited for a flight to arrive at the landing strip to pick up another couple.
He kept apologizing for the inconvenience of us having to wait for 90 minutes insisting that he takes us out to get a glimpse of what was yet to come.
Warthogs are funny creatures always on the run, snorting along the way.
They seem as if they are rushing to "get to work." They were oblivious to our
vehicles, stares, and photo-taking, other than occasionally stopping for a decent pose.
Warthog babies running behind their mother. Watching their little legs rapidly
scurrying
along beside her was quite the laughter evoking experience. 
Those first 90 minutes alone with Anderson set the pace for what proved to be the most awe-inspiring days in our travels, if not in our lives.
The only time we exited the Toyota Land Cruiser vehicle in the entire three days on safari was with Anderson that morning during those 90 minutes, as he often held my hand, as we quietly and quickly searched on foot for many of the following sightings. Never again, after the others had joined us, did we exit the vehicle other than to "check the tire pressure" and for two, picnic breakfasts, once with four of us, another time with six.
Whatever inspired Anderson to feel comfortable taking us out of the vehicle during those first 90 minutes escapes us. But, we couldn't have been more thrilled about this private experience that we'll never forget.
Somehow, we managed to keep up the pace with him on the fast trek over often rocky and steep terrain as we maneuvered around a massive beehive, quietly watching within a short distance of hungry crocodiles. 
"WOW," Tom continues to say. And, of course, I continue to agree.
We were up on a hill when we looked down to see these crocodiles.  How exciting it was to be so close.
Often travelers post all of their photos on one of those sites giving others access able to peruse them at their leisure or, not.
The Topi is indigenous only to the Masai Mara. The locals refer to them as wearing "blue jeans" on the back legs and yellow socks on their feet. These graceful animals o
ften fall prey to the alligators, lions, and cheetahs, all carnivorous. Most animals are herbivores or carnivores and will fight to the death if threatened, leaving the remains for vultures. Most animals in the "cat" family only eat fresh kill.
Topi, full-on. There are numerous animals in the deer/antelope family in the Masai Mara.
When we began writing this blog in March 2012, our intent was to share a "blow by blow" journal with photos, rather than posting hundreds of photos at once.
This is a different angle of photo already shown, but one we saw in our first 90-minute drive, along with Anderson, as we waited for Cindy and David's flight to arrive.
This huge 15-foot croc had
captured an impala. With Anderson's walkie

talkie,
he was alerted when their plane landed. 
While on safari we had hoped to post photos in real-time using our MiFi or Hotspot and laptops while in the vehicle.
U
nfortunately, after attempting to do so, we discovered that in the Masai Mara, contrary to what we'd heard, the signal is either non-existent or too poor for uploading photos.
Hippos are huge, dangerous, and fun to watch. At night, with our tent only a few feet from the river, we could hear
their funny sounds.We found ourselves laughing in the middle of the night when
a loud series of snorts wafted through the air.
This hippo
was sniffing the ground
while the other hippos were napping on the shore.
We were in the vehicle taking this photo. This hippo wasn't happy with an
injury on her left shoulder. See the photo below for a closer shot of her injury.
It appears to be healing well.  The Masai Mara has veterinarians that will treat certain animal
injuries but not all. Many, huge in numbers, are left as food for the scavengers.
We observed
thoroughly picked clean carcasses. The rangers gather the largest skulls returning
them to the entrance gate placing them in a neat
pile for visitors to see. 
The Masai Mara is uncluttered. There's no trash to be seen
anywhere.
The reverence the locals and visitors have for the wildlife, the vegetation, and
the surroundings are astounding.
Please note that our intent has always been to take great photos.  The glare of the sun, the bouncy conditions, the fleeting animals, the distances from animals at times made it difficult to get a good photo.
This amateur photographer using a lightweight, although reliable camera is unable to carry a professional-type camera with multiple lenses, due to a bad shoulder and the airline weight restrictions, did the very best possible.Tom also managed to take some good shots.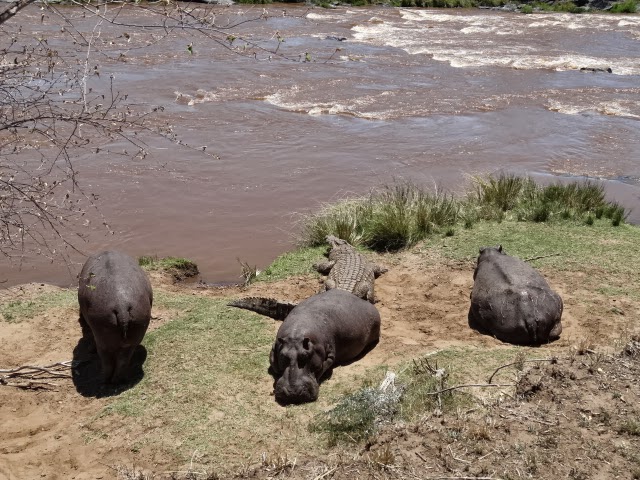 Hippos, vegetarians, aren't interested in the crocs and crocs apparently aren't interested
in attempting to eat a hippo. In the wild, it's interesting witnessing first
hand, how animals are able to determine which animals are too massive
for them to
kill for food. In this case, they hang out together never
giving it a second thought. We
were standing on this ridge as shown. This photo is not zoomed in.
I had to cover
my mouth with my hand to keep from squealing.
Here's a better shot of the above, sniffing hippo. We were so excited, w
e could
hardly hold our two cameras steady.
Posting almost daily, we do not edit or improve our photos other than to remove power lines when obstructing a good scene,  (We saw no power lines in the Masai Mara).
Otherwise, you see our photos exactly as we see them the moment they're uploaded from the camera to my laptop. If we didn't post almost every day, there would be more time to edit photos. 
So, we continue…
The black and white stripes on the backside of this dainty impalas are an
indication of
the impala. They daintily leap through the air as they run. 
There are dozens
of species in the deer/antelope family in the Masai Mara.
Anderson was angry to see these visitors being taken out on horseback, a rare occurrence
in the Masai Mara.
With the number of dangerous animals often frightened of horses, one could easily charge
a horse putting the rider and horse in a life-threatening situation.
Anderson explained that all recent tourist deaths in the Maasai Mara are a result
of uncontrollable visitors taking unnecessary risks, resulting in serious injury and death.
There's 
no nearby hospital.
The Red-Billed Bird is this bird's actual name. In-flight it's wingspan is exquisite.
Unfortunately, I wasn't quick enough to catch it in flight.
The Secretary Bird, fairly common in the Masai Mara got its name from
the use of its quills used as writing instruments in times past.
Anderson's warmth and desire for us to have a fulfilling experience were more than we could ever have expected, never to disappoint. Instead, he proved himself as the true "animal whisperer" helping us find and photograph The Big Five as shared in yesterday's post in the first 10 hours on safari, a feat few guides can accomplish. 
His eagle eye and innate sense of what was in the distance inspired him to step on the gas and safely maneuver to the scene of the next incredible find. Driving with gusto he was totally in control over the bumpy terrain. We held on with our hearts pounding over what we'd see next. Anderson's determination to get us up close and personal made it possible for us to have the time of our lives.
It was difficult to wrap our brains around being so close to these massive
animals. Although relatively gentle, they seldom attack humans in the wild
unless provoked or if their babies are at risk. At times, they walked
right in front of our vehicle in order to cross the road. We were never afraid
as we sat motionlessly and waited quietly for them to pass. This is their home.
We're the intruders.
Please keep in mind that I am saving already posted photos in a separate folder. However, when on safari one may take several variations of a shot. My hope is that I don't duplicate any photos, but at times, I may, in order to reiterate an important aspect of the safari. 
Vultures travel in packs, anxious to spot the remains of any carcasses
left
by the
carnivorous animals.
The Mara River, 245 miles long, winds through the Maasai Mara in Kenya continuing on to Tanzania when it dumps into  Lake Victoria in Zimbabwe. Over 2 million wildebeest cross the river at various points during
The Great Migration from the Serengeti in Tanzania to the Masai Mara in Kenya and then back when the rains end. 
We missed the big event with little disappointment when we had the
opportunity to see the wide array of animals that
live in the Maasai Mara year-round. Anderson, aware that we had originally hoped to see the Great Migration,
drove us to
Tanzania to see the tail end
over the rockiest roads on the planet, through water-filled creeks and washed out roads. What an adventure! 
We'll also share this story with photos as we progress over the next several days.
The Cape Buffalo, in this case, "A Retired General," often resided in groups with other such banished males. More photos and details in a later post.
If I know a photo is a repeat I will tell you in the captions. Although, with over 600 photos taken in three days, I could easily make an error. Please slough it off. I have to do just that or I'd make myself crazy, impinging upon the inordinate amount of fun I have writing here.
 
What we witnessed in that 90 minutes set the pace for the remaining 20 hours we spent riding in that open-sided Toyota Land Cruiser. At no point, did we ever feel we'd seen any particular animal too many times?  At each viewing, our eyes widened in wonder. Tom kept commenting on how I never wiped the smile off of my face. Then again, nor did he.
Tomorrow, we'll continue on with our story as to our welcomed arrival at Olonana Sanctuary Retreats with photos of our accommodations, the grounds, the lodge, and more.
If you get a minute, please stop back…