Last night, we had a human visitor, Alan Holmes, whom we'd never met in prior visits to Marloth Park. Alan is a prolific writer with popular books about his life, South Africa, Marloth Park, and the bush. His anecdotal stories and "musings" have become popular and revered by readers of his books and hundreds of Facebook followers, which is where we first found Alan.
Louise and Danie suggested he meet us based on our common interests, and they were so right. We easily social-distanced at our big table on the veranda, enjoying animated conversations, beverages, biltong, and cheese. After last evening's get-together, we knew we'd made a new friend in Marloth Park and look forward to many more social times in the bush.
Of course, the highlight of the evening was the opportunity to share our stories, each rich in adventure, riddled with life challenges, and ultimately interspersed with a positive approach. This commonality made the conversation flow with ease and interest as we each shared treasured morsels of our experiences over the years.
Sadly, Alan lost his dear wife Ann-Jeanette in August 2019 after contracting malaria while here in Marloth Park. He struggled to survive, but Ann-Jeanette couldn't overcome the ravages of the disease. With a solid emotional base and time to recover from such a heartbreaking loss, Alan has come out on the other side, full of hope for the future. He continues to write voraciously and share his gentle musings regularly on Facebook and in new books.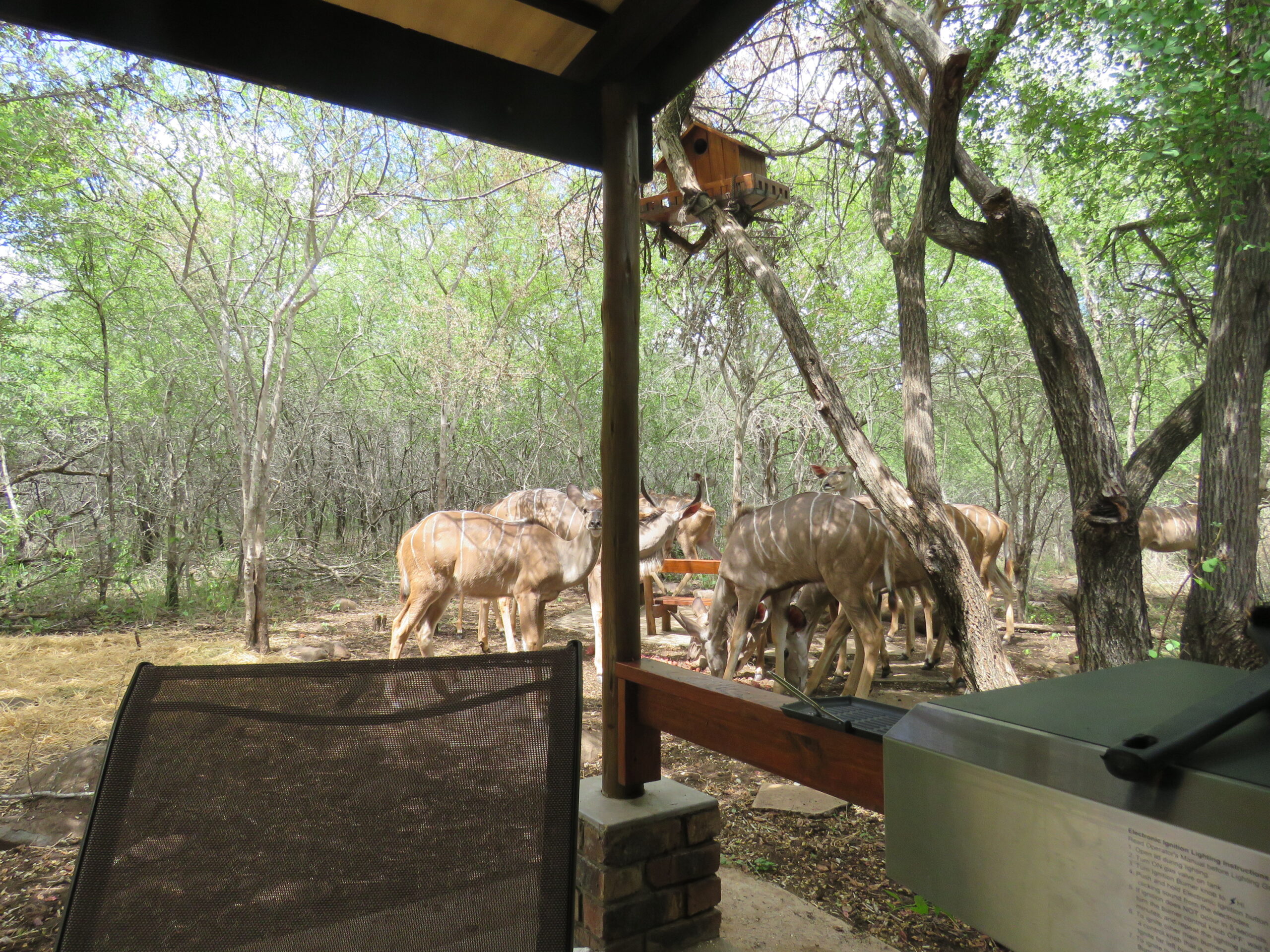 When I wrote to Alan this morning asking to write about him in today's post, he kindly wrote the following, quoted with his permission.
"Hi, Jessica. Wow! Instant international fame!! I have self-published three books. The first is an autobiography of what I thought was an unusual life until I met you and Tom! The second is titled "Memories of Paradise," written just before Covid when I thought I would never return to Marloth Park because of the danger of malaria.
"The third book is "Marloth Park – a User's Guide" which is still available at both supermarkets in Marloth Park and Daisy's Den. There are more copies of those last two printed and on their way to the park. I will reprint the first book "abNormal" – the Holmes family story once I've given it a re-edit and cleanup.
My current book, ready for the printers next week, is titled "Musings and Memories" and is a collection of writings expressing my (somewhat controversial) views on life and people. It will be on sale in time for Valentine's day (that's the plan!). All the books are available directly from me in hard copy, or very soon as a pdf for a much lower price than the printed versions. Thank you for the exposure!"
To order books or chat with Alan, he can be reached at the following:
WhatsApp: +27 11 72 923 8923
Email: holmesat@gmail.com
And, we thank Alan for the opportunity for us to share his story here today. One of the wonders of being in Marloth Park, besides the exquisite joys of the wildlife and scenery, is the ease with which we've been able to make friends. We've been welcomed with open arms by permanent property owners, occasionally visiting property owners and visitors from all over the world.
We continue to feel blessed and in awe of this magical place and its many human and animal wonders.
Be well. Stay safe. Let's all look out for one another! Please wear your mask covering both your mouth and your nose in the shops and public places.
Photo from one year ago today, January 28, 2020:
Three years ago today, this elephant seal on Steeple Jason Island in Antarctica didn't care for our photo-taking antics. For more photos from that date, please click here. For the year-ago post, please click here.