Note: The issue with the automatic email posts arriving in your inbox continues. It began once we arrived in the U.S., almost two weeks ago. That should not have caused the problem. Our web people in India are still trying to figure it out. Until they do, I will send the posts manually with a few clicks in the back admin area. We apologize for the inconvenience.
Good morning, everyone! In only two days, we're off to Fort Lauderdale to board our cruise, Celebrity Silhouette, for the transatlantic crossing. Of course, we are very excited to be out to sea once again after a 29-month hiatus, all due to the pandemic.
I am in a bit of a rush this morning since we need to be out the door this morning in a little over an hour. Tom took today's sunrise photos from the veranda off our bedroom this morning, making the photo portion of today's post easy. I should mention that yesterday's sunset photos were all taken by Karen. We've all been so busy yakking at sunset we've hardly noticed to take photos. It's been quite fun being here with Karen and Rich.
Last night we all had homemade pizza using a new crust recipe Karen found made with ground chicken, although the recipe below suggests shredded chicken. It seems ground chicken is easier to use. It was delicious. We used our favorite toppings, not those listed in the recipe. See here for details.
We made enough pizza to last two nights, so tonight we can have it again after Tom, and I have been out most of the day wrapping up items we need for the cruises and getting our Covid tests this morning at CVS Pharmacy. My appointment is coming up in 40 minutes, so we need to be on the move shortly.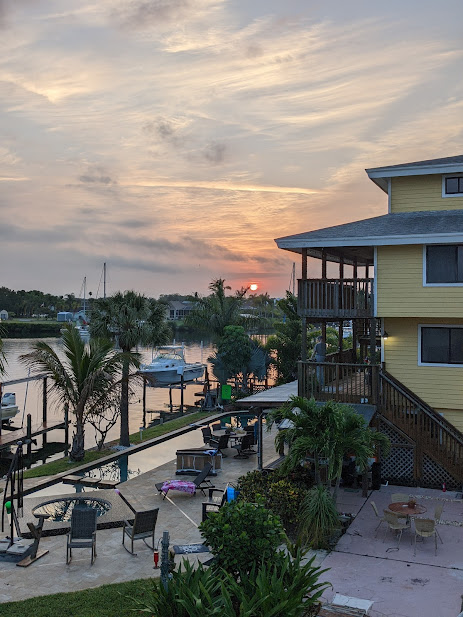 Also, today, we're picking up Tom's suit, making a trip to Target and Skechers for another pair of their comfy walking shoes. I purchased one pair so far but will need another to last me through the year we'll spend in Africa. I am purchasing many items I can't find there. It all adds to our luggage weight which will only be an issue when we fly from New York to Minneapolis and then to Las Vegas beginning on May 1st.
We will have to pay for additional bags since those two flights are domestic. But once we head back to South Africa, we won't have to pay for added bags since we are each allowed two -23 kg (50-pound bags) due to international flights.
Tom just came downstairs after showering. We need to hurry at this point. Back at you soon! Have a great day!
Photo from one year ago today, April 6, 2021: