It's been raining for weeks with an occasional sunny or cloudy-rain-free day in the mix. As of today, we have been in Marloth Park for one entire month, and it's rained more days than we can count. According to this website, there is considerably more rain on the horizon. Once February ends, the weather should begin to cool down, and most likely, we'll see more sunny days.
We're looking forward to the cooler days and nights.
Of course, we can't complain about the rain when it's so vital for sustenance for the wildlife, which is more important to us than our convenience and appreciation for sunny days. Unfortunately, as we've mentioned, the rains keep the wildlife tucked away in the bush, protected from the pelting rain, and we rarely see many of them during these rainy days and nights.
Yesterday, we had a few visitors, including a few warthogs such as Fred and Ethel, One Wart, and Mom & Babies. They were excited for some pellets, not easy to eat on the muddy ground. Of course, we've continued to toss seed to Ms. Dove and Frank, the Misses and the Kids throughout these rainy days. Now, with the rain taking a reprieve and the sun peeking out, we hope to see them, and others, soon.
A fantastic thing about wildlife, not unlike some humans, they can predict that upcoming inclement weather is on the horizon and may stay hunkered down until the storms have passed. All we can do is wait it out. When I picked up the camera to see how many photos to upload today, there was none, after yesterday's non-stop rain. Today, we'll use the many photos we'd yet to share, being stored on a flash drive.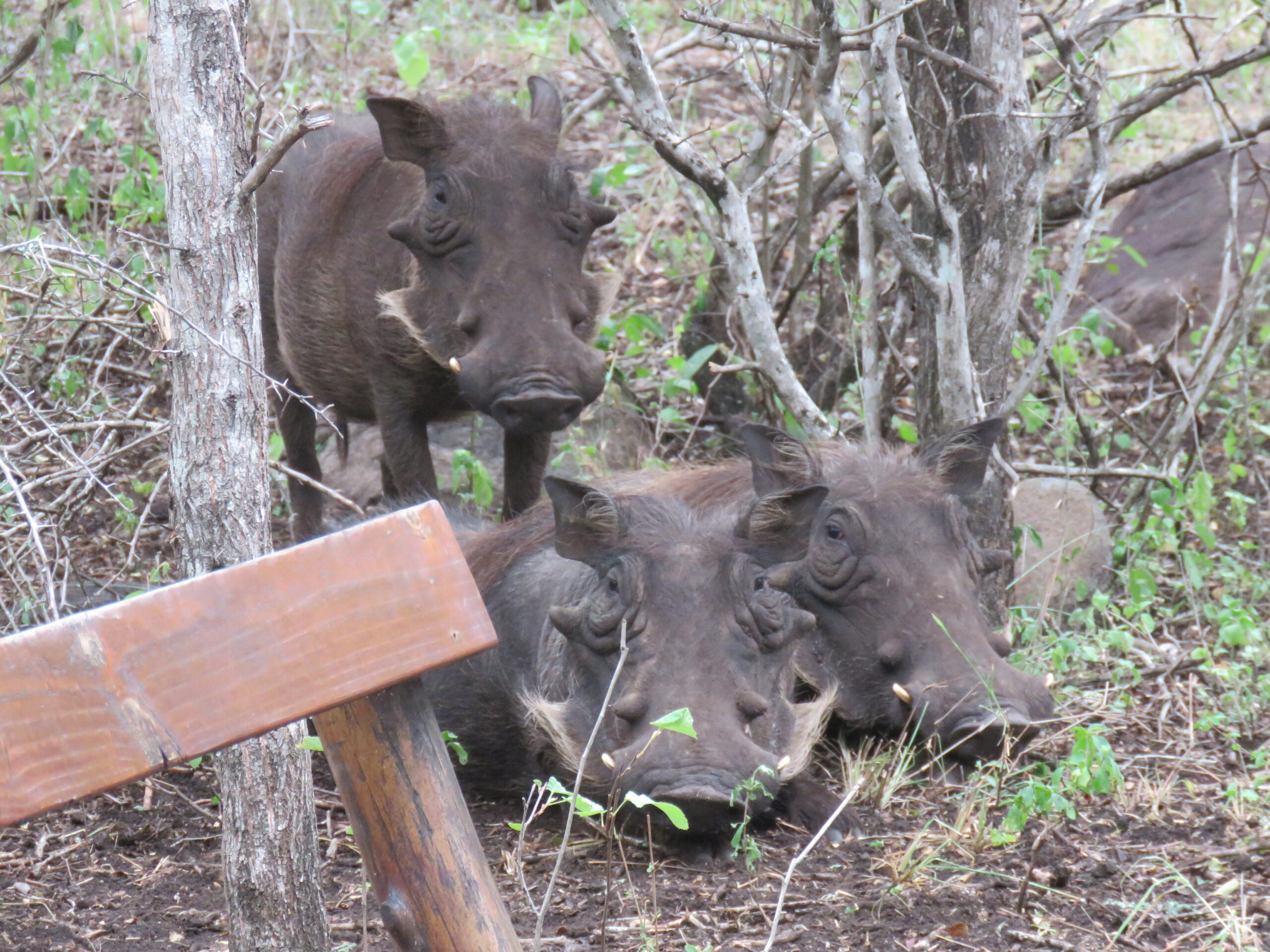 Recently, I decided to stop saving every photo we take to the Cloud. We post those we prefer online and ditch the rest. There's no point in paying for cloud storage for the thousands of photos we take each year, photos we may never notice again when our favorites are on our site.
I spoke too soon. I just picked up my head to find Mr. Bushbuck in the garden. Tom couldn't jump up quickly enough to get him some pellets he tossed close to him in the garden. Although male bushbucks all seem to look alike, we can easily determine our regulars in a particular species and others based on their unique markings.
It's no different if you had two purebred dogs of an identical breed from the same parents. They each possess their unique markings, making it easy to determine who is who. The trick is for us to take the time to learn their distinctive markings and nuances to tell one from another. It becomes an essential factor in our enjoyment of living in the bush and the familiarity of the wildlife when they frequently stop by.
Last night, at midnight, I took the last of those darned powerful antibiotics. Following Monday, we'll return to Dr. Luzaan for more x-rays to determine if they worked. We're hoping so after this rough past week. If not, Plan B, an appointment with the dental surgeon in Malelane, will be necessary. We shall see.
Now, I'll wait three days for the drugs to leave my system and hopefully feel better. Not drinking wine this past week didn't bother me, especially after we hadn't had a drink during the ten months in the hotel room in Mumbai. Also, Tom didn't do any sundowners either during this period, other than the night Uschi and Evan stopped by on Thursday.
Today, with the roads so muddy and me still under the weather, we'll stay put. We'll prepare a nice dinner, and in the evening, we'll hunker down ourselves, stream a few shows on Netflix, Amazon, or Hulu, doing what many do on quiet weekend nights. We'd hoped to head to Komatipoort on Monday for a few items, but we have enough food to last us until the following Monday when we return to the dentist. It's just not fun driving on the muddy roads and in the pouring rain. We have all the time in the world.
May you have a pleasant weekend as well.
Photo from one year ago today, February 13, 2020:
There were no photos posted on this date when we were on a full-day road trip in India. Please check back for more tomorrow.