We are at the United gate at Las Vegas McCarren Airport, waiting to board our new flight in a few hours. Yesterday afternoon, I got a text on my phone stating that our 7:00 am flight to Newark was canceled, and the new flight would depart at 10:28 am. We got excited about the change, which meant we wouldn't have to get up at 3:00 am to get to the airport three hours early, as required, by 4:00 am.
The message stated that we'd have to book different seats on the new flight. Immediately, we checked online, only to find two seats left, one a window and another a middle seat in different rows, both of which we don't like. We both prefer aisle seats and had previously booked our seats across the aisle from one another. But, this leg of our journey is slightly less than five hours, and we can manage this situation.
Unbelievably, United doesn't credit passengers for their previous seat purchases when flights change. We'd paid extra on the old flight for better seats but had to take the two lousy seats that were available without the possibility of a refund. Go figure. They get you coming and going, duh, literally.
This morning, another text arrived stating the flight would be departing until 10:55 am, a change that didn't make a difference to us one way or another. We'd already arranged our ride to the airport, and it was too late to change it. We were scheduled to be picked up by the limo at 7:00 am, but then, at 6:25, I received a text from the driver that he had arrived and if we were ready to go.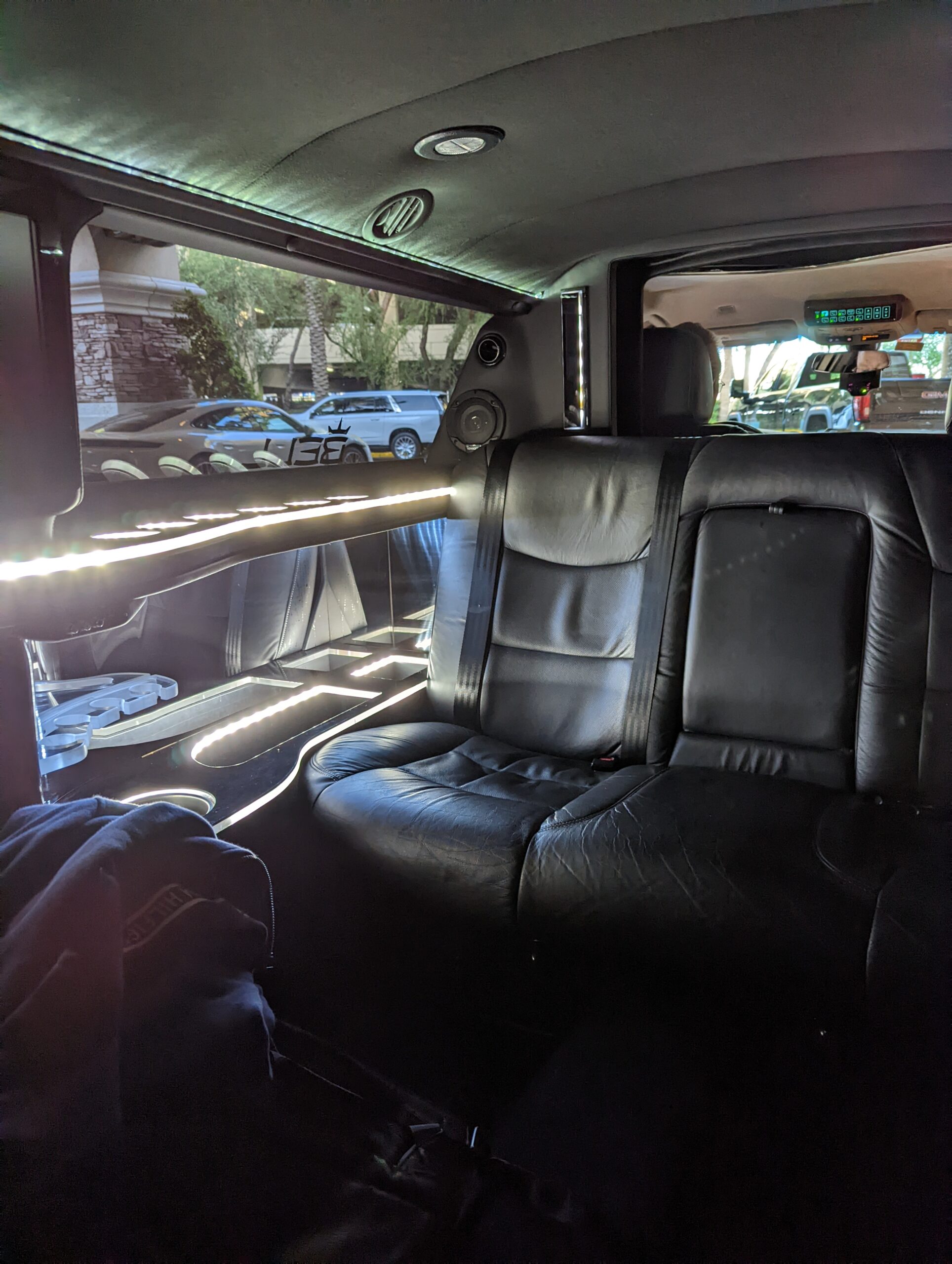 We figured we'd either be waiting in the hotel lobby or at the airport. That was fine. By 6:40, our bags were loaded, and we were in the limo on the short 12-minute drive to the airport. The cost for the limo with tip was US $100. But, with this big festival going on in Las Vegas, there were no Ubers, Lyfts, or taxis available. We had no choice but to take the limo at four times the cost of a taxi. We felt we were lucky to get a ride at all. We weren't about to complain about that.
Little did we know the driver would arrive in a black stretch limo. Gosh, I can't recall the last time I rode in one of those. Riding in a limo has never been important to either of us. But I couldn't resist taking a few photos. At least I'd have something to add to today's post when the photo ops were slim. It was a far cry from the small rental car we'll be driving on the N4 from Nelspruit/Mpumalanga/Kruger Airport when we arrive in two days. As long as we have transportation, we don't give it much thought.
Once we arrived at the airport, we discovered curbside check-in for United. But the rep explained that due to our international connection, we'd have to go to the ticket counter for United, using the kiosk to get our bags checked, receive our boarding passes, scan our passports and show our PCR test.
The kindly reps at the kiosk who assisted passengers were unaware that South Africa doesn't allow entry from US passengers with only a CDC white vaccination card. When we showed them the comments on entry restrictions on their screen, which clearly stated that PCR or Antigen tests were required and CDC cards alone wouldn't do, they were shocked. They had no idea. They said many passengers scheduled for flights for South Africa were in for a big surprise.
It was Tom who found this new requirement online. The reps were surprised we found the small print about the change in this requirement. What a nightmare that could have been.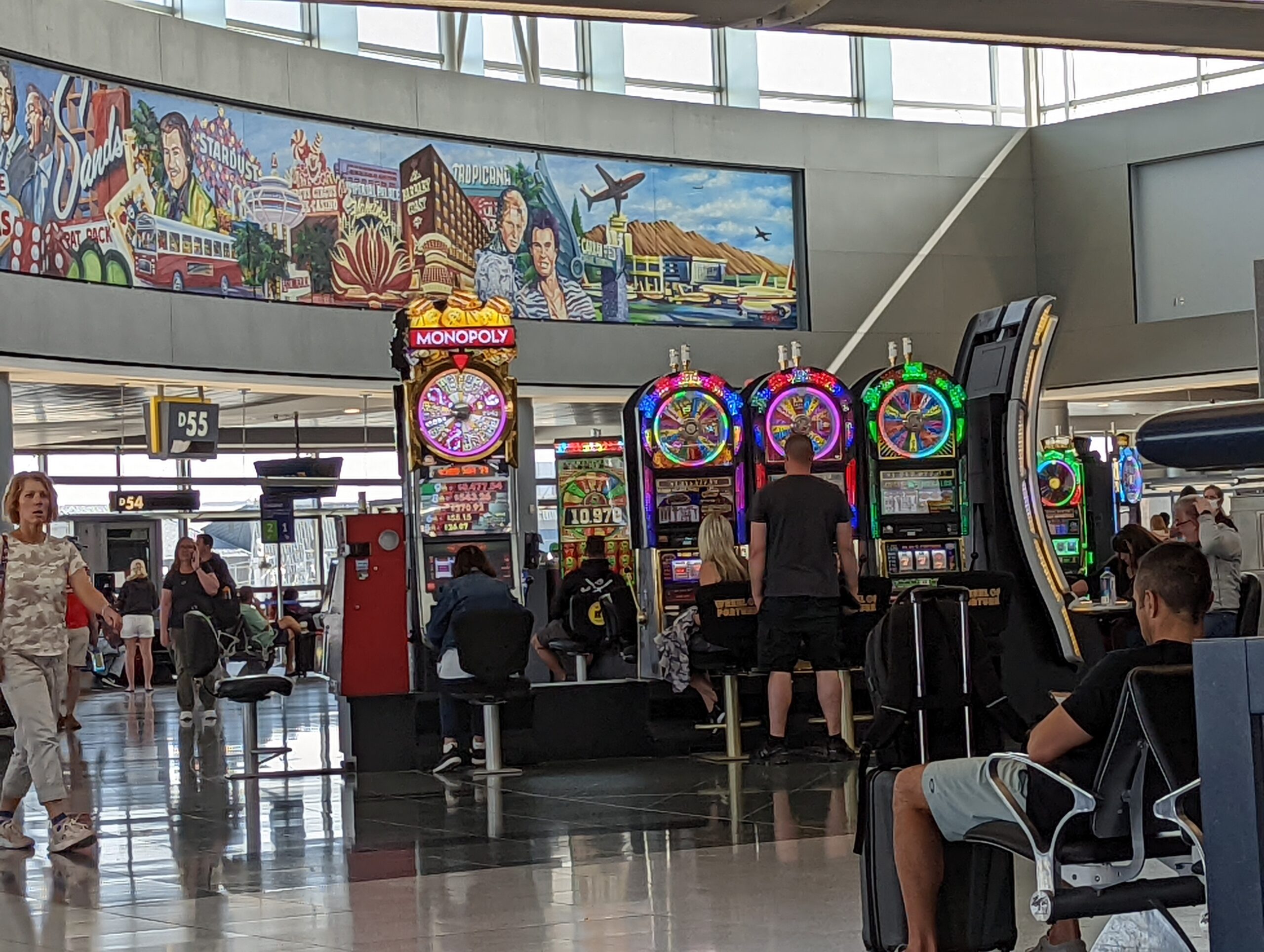 Then, our bags were then whisked away to the check-in counter, where they were weighed. All four of our checked bags, none of which required payment for an international flight, were weighed and none were overweight. We had weighed all of them in our hotel room on our travel scale, which miraculously has lasted for over 9½ years.
We breezed through security and made our way to the gate, where we are still sitting with my phone plugged into the charger on the seat. By the time we get on the plane, my phone and this laptop will be 100% charged. Apparently, based on the new location of our seats on this first flight, there are no plug-ins for devices. Good grief.
With only a two-hour layover in Newark, based on the flight cancellation, we are grateful for, as opposed to the previous six-plus-hour layover, I wouldn't have had time to do today's post. Since we arrived at the Las Vegas airport so early, I had ample time to upload a post. There are slot machines about 20 feet from us, but we don't play.
Tom offered to get me a cup of decaf coffee, but after waiting in line at a Starbucks, he discovered they didn't sell decaf. That's weird. I'll wait and have coffee on the plane in about two hours.
Ah, dear readers, this has been one long and difficult time in the US. We saw son Greg and the three grandchildren in Minneapolis for about 20 minutes while seated in the rental car with masks on while they kept back about 10 feet from the vehicle. We never saw Richard in Las Vegas/Henderson since we were still coughing. We wonder if Covid-19 will ever go away and if the visiting family will be possible.
The next time we write will be when we arrive in Johannesburg on Monday, after the 15 hour red eye where we'll spend part of the night at the airport hotel, trying to catch up on some sleep.
See you next time.
Be well.
Photo from one year ago today. May 22. 2021: