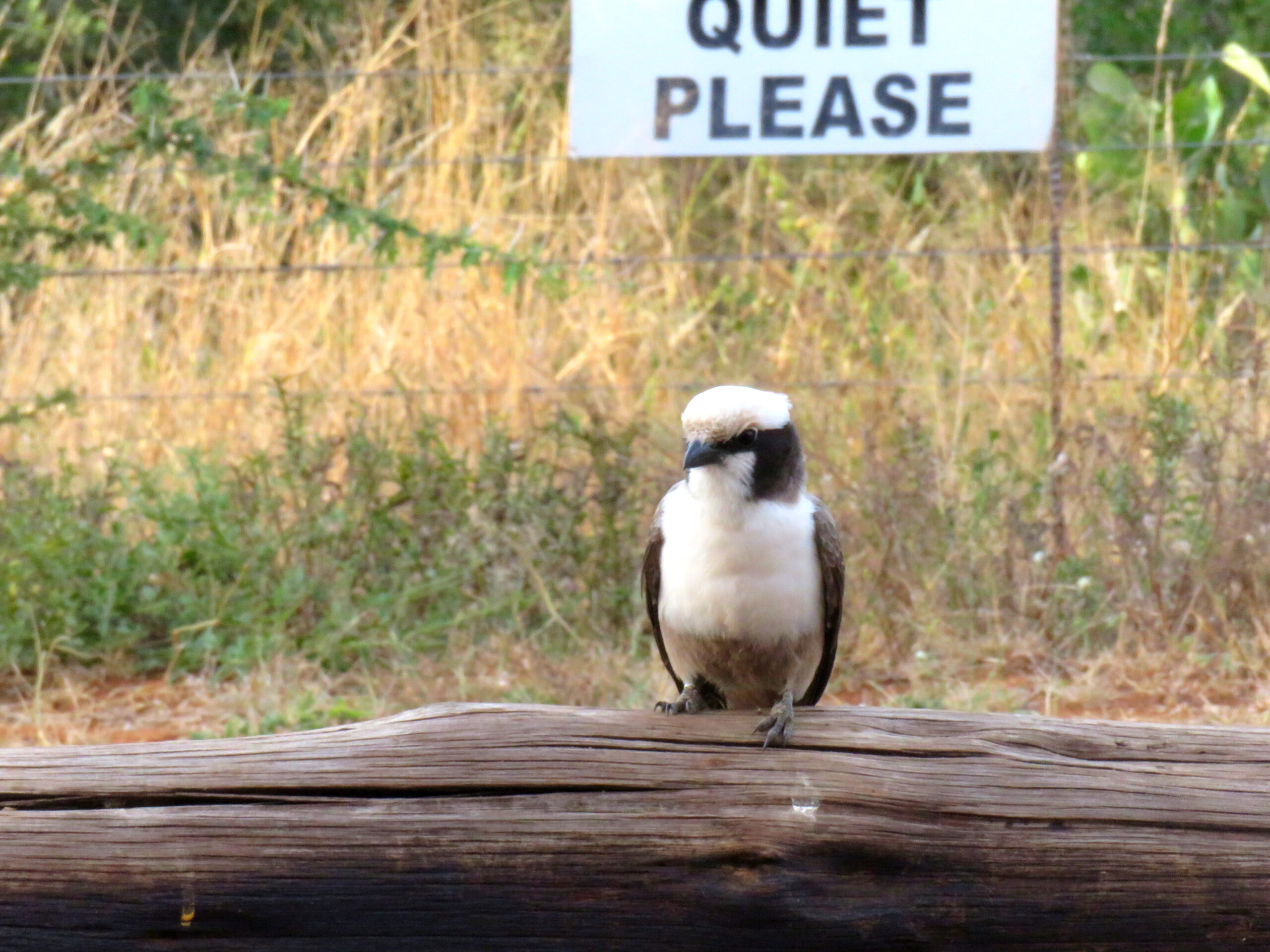 Who's in the garden this morning?
1 wildebeest
7 warthogs
9 bushbucks
42 helmeted guinea-fowls
Frank and The Misses
74 mongoose (two bands)
It's blissfully cool today. Tom is wearing a heavy zip hoodie, and I am wearing a long-sleeved tee-shirt. As always, we're on the veranda savoring every moment in the bush. First thing this morning, I cut up apples, carrots, cabbage for the animals, small separate pieces for the bushbucks and duikers, and larger chunks for the wildebeests, kudus, and warthogs.
When wildebeest, Broken Horn, stopped by, we tossed pellets and vegetables to him along with a few larger pieces of carrots. He ate everything but oddly left a big part of a carrot. We were concerned one of the lingering bushbucks would try to eat this oversized chunk of carrot.
Moments later, a warthog appeared and ate the majority of the carrots, leaving a small piece that fell out of his mouth that he didn't happen to notice. Within minutes, a bushbuck appeared and managed to eat the small piece. Nature is amazing. We'll never toss out vegetables for the larger animals unless we're watching what's going on to ensure there is no risk for the smaller animals choking on larger pieces.
It takes a lot of time and effort to cut up carrots into tiny pieces. Regardless, I will cut up a small batch for the bushbucks and a larger batch for the others each morning. Timing is essential, especially when the pigs arrive when everything is wiped out in minutes. We wait and watch for them to leave, enabling us to feed the other animals.
It's been a busy morning so far. Just now, as I write this, Frank and The Misses arrived for a late breakfast. I jumped up to fill their two little containers with seeds and the other with water. A second ago, we heard a lion's roar from either Dezi or Fluffy, who live in Lionspruit, located at the far end of our garden.
When I went indoors to fill Frank's water container, I noticed Broken Horn resting in the driveway only a few meters from the car. Warthog Lonely Boy is sleeping in the garden while two bushbucks wander through the dense bush, waiting for the warthog to leave so they can have more food. It's a constant
Now, again as I write this, the helmeted guinea-fowls are back, and so is the mongoose that only 30 minutes ago, we'd given them Tom's bones from his rib dinner at Jabula last night and also enough pieces of paloney (yep, not a typo), sufficient for all of them to get a bite or two. Ten of them drank from the birdbath simultaneously. What a scene!
Speaking of Jabula Lodge and Restaurant, we certainly enjoyed ourselves last night at dinner with Rita and Gerhard. Tom and Gerhard had the ribs, and Rita and I had the delicious lamb shank, my new favorite at this fabulous restaurant. The Friday night ambiance was playful and fun, with music from Dawn and Leon's excellent playlist.
After dinner, the local hardware store owner, Erica, a long-time resident of Marloth Park, joined us for a lively and animated chat about places to visit in South Africa. As much as we love hearing about resorts and camps we "should" visit in South Africa, with the immigration factor always hanging over our heads, we hesitate to leave the bush where we are already so happy and fulfilled.
We've already stayed in many stunning resorts throughout the world, and honestly, right now, we aren't in the mood to stay anywhere that reminds us of a hotel unless we have to. Also, after a morning like this, it would be hard to break away for any reason other than getting our visas stamped.
Tonight, I am making taco salad for Tom. He's lost all the weight he needed to lose and certainly enjoys a special, although still low carb meal on occasions, including the vegetables that go with it. Tonight, I'll have chicken, a little ground beef without the taco seasonings and three eggs cooked in butter. No tortilla chips or hard-shelled taco bowls will be included.
Tonight will be a "movie night," and we'll hunker down after dinner on this very cool day and evening.
Be well.
Photo from one year ago today, May 22, 2020:
At every turn in Connemara, Ireland, the scenery was breathtaking. For more photos, please click here.