Easter was one of our favorite holidays in our old lives. We made Easter baskets for each family member and their pets in beautiful woven baskets with ribbons, name tags, and chock full of goodies suitable for each one. We'd line them up, usually about 17 or more baskets, on our huge dining room table, and most years, the kids and later grandchildren came to enjoy their personalized bounty.,
If the weather was terrible, which it often was most years, all of the activities occurred indoors, which never put a damper on it for any of us. We played games along with an Easter egg hunt, with decorated eggs and plastic eggs filled with money. After the festivities ended, we had the same brunch each year consisting of brunch egg flan, bacon, sausage, hash browns, fresh fruit, homemade muffins, or cinnamon rolls along with juices and coffee. It was quite a feast enjoyed by all.
Here is the link to our last Easter in Minnesota in 2012, before we began our year's long journey to travel the world.
Even after eating a keto diet in 2011, I made a few appropriate items perfect for me. Then again, it was only a year and a half later than we began our world journey, and Easter celebrations as we knew it no longer were a part of our life. Our adult children, by this point, had started to integrate their traditions into each of their respective families.
Of course, we miss everyone and certainly miss the celebration we spent days, if not weeks preparing for this special religious holiday. Amid all the pomp and circumstance, we never forgot the meaning of the celebration of Easter.
Today, nine years later, in this new life, what remains with us is the great memories and the observance of the spiritual significance. We don't prepare a special meal, especially since it's just the two of us and our way of eating. Tonight, we'll both have bun-less burgers with bacon, cheese, and white rice on the side for Tom. My side dish, most likely, will be hard-boiled or scrambled eggs on the side, a perfect option for us.
As usual, we'll dine on the veranda, watching nature as our source of entertainment, reveling in the wonders that surround us in the bush. No regrets. No sadness, just a pure and simple joy to be alive, together, and safe in this majestic wildlife paradise.
Sure, it would be great to be sharing this and other holidays with family and friends. But, we chose this life so long ago and continue to revel in its wonders, knowing there is still much world for us to explore in times to come, hopefully, when and if the pandemic settles down across the globe. Do we see this on the horizon?
Right now, it's impossible to predict. Even the so-called experts don't know when it could end, how long the vaccine will continue to provide protection, and when the world of travel will resume to its former "normal" patterns. We don't know.
We aren't sad at all being alone in the bush today on Easter. The weather is cool with a high of 82F, 27C with overcast skies, moderate humidity, and no breeze whatsoever. This morning, we've had a few visitors, primarily warthogs and bushbucks, who visit more often than any other wildlife. We can't go out for a drive to search for photo ops with the roads packed with tourists doing the same.
During the holiday seasons,  Kruger National Park is fully booked with appointments that are necessary to enter. In the few weeks, we'll get our Wild Card to enter Kruger at our leisure during off-peak times with no appointment required. During these first three months, we've never visited Kruger. With all the rain and muddy, impassable roads and many days where our entrance point of Crocodile Bridge was flooded, we never attempted to go. These next three months will be different.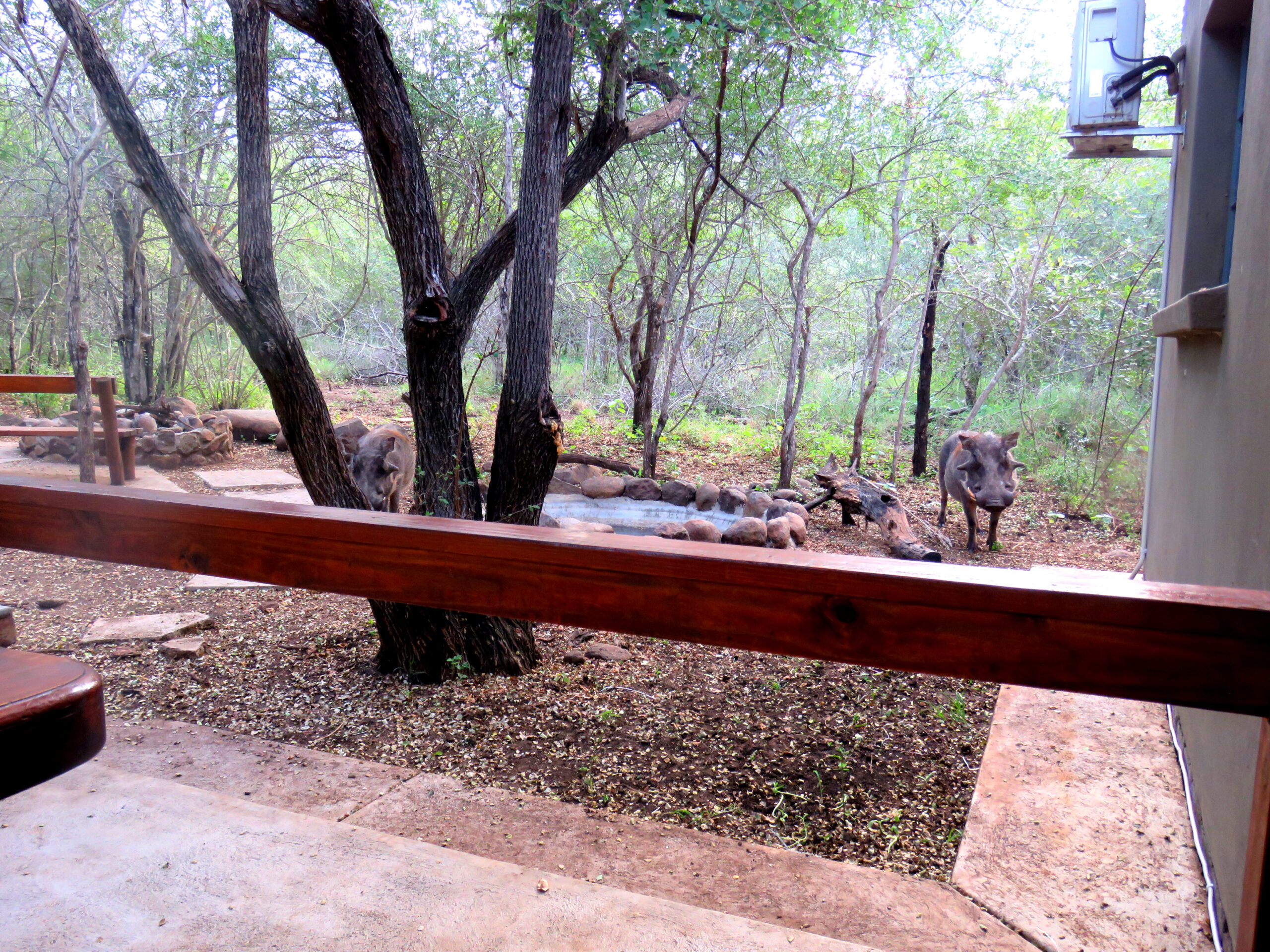 For some odd reason, we feel more settled in and at ease now with immigration issues not hanging over our heads at the moment and the comfort of knowing we can freely stay until June 30, 2021, without a problem. We've decided to wait until the last minute to see if President Cyril Ramphosa extends visas yet again in June. We can always get a flight out of here and back with only a few days of planning.
May all of you who celebrate Easter, Passover, and other holidays throughout the world this month have a pleasing and meaningful experience while you continue to stay safe and healthy.
 Photo from one year ago today, April 4, 2020.
While in Kauai, Hawaii on this date, five years ago, we speculated, based on appearance, that there's some sort of permanent pouch beneath this shedding skin of this Green Anole.  We had difficulty finding details on the shedding process of these lizards. For more on this post from six years ago on this date, please click here. For the year-ago post, please click here.