We thought of the above song released in 1975 by the Four Seasons this morning after discussing our fun evening last night at Jabula with Louise and Danie, her parents Estelle and Johan, and readers/new friends Marilyn and Gary. We sat at the same table on the veranda where we usually sat with friends Kathy and Don, Linda and Ken and Rita and Gerhard, and others from time to time.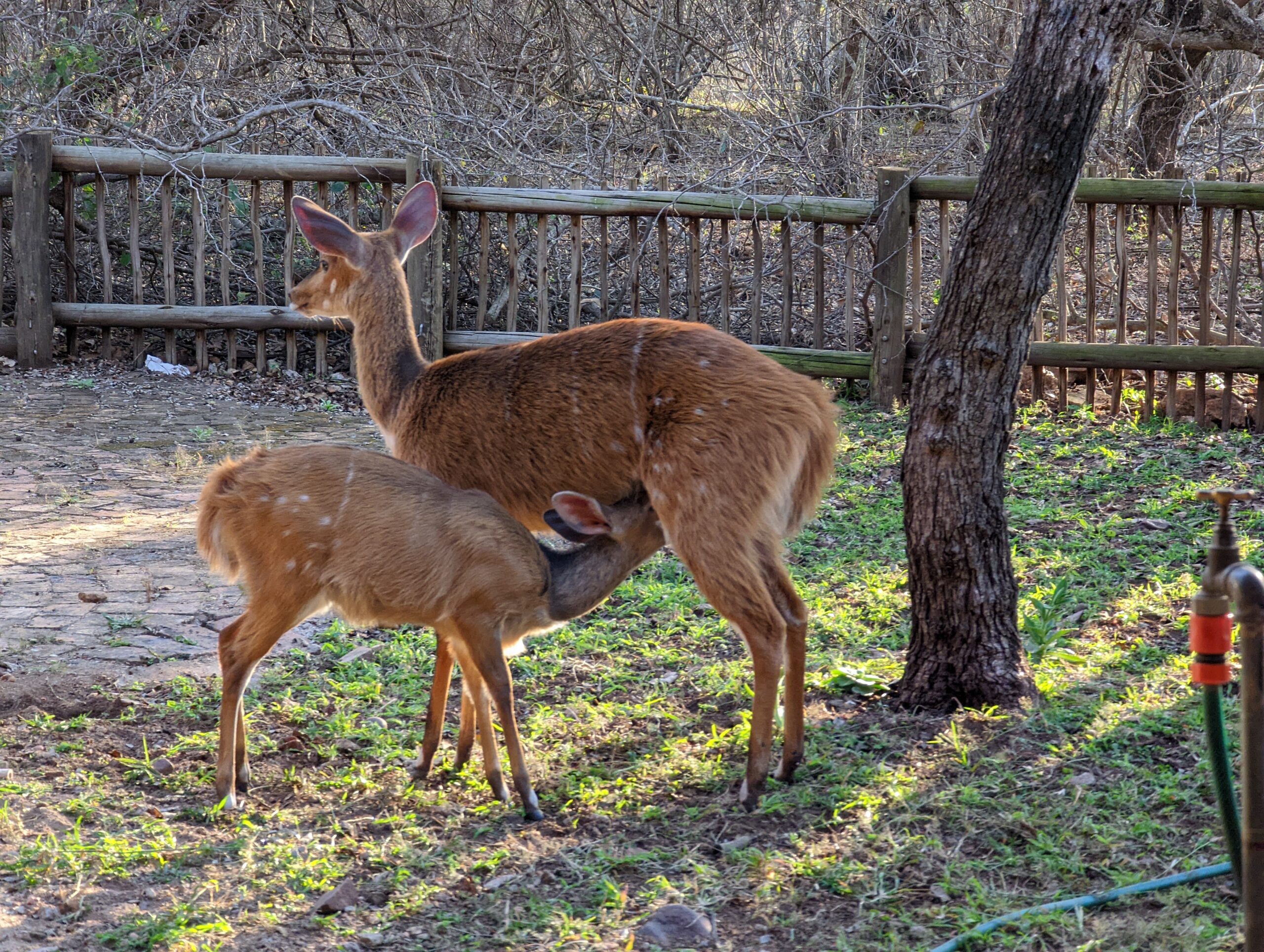 Speaking of Rita and Gerhard, we just heard from them, and they will arrive in Marloth Park tonight. We look forward to seeing them as soon as they are settled into the house on Hornbill, where they usually stay. They are stopping to shop in Nelspruit after the long drive from Johannesburg, with another hour's drive to Marloth Park. We are looking forward to seeing them soon.
Last night, the food was delicious, and the conversation was as lively as ever. There were times we were all talking at once and enjoying every moment. I know I kept interrupting Tom (sorry, Honey) to add to the stories he was telling, but he never seemed to mind. We often do this with one another, which makes us laugh.
It's funny, but Marilyn and Gary know us so well from reading our posts since 2012. There's hardly a story we can tell that they haven't read about. We love that aspect of our readers coming here to Marloth Park or anywhere else in the world we may be at any given time. It's like we've been friends forever. Now, all we have to do is spend more time getting to know them, which hopefully we'll be able to do over the next month they'll be here.
Today, we're staying in on yet another perfect-weather day. Tom just took off for Komatipoort to Spar to pick up a case of my low-alcohol (5.5%) wine we ordered. It is the best-tasting low-alcohol wine I've had. It's lower in alcohol than my usual Skinny Red, but I prefer it that way. It's probably more psychological than anything – I get the taste of wine without the resulting woozy feeling and never a hangover if I drink one or two glasses too many.
We could have waited to pick up the wine next when we shop, but Tom so thoughtfully offered to drive alone to Komati to pick it up so I'd have it for upcoming social events over the next week. I've been busy this morning, setting up bills to pay using online banking, tracking spending, and chopping and dicing tons of vegetables for tonight's planned dinner.
I am making a chicken stir fry tonight now that I've found all the spices and seasonings to make this dish. On the side, we'll have a big salad and Tom will have white rice. If I even get a bit more ambitious, I'll make a low-carb dessert to go along with it based on the ingredients we have on hand.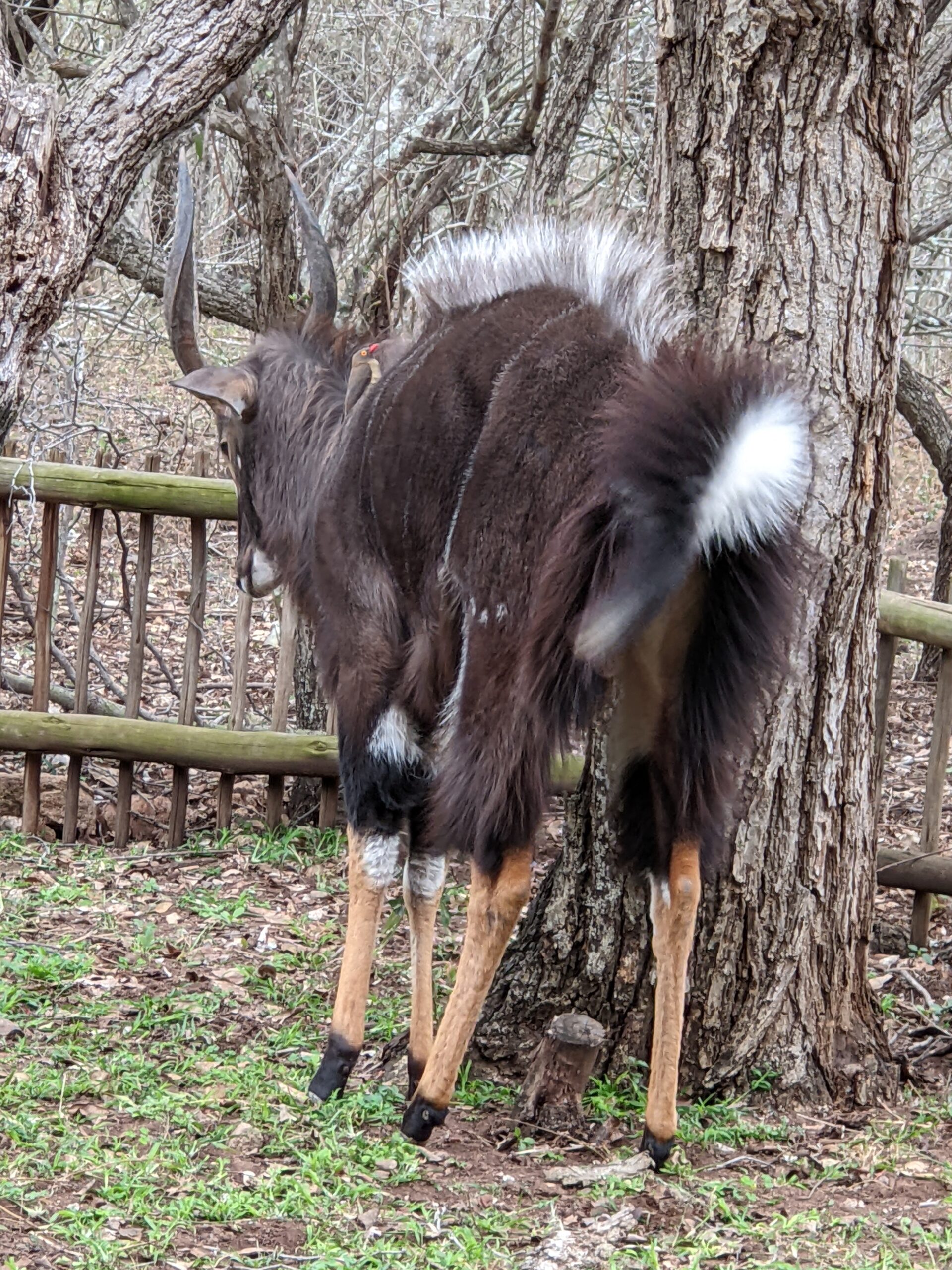 Few animals were visiting us this morning when again, the bush is busy with holidaymakers. Early, we spoke on WhatsApp to dear friends Kathy and Don in Hawaii. There's a 12-hour time difference, so the only good time for us to call them is early morning. It was wonderful to hear their voices.
While we were chatting, Nyala dad, Norman, showed up. We tried to get the video to work on WhatsApp, but the signal was weak, and we couldn't show them Norman. After living in the bush for many years, they are missing it here and hopefully will return one day soon. We are so looking forward to that time.
Tom just returned from the store with the wine. I thought a case would be 12 bottles, but I guess, here in South Africa, a case is six bottles. Oh, well, hopefully, we'll be able to get more next time we shop.
We'll be working on getting more photos when the holidaymakers leave on Monday. In the interim, we're sharing what we've taken over the past week.
Have a lovely weekend!
Photo from one year ago today, July 30, 2021: