---
Our second Eiffel Tower nighttime light show after our dinner cruise on the River Seine.
Note: To all of our readers visiting our site via a smartphone, please click the "View web version" tab under the word "Home" at the bottom of the page to access the web version enabling you to access all of our archives on the right side of the page. We'll be updating our site shortly, making these extra steps unnecessary. Thank you. 
Today's photos are from the post from August 10, 2014, while in Paris, France. See the link here for more photos.
The Assemblee Nationale, the French National Assembly. The interior of many of these buildings is worth seeing by clicking on the links included here.
Today was a late start in working on the post. After not getting out of bed until 8:30 am and out the door for my first walk until almost 9:00 am, not returning until 20 minutes later, our breakfast had arrived.

After breakfast, I'd promised myself I'd get hold of FedEx to find out the status of the overnight letter containing our replacement credit card after it was discovered to be used fraudulently. 
Also, I wanted to check on our supplies package, which hasn't been moving at FedEx for days, stuck in customs. I started calling several phone FedEx numbers I found online but couldn't get through on any of them using Skype.
I was unable to use Skype to call India while in India, even using my VPN. Frustrated, I tried using the expensive room phone, but there again, I was on hold for so long, I finally gave up.
The scenery along the river was enhanced by the reflection of lights.
Then, I used my cell phone to call, which also is pricey, but after 20 minutes on hold, I gave up figuring the best method was to email an inquiry when after entering the tracking number, a message popped up that said:

"A specialized statement is required for clearance from the recipient. Call FedEx."
Tom's photos of me are always blurry to some extent. That explains why I take 
most of the photos.
Frustration was setting in, and finally, I sent an email after finding a good email address for customer service in India. I sent a clear and concise email outlining precisely what had transpired, requesting they email me the specified form to complete the delivery requirement.
In that same email, I also inquired about our package sitting in customs for the past week and what they needed from us at this point. No reference had been made to the customs fees, which we usually could pay online, most likely since they'd yet to inspect the contents. Who knows how long it will be until that process is completed?
We were nearing the end of the cruise when I took this outdoor photo of Tom.
Most likely, these delays are a result of COVID-19. When I called a few of the online FedEx India phone numbers, people answered with TV sounds in the background, causing me to assume some of their employees were working from home. Calling became pointless with no response.
Last month I sent an email asking if they were servicing this postal code in India and received a positive response a few days later. We'll see how it rolls out. I can only hope they'll reply to the email. Hopefully, they'll be as timely in their response to today's inquiry.
The moon was peeking out of a cloudy sky, the green lights, the reflections on the water…nice.
Now, well after 12:30 pm, I'm still working on today's post, hoping to upload it in the next hour to return to my usual daily routine. Yesterday, we signed up for CBS All Access (first month free) to stream the newest Big Brother All-Stars series, which is mindless drivel, but entertaining and the latest Survivor series, again a fun distraction.
On another note, our friends, Lea Ann and Chuck, a lovely couple whom we met on a cruise in April 2017, from Sydney to Seattle who began traveling the world, at times, asking us for suggestions and sources we've used, wrote that they are ending their world travels in light of COVID-19.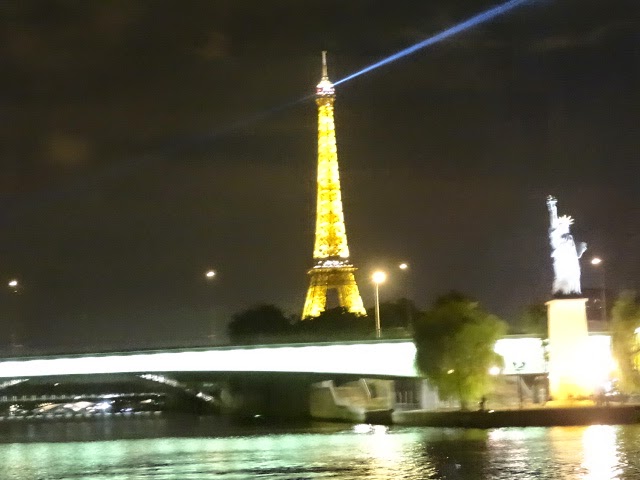 We loved this shot of the Eiffel Tower and the Statue of Liberty.
They've purchased a home in Florida and will stay put, traveling from time to time as the world situation allows. One might think this might have inspired us to do the same. But, until we get out there again, flying, booking holiday homes, and living in other countries, we have no idea what the future holds regarding continuing to travel. 
This was my veal filet. I don't usually eat veal. However, in Paris, one must try new things.

I was served a delicious plate of less common sautéed vegetables.
Certainly, the option of living in three or four different countries (depending on visas) may continue to be an option for us in the future. Being unable to cruise may undoubtedly have an impact on our options in the future. 
My lovely dessert, two creamy French slices of cheese.
In some ways, it might make our travels easier when we're not manipulating our schedule to comply with cruise embarkation and debarkation locations. 
Tom's dessert #1, a strawberry mousse. The pink appearance is due to the red LED lights in the boat after dark.
We can only guess at this point. And, right now, our priority is when and how we'll be able to leave India when borders open here and in another country that we're allowed to visit in the future.
Tom's dessert #2, a layered chocolate torte embellished with a strand of delicious French chocolate.
Have a fulfilling and safe day!
Photo from one year ago today, August 10, 2019:
We'd wished we could have posted the identity of all of these great highlights in Amsterdam. But, it wasn't possible as the boat moved along quickly. It rained off and on, but we were grateful for what we were able to see. For more photos, please click here.