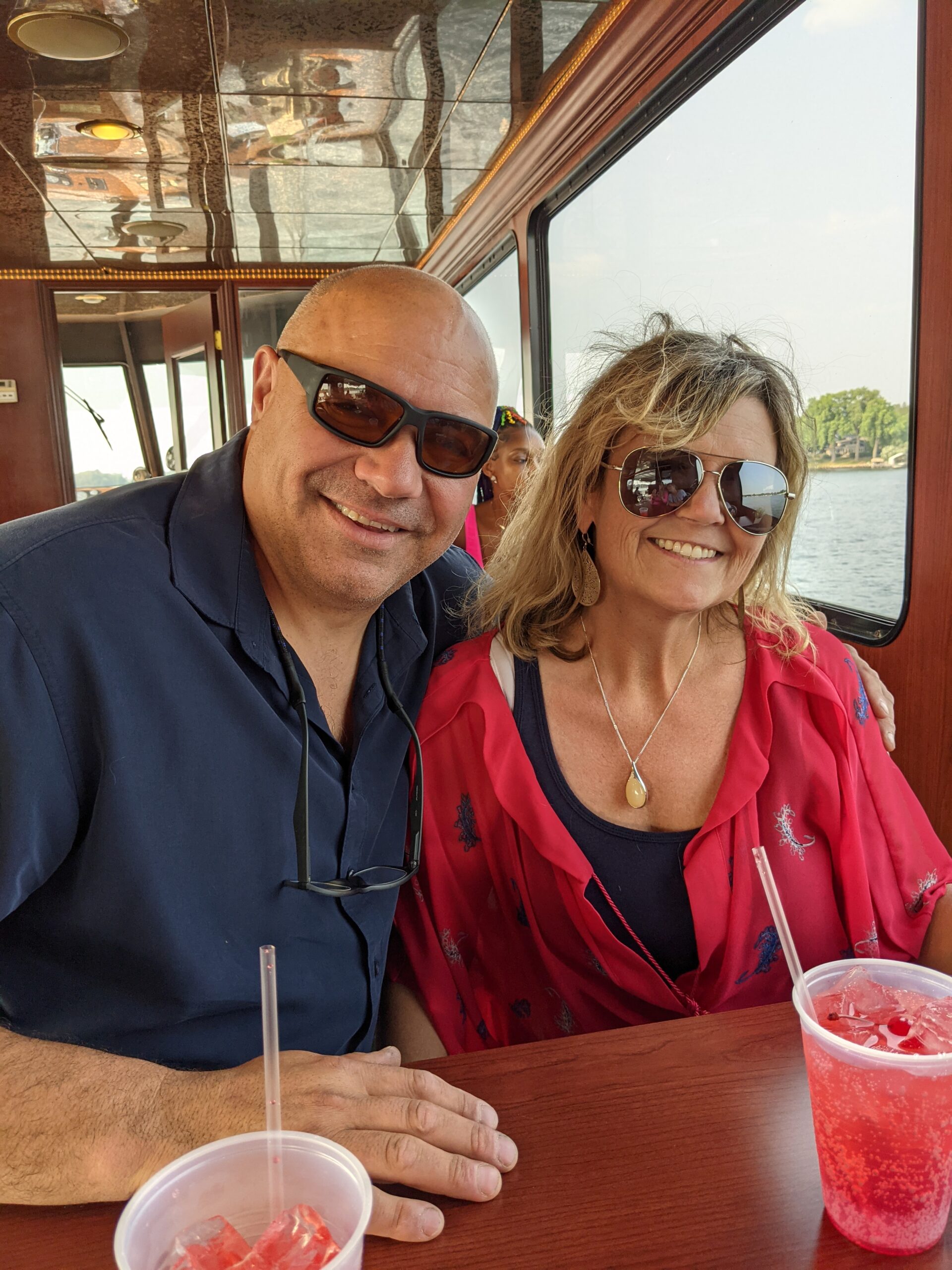 However, we decided it would be best to split up, and Tom would go with Tammy, and I'd go with Camille and Greg. It's the way it is when we visit family in the US. At times, we have to split up to be with our respective family members. Of course, it would have been fantastic for both of us to attend both events. But, with their schedules, doing so doesn't always work out that way.
Tom dropped me off at 5:15 pm at the Port of Excelsior at the Excelsior Commons, a beautiful park in the town of Excelsior on Lake Minnetonka, our former downtown area when we lived in the area nine years ago. So many memories flooded my mind as we drove down Water Street in the sleepy, charming lake town. So much had changed and yet, so much was still the same.
Having lived in the area for 26 years and close by, in the city of Minnetonka for the prior 14 years, it was all so familiar. Years spent boating on the lake as a boat owner left me reeling at the thought that it was in 1977 when I purchased my first boat as a single mom and business owner, later upgrading to larger boats.
I remember being one of very few women in those days that drove a "twin-screw" (twin engine) boat on huge Lake Minnetonka, able to easily maneuver in and out of tight docks without a problem. In those days, that was unusual. With numerous restaurants located on the lake, my sons and I and often friends spent many weekends over the years on that lake, having the time of our lives.
Later, in 1991, when I met Tom, he, too, was a boater. As of 1986, I owned a house and lived on another nearby lake, Lake Minnewashta, where he and I enjoyed many years boating on the smaller lake, again enjoying every moment. Those days are long behind us.
When we "boat" now, it's on massive cruise ships. We've been on 27 cruises since the onset of our world travels in 2012 and have dearly missed being on the water during the past 18 months or so due to Covid-19. Hopefully, we'll get our "sea-legs" once again soon when we can cruise again.
On a newer-looking, well-maintained houseboat, yesterday's boat ride brought back memories from that life long ago. But, as we always say, we have no regrets. We chose to implement our lives on an entirely different path over the past almost nine years, and we've never looked back and regretted our choices or wondered "why" we did such a crazy thing.
During the two-hour dinner cruise, it was fun chatting with Greg, Camille, and Penny, Camille's sister (who took Tom's place). As expected, the food was mediocre, but the experience was pleasant and worthwhile and filled with memories as we sailed past houses I'd sold on the lake many moons ago and houses that had been re-built into massive mansions.
Close to 8:00 pm, I called Tom to see if he could pick me up at Greg and Camille's house when he was done with dinner with Tammy and Tracy. As it turned out, they were wrapping up their get-together. We visited with Camille, Greg, and the kids for a little while, and then we were on our way back to our hotel for what proved to be a good night's sleep.
Today, we're heading to Tom's sister Patty's home to play "dice" and stay for dinner. However, Tom will drive me to a local pub and drop me off to see my dear old friend and business partner, Theresa. I'll spend a few hours with her, and Tom will pick me up later when I call him at Patty's. We have to double up on a few events to see some of our friends and the family with our busy schedule.
We'll then head back to Patty's and finish the evening with his siblings, spouses, and other family members. No doubt, it will be another good day, filled with fun interactions with people we love and have missed over the years we've been gone.
Tomorrow, we'll be back with more when we have another action-packed day as we celebrate Camille's birthday at a favorite restaurant from our past.
Be well.
Photo from one year ago today, July 12, 2020:
In Queensland, Australia, Double Island made us curious about what it would be like to visit. Here are the details of visiting Double Island. We posted this photo on Day #111 in lockdown in Mumbai, India. For more photos, please click here.