Almost ten years later, we still haven't forgotten how much fun the 4th of July celebrations were when we lived in the US. We always had plans, whether it was a party at our house or a party at the home of friends or family members. It was always a festive celebration.
Now, living this life on the move, except for being in Minnesota visiting family on a few occasions over the past years, we've spent the fourth in many different parts of the world, as shown below:
Boveglio, Italy (2013)
Madeira, Portugal (2014)
Trinity Beach, Australia (2015)
Singapore (2016)
Minnesota, USA (2017)
Marloth Park, South Africa (2018)
Connemara, Ireland (2019)
Mumbai, India (2020)
Minnesota, USA (2021)
Marloth Park, South Africa (2022)
In 2012, on the 4th of July, we were still in Minnesota preparing to leave on our years-long journey, departing on October 31. The only times we celebrated were in the US in 2017 and again last year, 2021, when we returned to the US to get vaccinated and stayed for one month. On both occasions, we spent the holiday at my son Greg's home with his wife Camille and our three grandchildren, Maisie, Miles, and Madighan.
This week on the 4th of July, on Monday, we'll be enjoying our daily lives in the bush without fireworks, US flags, a flag cake, and a wide array of delicious barbecued meat and side dishes. Instead, we'll cook some meat on the braai, a big salad, rice for Tom, and green vegetables. We'll remember the occasion but won't make a fuss celebrating it.
Tom reminded me that in 2018, we celebrated the 4th of July at dear friends Kathy and Don's lovely home overlooking the Crocodile River. We had a fantastic time, as shown in these photos from that post, found here.  Tom and I were the least dressed up for the occasion, unaware that the other guests, none of whom were Americans, enjoyed dressing up.
Should we be fortunate enough to share such a particular date with them again, we'll dress accordingly next time. We do hope that time will come again for all of us. So much has changed these past few years that it's hard to predict if time and circumstances will allow for repeated memorable occasions.
Last night, we went to Jabula Lodge and Restaurant for dinner as we always do on Fridays and once again had a fantastic time, along with great drinks and consistently excellent food, as shown in the photos below: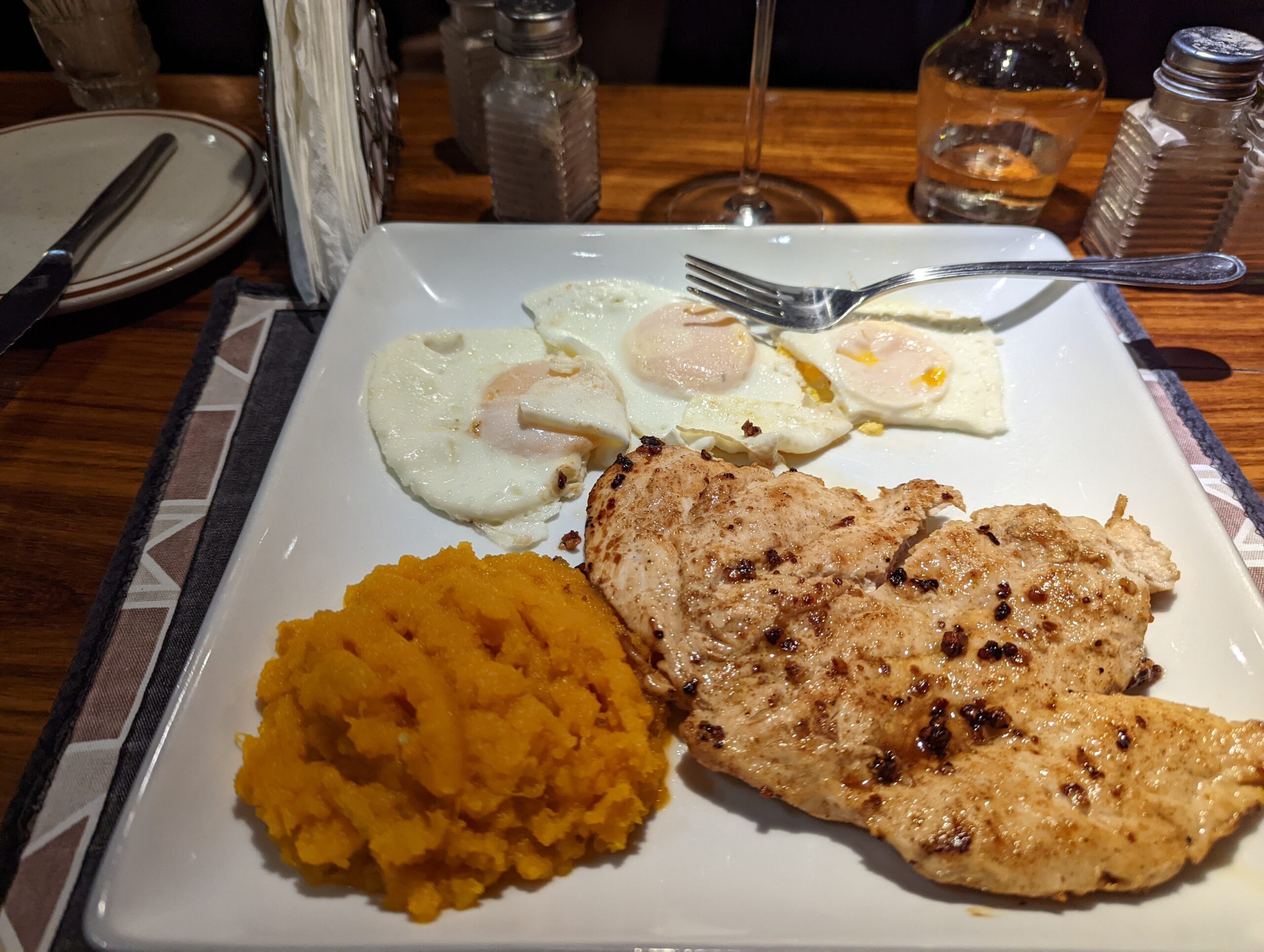 Today, we're busy around the house, doing laundry, prepping food for the next few days, and organizing cupboards and closets. Storage space is at a minimum on the main floor of this house so being organized is a must. We have plenty of room for our clothes and personal supplies, but the kitchen, although a pleasing design, is short on cabinet space.
There are no above-counter cabinets. But, the windows overlooking the garden are well worth it. Non-perishable food storage is at a premium, so I've been organizing and consolidating to take advantage of every space.
But, there's nothing like standing in the kitchen, chopping and dicing, and watching our wildlife friends putter about the garden in search of tasty morsels. When I'm chopping vegetables, we can toss out treats they love. This morning bushbuck Lilly and her daughter Lilac were waiting for the scraps from carrots, cabbage, and celery. We couldn't toss the scraps out there quickly enough.
Today, we'll enjoy time on the veranda. It's warmed up a bit today and we can be outdoors without sweatshirts. Right now, at 12:30 pm, it is 75F, 24C, a perfect day. Tonight it will be as low as 49F, 9 C. As we discussed last night at Jabula, we have never turned the heating element in the aircon units to warm the bedroom. We'd rather bundle up in warm clothes and use lots of blankets to stay warm at night.
No, we don't pay for electricity. It's included in our rent. But, our goal is always to use as few available services as possible to save our property owners/managers added costs and consider our desire to leave as little of a footprint wherever we may be. It's a small sacrifice, but we are so grateful to live this life; it's the least we can do. The WiFi service in the house is unlimited.
For our family, friends, and reader/friends in the US, have a safe and enjoyable 4th of July weekend, and everyone else…have a blissful weekend.
Photo from one year ago today, July 2, 2021: