Please take a look at the new video we filmed yesterday morning.
Who's in the garden this morning?
2 wildebeest
6 warthogs
11 helmeted guinea fowl
5 bushbuck
22 mongoose
2 kudus
1 duiker
It's a glorious morning. The sun is shining. The temperature and humidity are mild, with a slight breeze. The animals have come and gone over the past few hours, and we couldn't be more content. Right now, they're all gone, but that's going to change in a couple of minutes.
Last night's dinner with Dawn and Leon was a great time. The food was good, the company superb, and the three wildebeest in the garden all evening added to the entertainment. I'd made an easy steak dinner with sides and spent little time in the kitchen while our guests were here, having prepared everything earlier in the day.
It's a busy weekend in the bush with many holiday homes booked with guests from other parts of South Africa and a few overseas due to pandemic travel restrictions in many countries. A band of 22 mongooses just stopped by, and we offered them some leftover meat which they devoured.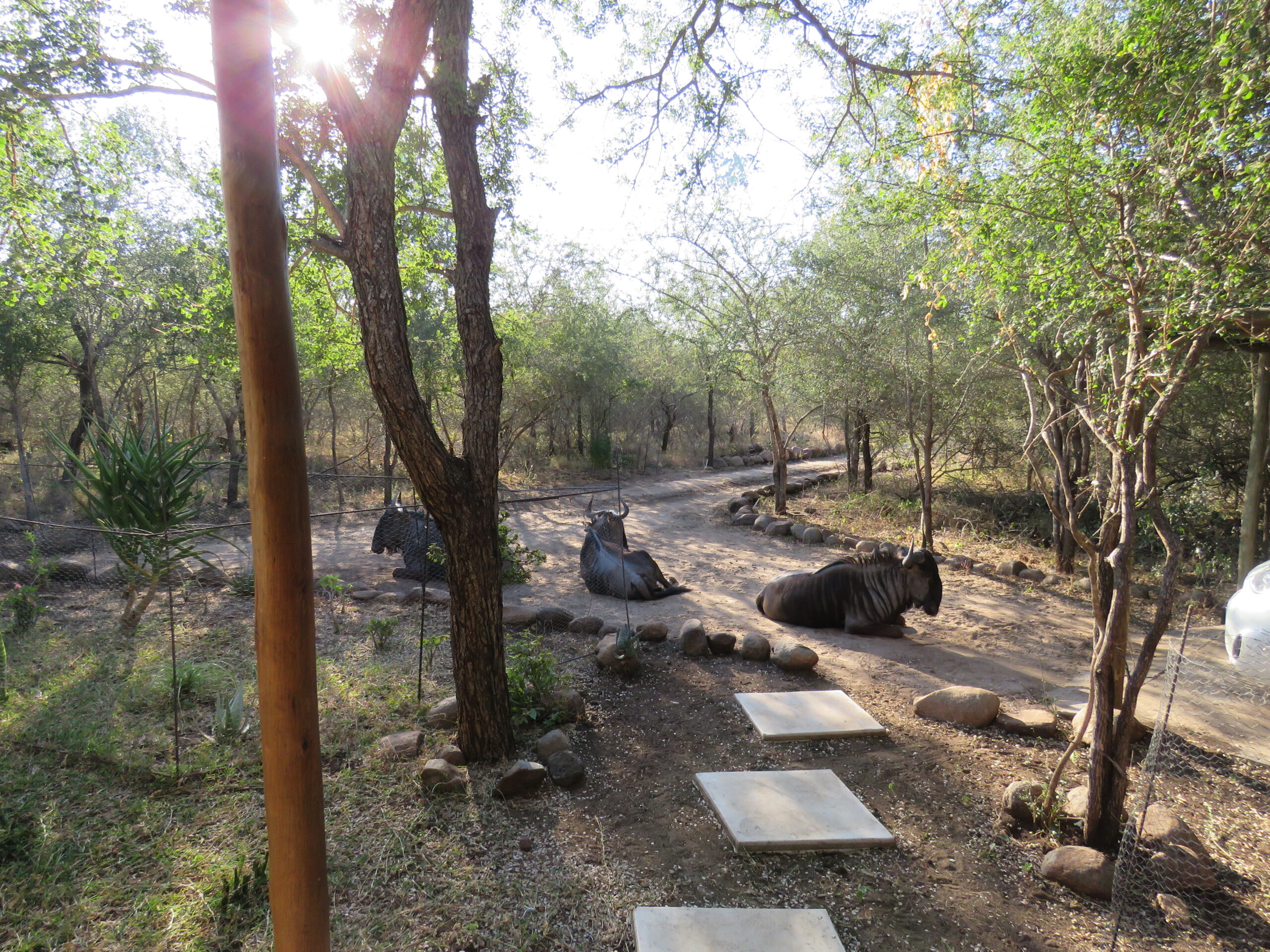 Some novice holiday renters have been fed mongoose bread, which is not appropriate for their diet. In one instance, I watched a guinea fowl steal the mongoose's bread and escape. We noticed that three of the mongoose had whole pieces of white bread in their mouths, which they weren't eating, but carrying around in somewhat of a frenzy, wondering what to do with it.
Sure, animals love "human food," but it's not safe for them to eat in most cases. It's always disheartening to watch that. Feeding wildlife, especially now that vegetation is diminishing by the hour, is good if it is appropriate for eating. The best feed to supply the animals is game pellets. Fruits and vegetables humans eat may contain pesticides and other dangerous chemicals to animals (and humans too).
We occasionally offer them carrots and apples, which we wash first and cut into bite-size pieces. Imagine a bushbuck or a tiny duiker choking on a big chunk of a carrot or apple. It would be horrifying to witness it, but it could easily happen.
This is a hot issue here in Marloth Park with many different opinions and perspectives. Many don't believe in feeding wildlife. Based on the fact that they are fenced in, living in this conservation without being able to wander towards greener pastures, we feel compelled to feed them.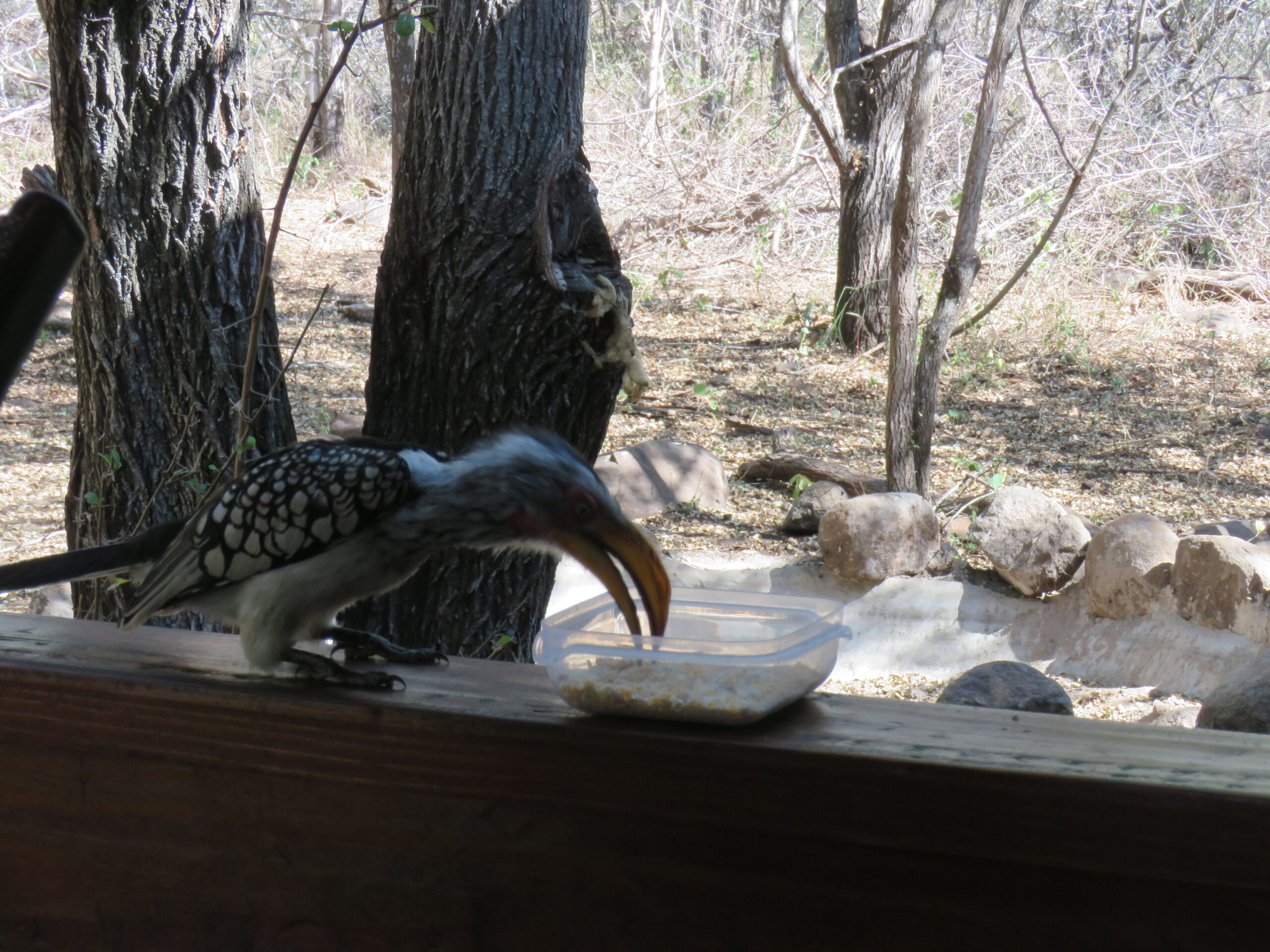 To cull or not to cull is also a frequent point of contention. We avoid controversy and do what our conscience dictates: feed wildlife food appropriate to their species. We don't hand-feed or use troughs, breeding grounds for TB, and other wildlife diseases and illnesses that are always prevalent in the bush.
Last night we had good news that Rita and Gerhard will be arriving at Marloth Park on Sunday afternoon, and we will all be heading to Jabula Lodge and Restaurant for dinner. Gerhard has been chomping at the bit over the prospect of ordering their spare ribs, which Tom eats each time we go for dinner. We always go to Jabula on Friday nights, which we'll be doing again tonight and then again on Sunday night.
We're so thrilled to see Rita and Gerhard. We hope they will stay for a few months, and of course, we hope to be able to survive or return after June 30th, when our current visas expire. Only time will tell.
That's it for the day, dear readers. Be safe. Be happy. Cherish every day of life!
Photo from one year ago today, May 14, 2020:
A small lagoon between Anini Beach and Ke'e Beach while we were in Kauai, Hawaii, on this date in 2015. Please see that link here. For the year-ago post, please click here.