When I awoke this morning, the power was out. Usually, when the power goes out, the WiFi does the same. But when I heard Tom's podcast coming from his laptop while he was seated at the table on the veranda, I was surprised to see we still had an internet connection.
I didn't know when the power went out, and oddly, Tom wasn't even aware of it.  After making his coffee, it must have gone out since he could use the electric teapot to make his French press coffee. The day was cloudy, and it was dark in the bathroom when I showered and dressed. I had a hard time inserting my contact lenses and putting on a little makeup, but somehow I managed as I often do when the power is out.
Having slept in until 8:30 after a fitful night's sleep, I was anxious to start my day. A few times during the night, I had a few coughing jags, both of which ended up keeping me awake for hours. Finally, around 3:00 am, I dozed off. I don't feel sick anymore but am not yet free of the hacking cough.
When I joined Tom on the veranda on this chilly morning, a relief after yesterday's heat, it was delightful to see several kudus, a band of mongoose, a few bushbucks, and of course, my boy Little. Tom had already tossed pellets to all but the mongooses, who don't eat pellets.
Primarily, mongooses are carnivores. We tossed them the leftover meat and bones from dinner at Jabula and some cheese. If the power didn't go back on for many more hours, we'd have plenty more for them before anything spoiled. We'd never give them spoiled food.
When the power goes out, our biggest concern is always the food in the refrigerator and freezer. Last night, I took out a big package of chicken breasts to defrost in the fridge overnight. As always, we placed a metal bowl full of ice into the refrigerator to help keep it cold. Fortunately, the power went back on two hours later, and everything survived. That was my biggest concern.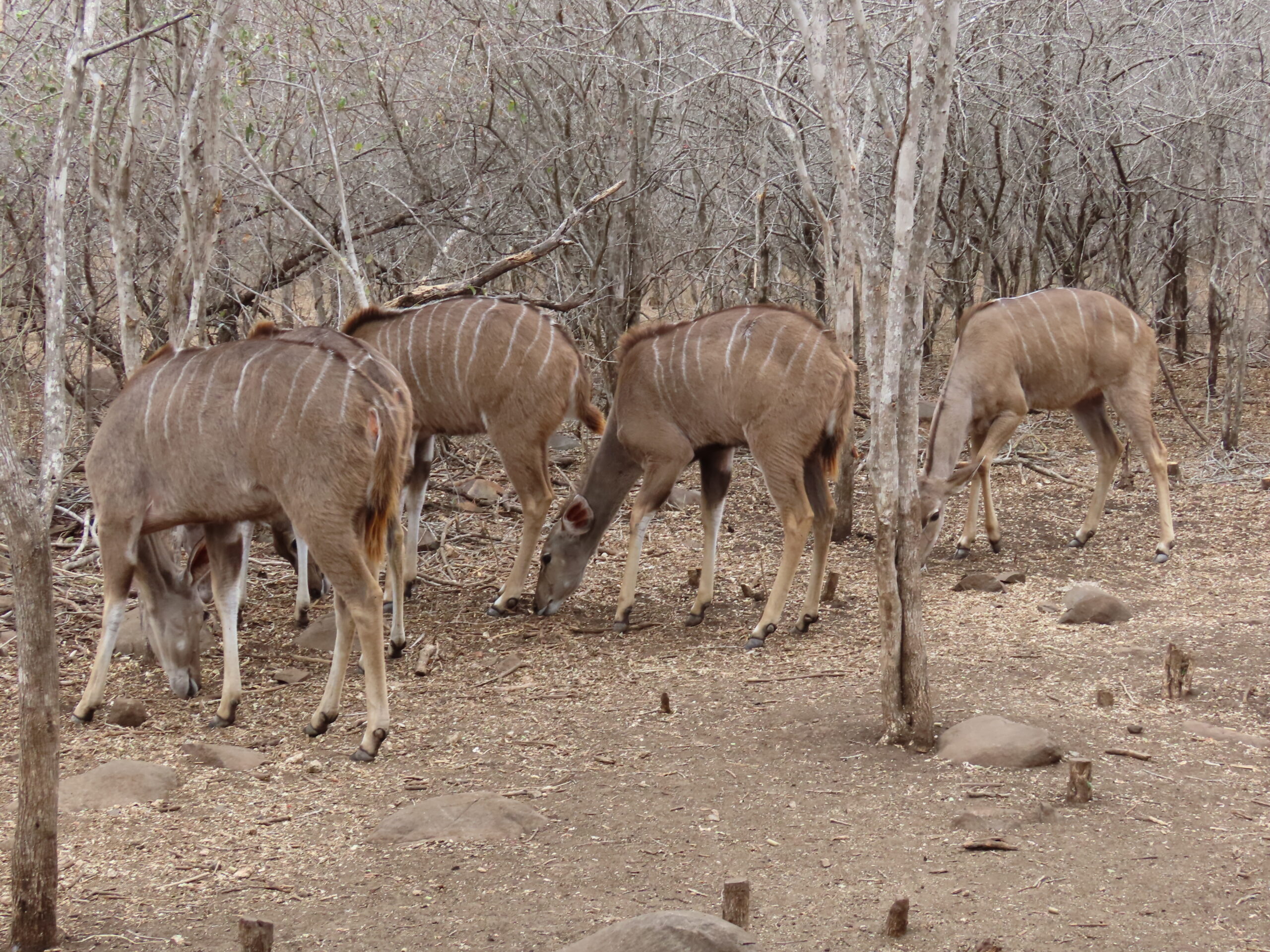 Our second concern during power outages is that we can't do the post if the WiFi is also out. Sure, I could write the text in an offline app such as google docs to upload later once the power is restored. But, it isn't easy to include photos and do the editing only when using the WordPress admin app.
As I am sitting outdoors now, the wind is whipping through the garden, and the only wildlife we see is Spikey and his mom (bushbucks) and Frank, pecking away at his seeds right next to me. The animals tend to hide on cool, windy days. I doubt we'll see too many more today.
The majority of the holidaymakers have left the park. Life will slowly return to normal, that is, the normal that Covid-19 dictates, as more and more people are vaccinated here and are finally wearing masks in public places. No, we won't let our guard down. However, we continue to go out to dinner, occasionally needing a break from being housebound. Some of our friends in the park are hesitant to socialize. Our Friday nights at Jabula have been a real boost to staying in touch with our friends and the locals.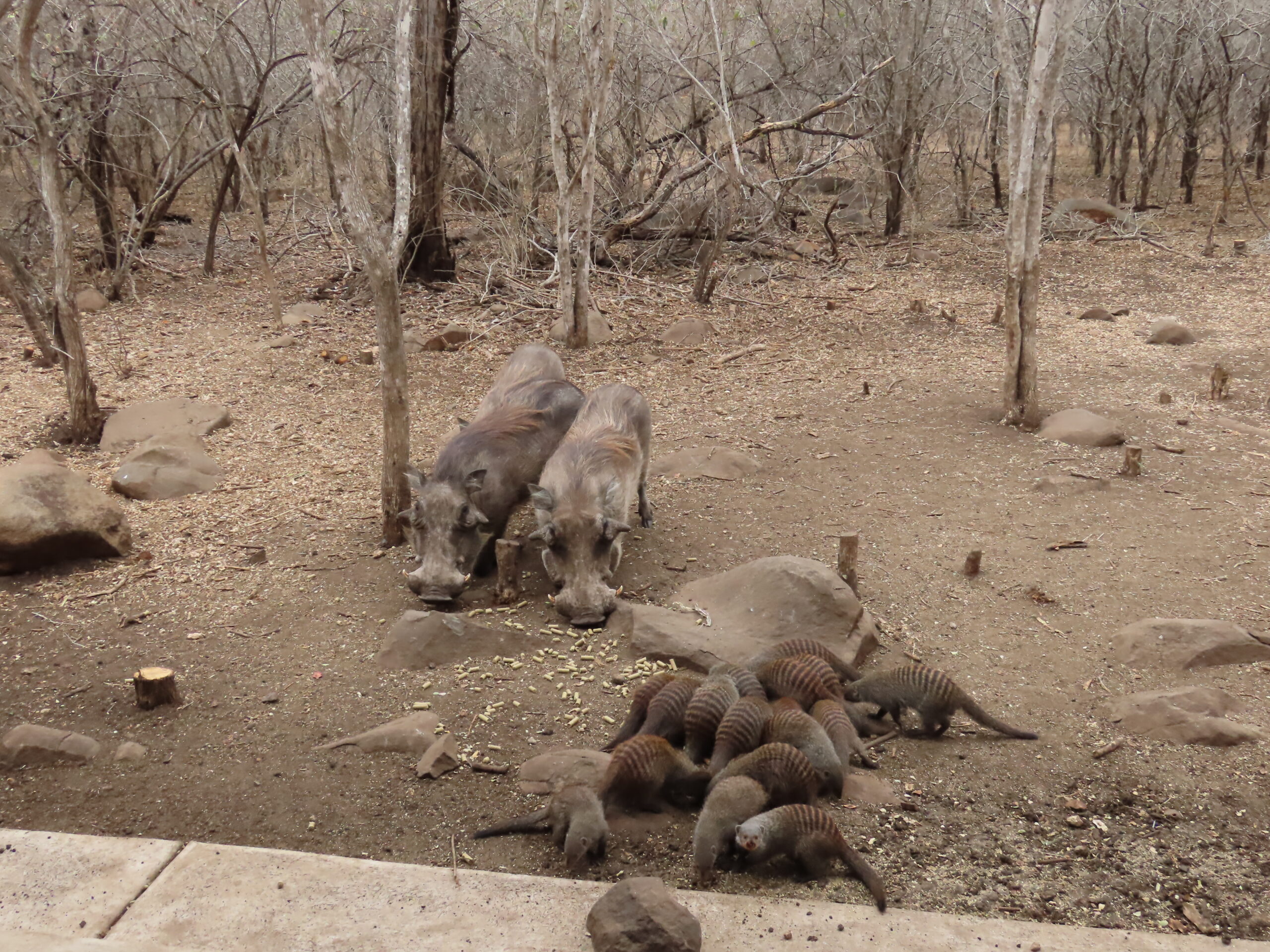 Last night, I got my first mosquito bite of the season. I guess soon, it will be necessary to start lathering up with repellent three or four times a day, including before bed. The annoyance of hearing a mosquito buzz around my head at night is a solid deterrent to a good night's sleep.
This week we plan to go to Kruger on a sunny day and grocery shop when it suits us. Tomorrow afternoon, we're being interviewed via Zoom by a newspaper in Minnesota that had done several stories about us in the past. They are interested in our ten months in lockdown in India. Go figure.
Have a fantastic Tuesday
Photo from one year ago today, August 10, 2020: