Who's in the garden this morning?
13 warthogs – inc. Little, Tiny, Lonely Girl, Fred and Ethel, The Imposter, Peter, Paul and Mary, and others
15 bushbucks – inc. Thick Neck, Bad Leg, Spikey, and others
2 kudu- inc. Little Daddy, Bossy
10 helmeted guinea-fowl
1 wildebeest – inc Broken Horn
1 Frank and The Misses – inc. Frank, by himself
1 go-away bird
1 – Miss Dove
This morning, Tom called out to me to hurry and come outside. There were ten bushbucks in the garden, the most we've ever seen at one time. Immediately,  we started cutting up carrots, breaking up a head of cabbage into bite-sized pieces, and tossing pellets their way.
I took a few photos and made a video which we'll share tomorrow since today we have photos from yesterday's trip to the river with Rita and Gerhard that we're posting today.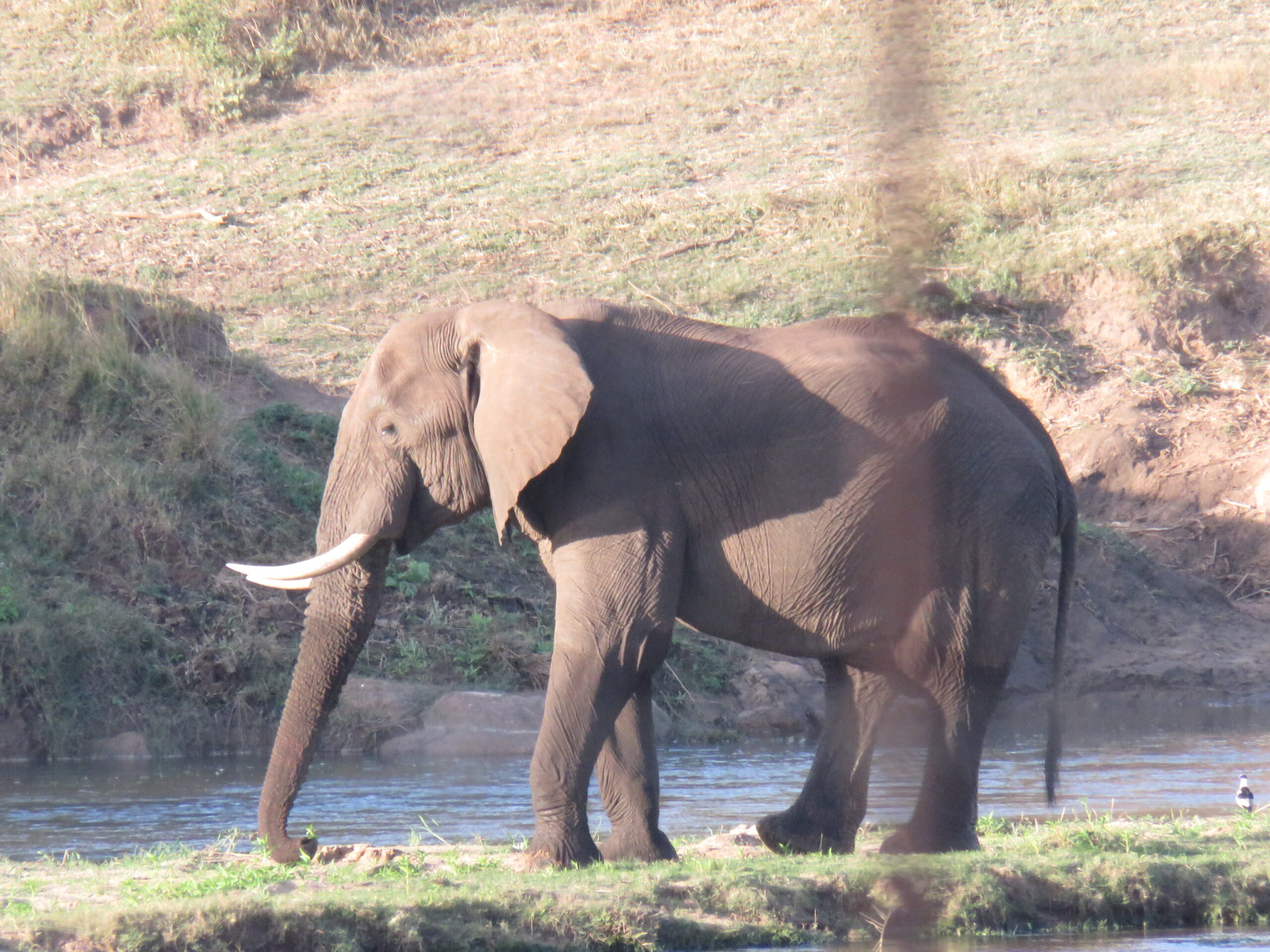 On another note, I am having trouble with the keys on my keyboard, making it very difficult to type. This has worsened over the past few weeks. I researched some fixes, removed the problematic keys, and cleaned them as recommended by the manufacturer.
I am not in the mood for this right now. However, we have other fish to fry with our travel date coming up in 22 days. I followed the online instructions carefully, which resolved some of the bad keys, but the space bar remains the biggest problem. It's challenging to type without easily pressing the spacebar.
It may require that I purchase a new device when we get to the US, but for now, I can do a few workarounds until we get there. I have set up to use voice activation on a google document and then copy and paste it into the WordPress editor. I am doing it the hard way right now and will decide which will be the best way to go by tomorrow.
Right now, Broken Horn (wildebeest) is resting in the garden, leaning his head against his body for support, as shown in the photo below. We love to see our regular visitors be so at ease when visiting us that they can relax and sleep without constantly being in defense mode in anticipation of apex predators.
Although there is little risk of being killed and eaten by other animals in Marloth Park, their instinct is always alert. Of course, there are lions inside Marloth Park from time to time and always a few leopards at any given time, who mostly hunt at night, when most of the wildlife is hunkered down in spots they feel are safest.
Many animals in herds and groups may have a few group members on the lookout during the night. We see this with impalas and other animals who tend to habitat in numbers, instead of loners like warthogs, (some) wildebeest, and bushbucks, all of whom may wander the park on their own, except for those families with young.
I often think about the loners, wondering why they don't assemble for safety and companionship. But, like humans, they don't always gather in groups to make their way through each day. If not close to tight family members and friends, humans can easily be loners if shy, reclusive, and withdrawn.
It's not surprising to us to see how much alike we are, humans and animals. We learn so much about them and ourselves by watching their behavior, day after day, month after month. We all find great comfort in lingering in a safe space, with or without others at our side.
That's it for today, folks. We'll keep coming back for more as our three-week countdown begins tomorrow, with us leaving Marloth Park On June 29th since we must go South Africa on June 30th, and we have a long travel experience ahead of us.
Be well.
Photo from one year ago today, June 7, 2020:
It looked like smoke, but it was fog in Madeira, Portugal, in 2014. I took most of this photo from the freeway through the car's windshield. For more historic travel photos, please click here.