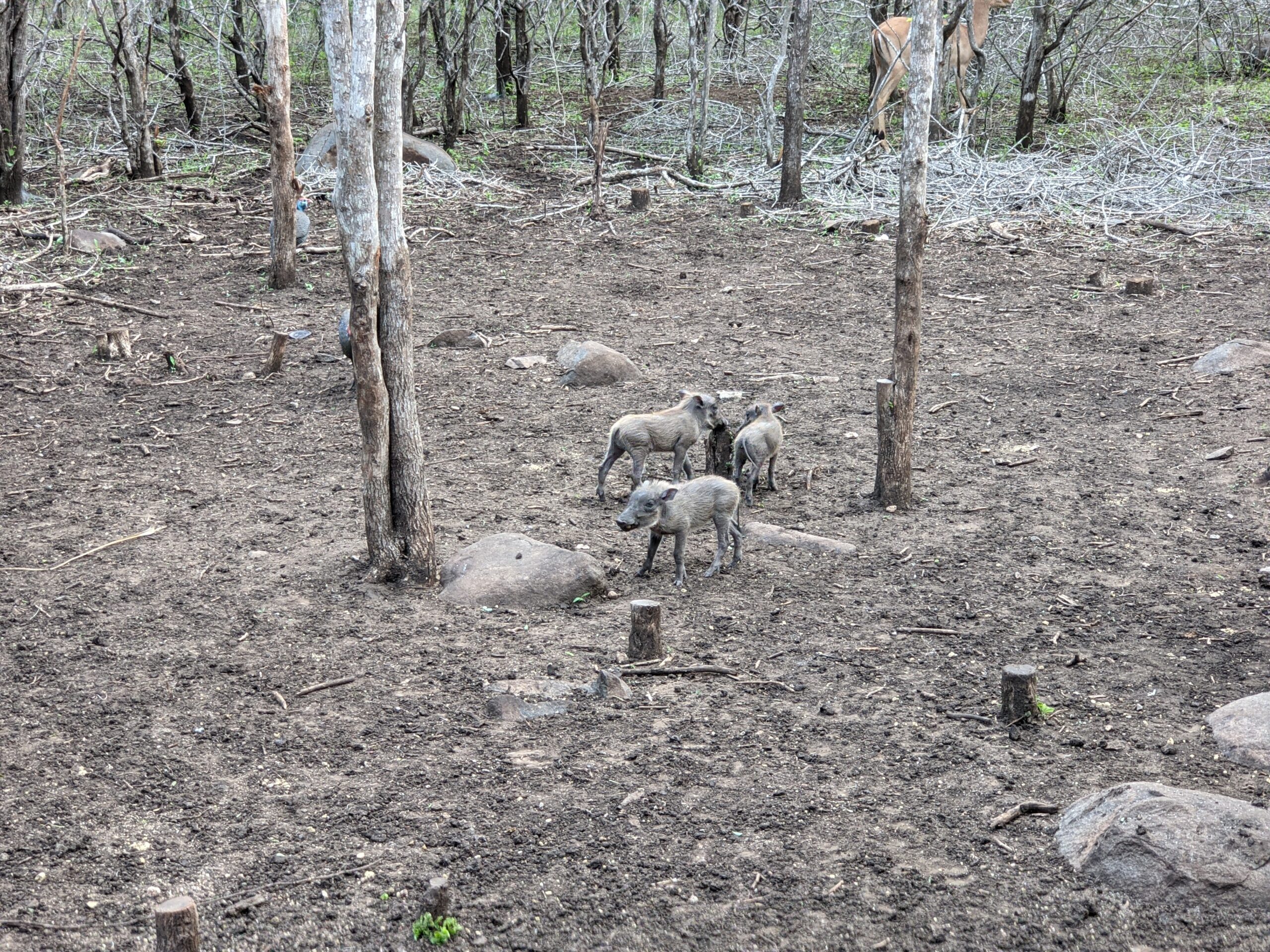 Although we've been here since last January, we'd yet to see newly born piglets. Now that our favorite mom, the mother of Barbara and Lori (Shark Tank), sent those two youngsters on their own to fend for themselves, she was getting ready to give birth to more piglets, this time three.
It was such fun to see them and how active and alert they are after only being born a few days earlier. We were happy to toss pellets to mom, knowing she must feed these three little ones. Surprisingly, the piglets seemed interested in the pellets and ate some. It was very cute and funny to watch.
Watching the antics of these newborns is hysterical. We couldn't get enough until finally, mom had her fill, and the four of them wandered off to their following location, enticing other residents to toss pellets her way. It was as cute as it could be. We have no doubt, they will be back many times in our remaining time in Marloth Park, and we can fawn over them again.
It will require constraint not to publish more and more photos of them as they grow. But, our goal is always to include a variety of photos, not the same over and over again.  But, as all of you have seen, that's not easy to do, especially when the same animals stop by over and over again with few new visitors.
We always strive to keep it as varied and exciting as possible. In a few months, when we're in Apollo Beach, Florida, with our friends Karen and Rich, awaiting their upcoming wedding, the scenery and subsequent photos will change dramatically. Except, after a few months in a country, the photos can easily become repetitious and it's also the case when we're in the US.
However, right now, as mentioned repeatedly, we are thoroughly enjoying our time in Marloth Park. Last night was no exception when we attended yet another fantastic braai for eight of us at Kathy and Don's riverfront home.
At many braais in South Africa, guests bring their preference of drinks and the meat they'd like to cook on the prepared fire the hosts have prepared. The hosts prepare all the side dishes such as potatoes, vegetables, and salad. Kathy goes over the top in making each of the sides delicious and unique each time.  Plus, she always ensures there are sides that I can eat. What a fantastic host!
Don is an equally fabulous host when he often plans fun games for all of us to play after dinner. Last night we had a blast playing "Who Wants to Be a Millionaire" with questions he designed suitable for the guests. It was such fun!
As for the food, as picky as Tom and I are about only eating steaks without a lot of fat. We brought two good-sized fillet mignons, which Tom cooked rare for me. When we make fillets at our house, I usually butterfly Tom's steak so we can put them both on the braai at the same time. Mine will be rare, and his will be his preferred medium-rare.
Yesterday, when I cut our steaks from the huge piece of tenderloin, I asked Tom if he'd like me to butterfly his portion. He said it wasn't necessary. Thus I cut them both the same size, which was very thick. Three minutes on each side would result in "blue" rare servings.
As it turned out, mine was perfect as usual, but then Tom's was too rare for him. He ate it anyway, not wanting to leave the table to return his to the now waning fire. Now I know why he kept cutting off chunks of meat and putting it on my plate while he sat across from me. Later, he mentioned that it was too rare for him. Next time, we'll do better and butterfly his or start his on the braai earlier.
We had a fantastic evening once again and were back home after 10:00 pm, 2200 hrs, for a good night's sleep, waking joyfully this morning, ready to tackle another day. )Today's high will be 95F, 35C with relatively high humidity. Tonight, Kathy and Don will join us for our usual Friday night dinner at Jabula for the last time before they depart Marloth Park for Hawaii next Wednesday, when we'll take them to the Nelspruit/Mpumalanga/Airport. We will miss them.
May you have a lovely and fulfilling weekend!
Photo from one year ago today, November 12, 2020:
This photo was posted one year ago while in lockdown in a hotel in Mumbai, India, on day #234. It's a challenge with these unusual fruits in Hawaii, which we could not identify after searching hundreds of photos. For more photos, please click here.