Who's in the garden this morning?
8 warthogs – inc. Tiny, Lonely Girl, Fred and Ethel, Sigfried and Roy, and others
7 bushbucks – inc. Chewy, Thick Neck/Bad Leg, Spikey, and others
16 kudus – inc. Bossy, Big Daddy, Notches, and others
18 helmeted guinea-fowl
4 wildebeest – inc. Crooked Face, Hal, Old Man, Broken Horn
2 Frank and The Misses
Seeing Don again after over two years was quite enjoyable. With Rita and Gerhard here with us for dinner, the five of us had a fantastic evening. The food and the drinks flowed. We had filet mignon on the braai, and Don likes his meat well-done. We always refer to it as a hockey puck. Tom likes medium rare, and R & G preferred medium. Of course, mine is always rare, a quick sizzle on either side.
It was cold outside last night after a warmer day, but we were appropriately bundled up. We had plenty to eat with baked potatoes, sweet corn, Rita's nice salad, and filets all around. In South Africa, dinner and happy hour (sundowners) guests bring their alcoholic beverages as is traditional. This keeps the cost of entertaining at a manageable level, inspiring more to entertain regularly.
This morning, in about 30 minutes, we're heading to Malalane for a dental appointment for me with Dr. Singh. I've had a severe toothache for a few days, and it needed to be addressed. He's the most highly regarded dentist in the area. A few months ago, I went to Dr. Singh for a complete check-up, and all was 100% fine. It's odd that in such a short time, something went wrong.
After finally getting rid of most of the cough, I'm frustrated that this toothache is an issue now. But that's the way life is, often unpredictable and filled with unexpected events. Bless Tom's heart for being so patient with me.
Our friend Kathy, Don's wife, has a British Airways flight booked to Johannesburg in July. In the past several weeks, her flights have been canceled several times. She spent hours trying to find alternatives. We booked our return flight from Las Vegas, Nevada, to Johannesburg at the end of July, and now, we wonder if our flight will also be canceled.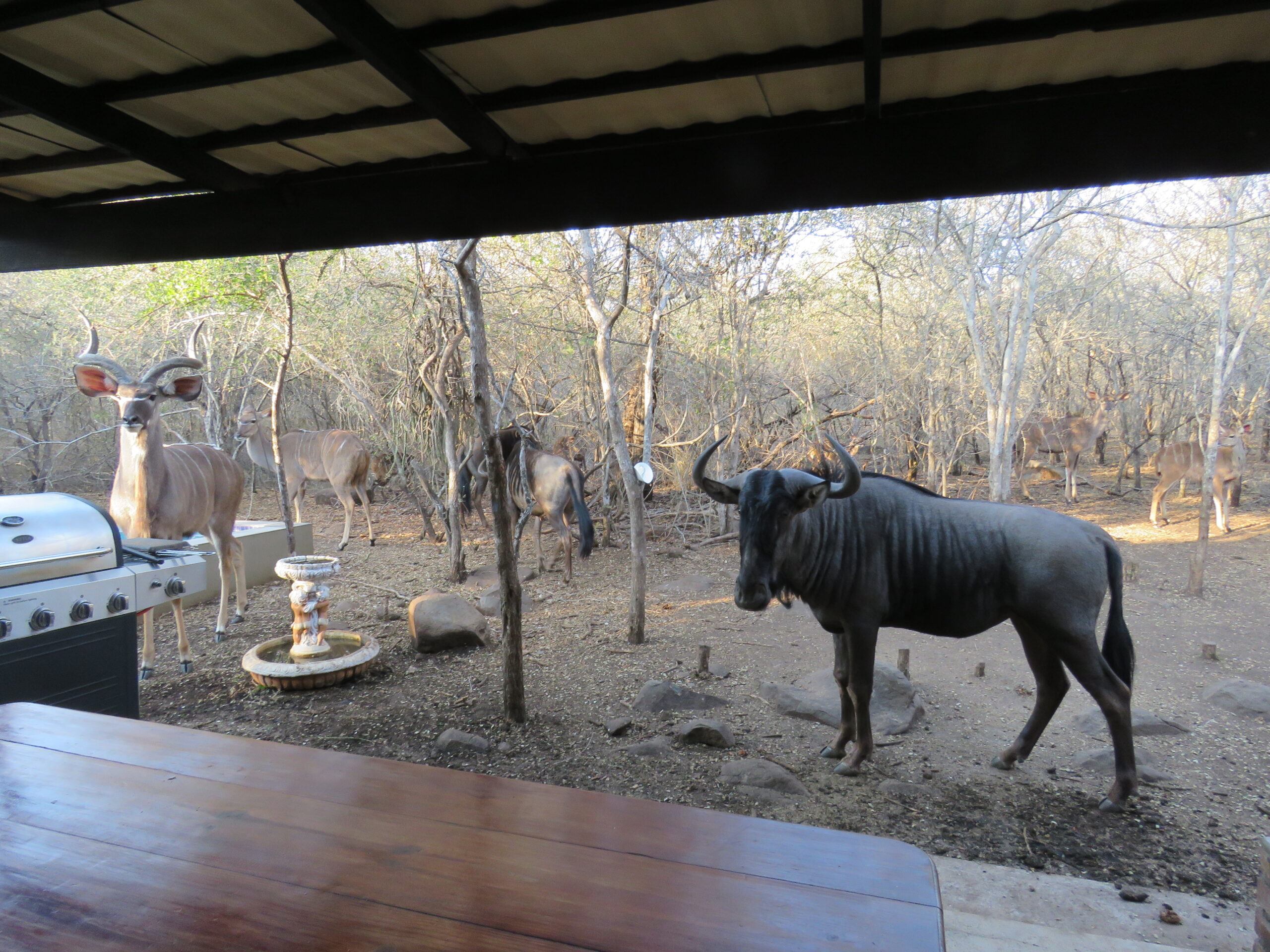 Most likely, our flight will also be canceled. No doubt, it will be frustrating to be on a tight schedule visiting family in the US and dealing with finding alternative flights to return to South Africa. We all spoke to Kathy last night, and she was scrambling to get here in mid-July.
British Airways is trying to avoid flying to South Africa due to Covid concerns for their crew. We understand that, but they shouldn't offer flights if they are going to cancel them anyway. Somehow we'll figure it all out, as we always do. If we cancel now, we'll be penalized. If they cancel, we'll get a full refund. We have no choice but to play it by ear.
It's been a busy morning in the bush. The garden has been packed with animals of many species, and we stayed busy feeding them until it was time to go to the dentist. We just returned from the dentist, and I had a root canal done and will have the crown done after we return from the US.  What a relief. Also, the cost was only US $265, ZAR 3659, compared to three times more in the US. The crown will be about the same price.
Tom dropped me off at the house and headed to the salon for a haircut. He quickly returned home after an excellent cut that should get him through our time in the US.
We leave Marloth Park for the US two weeks from today. I can't believe how fast time is flying. We're each bringing one full-sized suitcase and one carry-on. At this point, I am only 50% packed, not entirely, because I have to wear most of the clothes I'll be bringing. Tom's clothes are folded and neatly stacked in the closet, and he will be able to pack in minutes.
That's all for today, folks. I need to get to work on the corrections for the remainder of the afternoon.
Be well!
Photo from one year ago today, June 15, 2020:
During an uncommonly heavy rainstorm in Sumbersari, Bali, I went out to the freezer in the garage to get some ice. I saw this long black thing, referred to as an omangomang in Balinese, moving along the garage floor. I called out to Tom to come to see it. He grabbed the camera and came running. Creepy. Was that an eye looking out at us? For more photos, please click here.