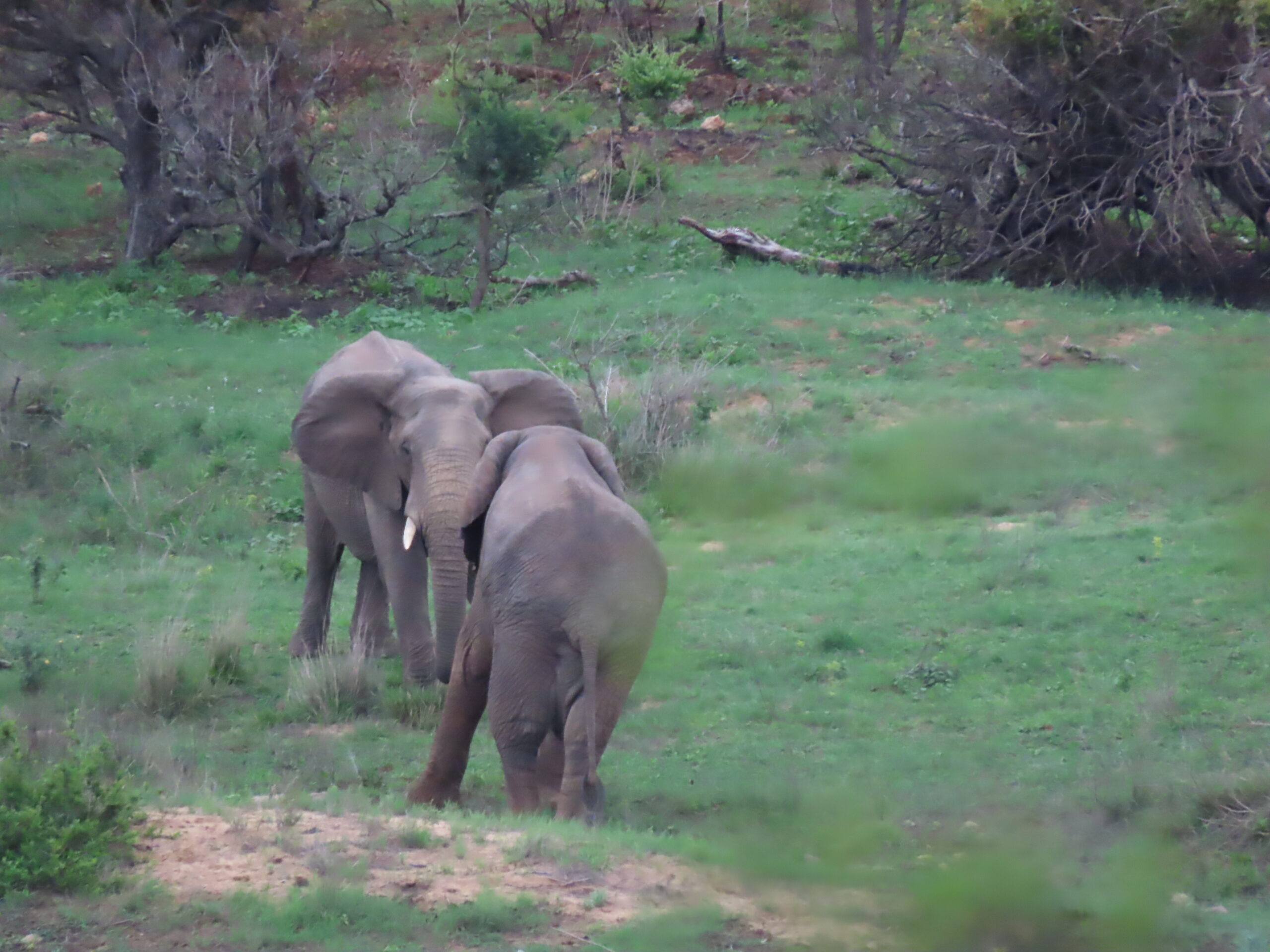 Note: Dear readers, if you notice an ad is impeding your viewing of our site, please hit "Control, R" and the ad with clear the text. Sorry for the inconvenience.
Yesterday afternoon, on our way to the Two Trees overlooking the Crocodile River, we spotted a pair of elephants playing on the river bank. Tom repositioned the car to ensure I'd have a good angle for taking photos. Unfortunately, as we waited, we couldn't take photos of their faces other than in today's main photo as shown. They were either playing or engaged in some confrontation. It was difficult to determine from such a distance.
We arrived at Two Trees shortly before 4:00 pm, 1600 hrs, and Carrie and Jim arrived shortly after that. We set up our camp chairs, poured ourselves a drink, and settled in for what we hoped would be great sightings on the river and, as always, lively conversation with this couple who, like us, is traveling the world without a home.
Soon, they'll be leaving for their next adventure, but it's been delightful sharing stories and travel tips between the four of us. It's so interesting to learn that many of our mutual travel processes and procedures are similar, almost to the point of being oddly coincidental.
As we mentioned in a prior post, we met Carrie and Jim from their long history of reading our posts. Our enthusiastic description of Marloth Park brought them here and the next opportunity to meet. Well, of course, we hit it off with them, as we had with Rita and Gerhard, who also came to Marloth Park from reading our posts, as have many others over the years.
It means so much to us knowing that somehow, even in a small way, we've had the opportunity to provide information for our readers that may impact their travel decisions. This has been a huge motivator for us in continuing to post consistently. No, not all of our suggestions may appeal to all travelers. Nor do all of our suggestions prove to be beneficial for everyone.  It's highly subjective.
Due to time constraints, we can't really assist those embarking on traditional one or two-week vacations/holidays. We are not a travel agency, nor do we have any interest in becoming so. But, we encourage our readers to contact us if we can be of assistance should you decide to embark on a journey such as ours, without a home base, without storage, and with an intent to travel for extended periods, as we have done.,
If you have specific questions for traditional short-term travel, you may find suggestions by using our search box at the top right of our home page.  However, traveling the world full-time is very different from taking a vacation/holiday. Based on the fact we often stay in locations for extended periods, our perspective may be very different about a  specific location for many reasons, including:
Cooking our own meals, shopping in local markets
Renting cars for extended periods
Renting holiday homes for extended periods
Using cruises as transportation
Visa extension issues and concerns
Access to quality medical care if necessary
Negotiating with property owners for extended stays
Ensuring WiFi, aircon, and essential utilities are included in the rent
Safe drinking water
Proximity from the airport to the holiday home, to shopping and touring
Clothing needed for seasonal weather changes during extended stays

One by one, they wandered away.
The differences between short and long-term travel are many and become evident once a world travel journey begins. We've encountered many challenges along the way, and we're always happy to share our experiences and insights with other world travelers.
Have a fantastic weekend wherever you may be!
Photo from one year ago today, November 26, 2020:
No photo was posted on this date one year ago while in lockdown in a hotel in Mumbai, India