Here's our upcoming cruise itinerary:
Norwegian Spirit, departs 6/4/13, 12 nights
Tue Jun 4 Barcelona, Spain 7:00pm
Wed Jun 5 Toulon, France 8:00am 6:00pm
Thu Jun 6 Florence / Pisa (Livorno), Italy 8:00am 7:00pm
Fri Jun 7 Rome (Civitavecchia), Italy 8:00am 7:00pm
Sat Jun 8 Naples (Capri), Italy 8:00am 7:00am
Sun Jun 9 At Sea
Mon Jun 10 Mykonos, Greece 7:00am 3:00pm
Tue Jun 11 Istanbul, Turkey 9:00am 6:00pm
Wed Jun 12 Izmir, Turkey 11:30am 7:00pm
Thu Jun 13 Athens (Piraeus), Greece 8:00am 6:00pm
Fri Jun 14 At Sea
Sat Jun 15 Venice, Italy 2:00pm
Sun Jun 16 Venice, Italy Disembark
We were out the door of the Hotel Grums at 11:00 am,  we were on our way to the Port of Barcelona to board the Norwegian Spirit, an older ship in Norwegian's fleet.  Although only rated a four out of six stars, it had been remodeled two years ago.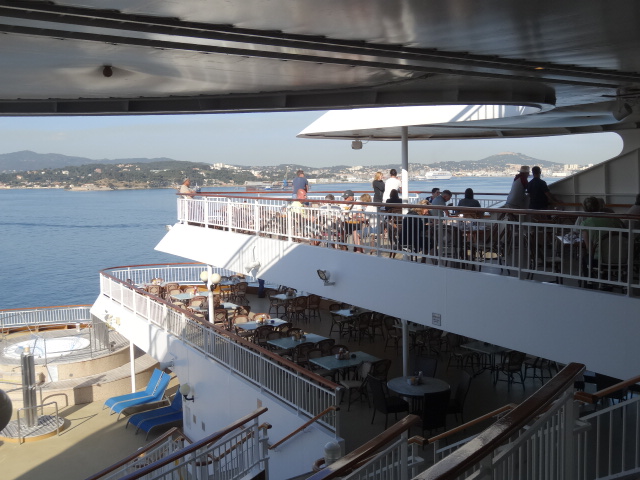 Outdoor deck on the aft end of the ship, Norwegian Spirit.
Based on the convenience of the dates that we're scheduled between our vacation homes in Dubai and Tuscany, this cruise was a logical choice. Also, this gave us an opportunity to visit the eastern Mediterranean.
With our recent arranged car rental when we arrive in Venice on June 16th, we've decided to forego visiting the Italian ports of call excursions of which there are three in the next week.The money we'll save will pay for 1/2 of our entire car rental for the summer.
More importantly, it will leave us with day trips to enjoy while driving our rental car all over Italy, seeing the sights on our own time, on our own dime, and free of germ-ridden bus tours. Thus, we'll stay on the ship for at least the next week.
Today's excursions are for Toulon, France. We've decided to get off the ship on our own to explore this exquisite resort community, posting story and photos tomorrow.
The bar outside the Raffles Restaurant where we had breakfast this morning and worked on today's post.
Hopefully, by the time we reach Istanbul, the unrest will be over and we'll feel safe to explore. So often on the news we hear awful stories about tourists getting caught in uprisings resulting in death or injuries. Our health and safety will always remain foremost in our minds. Nothing is worth the obvious risks.
Yesterday, arriving at the port at 11:15, our bags were whisked away, and of all things…we finally have cruised enough on Norwegian to warrant our Latitudes status to be Silver, allowing us priority boarding. When they called #1 and #2 boarding passes and we were #2, we boarded the ship along with the top Latitudes Platinum level passengers and Penthouse level passengers. Finally, a perk has materialized!
By noon, we were dropping off our carry on bags in our cabin and ready to be some of the first passengers in Raffles Terrace restaurant on the 12th deck, where most likely we'll dine for breakfast each day. The lunch was good with lots of excellent options for me. 
By far, this was the quickest embarking we've experienced so far.
Much to our disappointment there are no "comfy booths" in which to park ourselves each morning to write to you here. Wandering around the ship, we found a perfect spot, an observation area, Galaxy of the Stars also on the 12th deck with comfy sofas, chairs, places to put our legs up and another spot, where we are now, outside the Raffles Restaurant.
Our MiFi is working perfectly but we did, as usual purchase the ship's Internet package for 250 minutes for $100.  With a special they offered for early sign up and our Silver status, we earned an extra 50 minutes for a grand total of 5 hours of time.  With this two sea days, this will supply us for adequate time when we can't use the MiFi.
As we sit here ensconced in new comfy zone, writing amid pleasant idle chatter. Also, there are
less germs away from the dining area.
Fully unpacked, our cabin steward Kelly will fulfill our twice daily ice requests has already provided extra hangers and we're already settled in.
Dinner last night was in the Garden Restaurant, the more casual of the two included large dining halls.  Seated at a table for six, we sat with a young friendly newlywed couple and two charming widows from the UK.  The conversation was upbeat and full of shared quips about life and travel adventures.  It couldn't have been more fun!
By 9:00 pm, we were tucked in bed in our cabin, reading our books on the Kindle app on our smart phones, my eyes were closing, in between paragraphs in a futile effort to stay awake until 10:30.  As I pushed the off button on my phone it was 10:00 pm and slumber enveloped me, to awaken at 6:30 am, raring to go, feeling better.
Breakfast was mediocre at best this morning in the  Raffles buffet; eggs under-cooked; bacon too fatty and under-cooked; decaf coffee hard to find and difficulty finding a place to sit when we arrived at 7:45 am. With no pork in Dubai, we'd so looked forward to crispy bacon with none to be found
All I could think about were the germs everywhere.  For that reason alone, I'll be happy to stop cruising for a while.  Otherwise, I could cruise forever.  Actually, we've talked about cruising long term, but lack of good food and exposure to illness would be the predominant deterrents, even if the price was right.  We shall see.
Poolside today, a visit to Toulon, France taking photos, a workout in the fitness center and of course, meeting more interesting people from all over the world, on what we expect to be a very pleasant next 11 days.
More photos tomorrow!