Today is a busy day, so I'll need to hurry through today's post and be on my way. At 11:30 am, Rita is picking me up, and we're heading to Malalane for her chiropractic appointment, and then we'll head to lunch at a popular restaurant, The Deck. I can't remember the last time I attended a "girl's lunch" although I've had several "girl's breakfasts" at Stoep Cafe with Kathy and Rita.
Tom and Gerhard are driving to Nelspruit to drop off the rental car for Tom to pick up another, which will be the last car we'll need until we depart four weeks from today, on March 23. Time flies by quickly as we savor every last moment in the bush.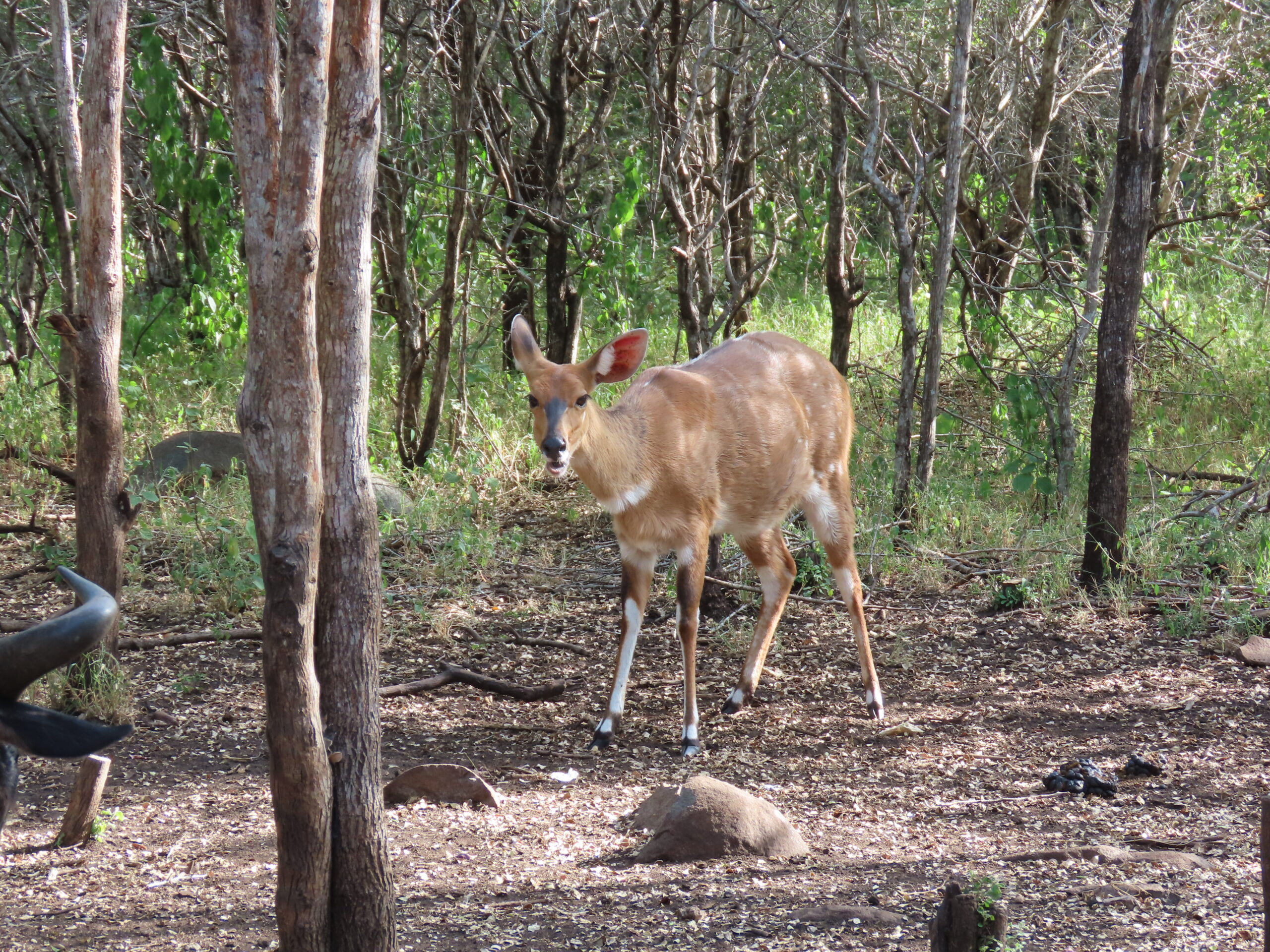 Most likely, when we return in December, we won't be staying at this house. The animals we know and love most likely won't find us at the next house, a few miles, km, from here. But Little found me when we arrived here after a two-year absence, so maybe, he'll find us again.
The animals can wander an area of a few kilometers each day, so we never know who we may see again when we return in December to a house we hope to rent, owned by Louise and Danie and recently remodeled.
Lately, Hal and Broken Horn have become quite a source of delight for both of us. Although they may appear simultaneously, most often, it's one, then the other, as was the case this morning. Their personalities and demeanor are uniquely different. Hal is more easy-going with the piglets and moms, while Broken Horn doesn't hesitate to show them his horns.
He never hurts them, but an injury could happen. We often see mature warthogs with severe injuries from messing with wildebeests and kudus. The bushbucks back off entirely when a larger animal is near. We've never seen a bushbuck with one of those gaping holes due to an angry larger animal. Overall, the animals get along well.
We are cautious when tossing pellets to ensure no unnecessary competition between species occurs. Of course, there are occasional scuffles within each species, mainly just chasing one another off. We humans need to avoid inciting any disharmony between the wildlife. Their lives are hard enough to have humans making it worse.
This morning, I am on a more frequent walking schedule, hoping to get in as many steps as possible before Rita gets here. I haven't missed a day since I began, shortly after the start of the new year. I've managed to meet or beat my prior week's number of steps each week. At this point, 8000 to 10000 steps per day seems to be the number that works best for our lifestyle and available time.
When we get to Florida, I will be able to walk outdoors. There are plenty of birds and marine life photos I'll be able to take since we'll be situated right on the water. Of course, I'll be taking my phone or camera if I see any alligators. It has been over two years since we've been close to the sea in India in 2020/2021.
So that's it for today, folks. I have to get a few things done before heading out, including some photos to this post and wrapping it up.
I hope you have a great day wherever you may be in the world.
Photo from one year ago today, February 23, 2021: