After yesterday's fiasco when our site wasn't loading (which will be resolved by day's end) and the loss of the post from February 3, I decided to attempt to piece it back together from memory which, after a stormy night's sleep worrying about why we were down, my memory isn't as sharp as usual. I'll do my best.
When Louise informed me by text that Paula had received a shipment of bananas, we dared venture out on muddy, dirt roads, with potholes, ravines, making an uneven treacherous route. There was no other way to arrive at Paula's lovely home on the road bordering the Crocodile River.
With Tom's expert driving skills, he somehow manages to make the drive over the rough roads tolerable, albeit amid a massive amount of bouncing around, which we both tolerate well. But, should a person suffer from several painful joint or muscle issues, such a ride would be prohibitive.
When we were here from February to May 2019, after I'd had open-heart surgery, never once did we attempt to ride on those bumpy roads. Thank goodness that now, I don't suffer any ill effects. As for the driving, thank goodness, once again, I never drive while we are in South Africa or other countries where most cars have a standard transmission with the driver's on the right side of the vehicle, using their left hand to shift.
It is hard enough for me to adapt to driving on the opposite side of the road I was used to in the US, let alone manage to change gears with my inept left hand. No, thank you. I'll continue to be the passenger, never guilty of being considered a "back seat driver." Tom doesn't require any coaching while driving.
When we finally made it to Paula's house, her friendly employee met us in the driveway to assist us with the bananas sitting atop a few tarps in the garage. Tom offered to place the bananas into our big empty pellet bag, but the kindly man insisted on helping. Of course, we tendered a much-appreciated tip when he loaded them into the boot of our little rental car.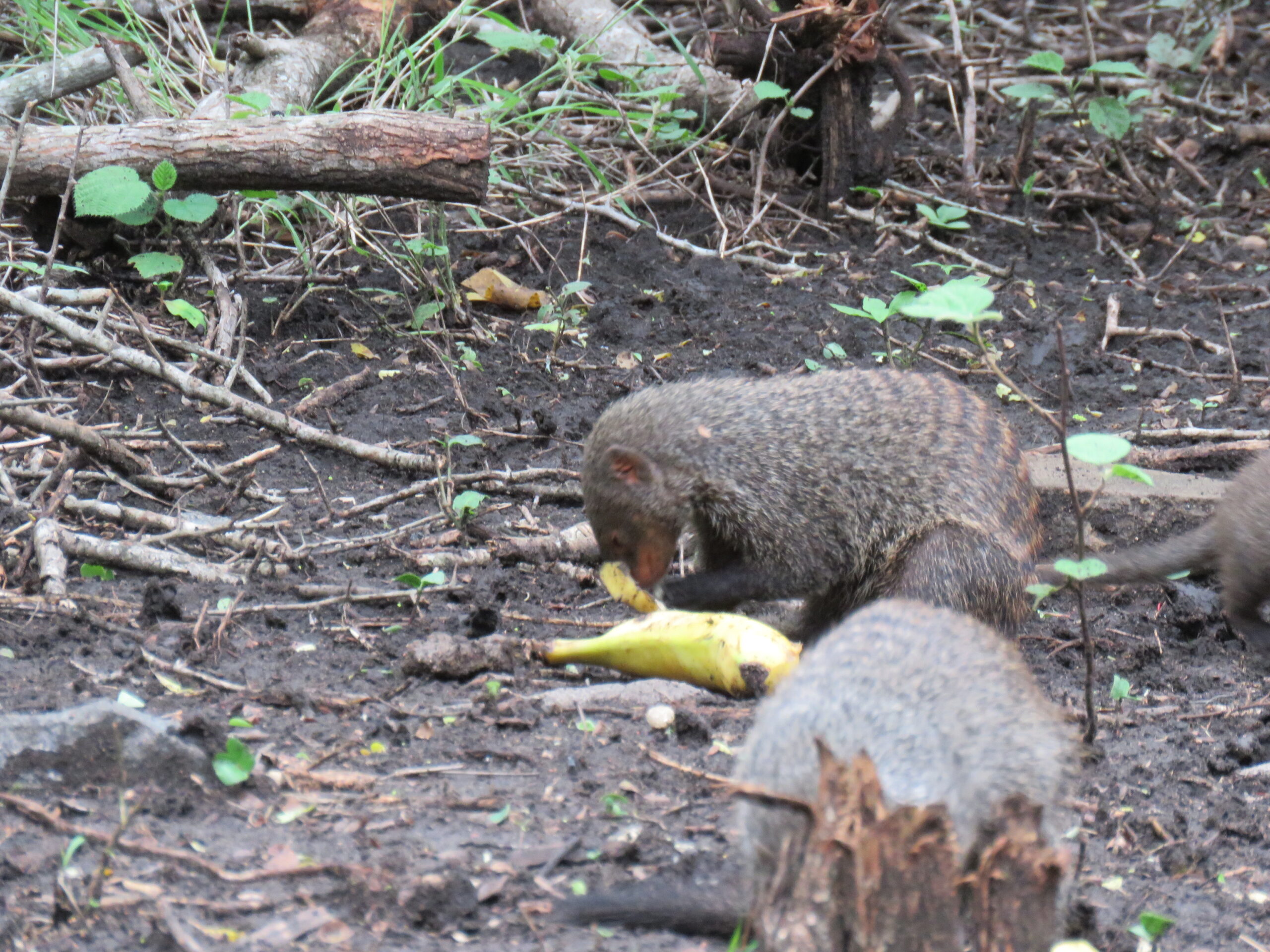 We headed back to our "home" (as we call it here), anxious, even in the rain, to deposit some bananas onto the ground in our garden, which backs up to a parkland area bordering Lionspruits, a "conservancy within a conservancy," where lions Dezi and Fluffy reside.
Being located close to Lionspruit, which we'd entered several times during prior stays in Marloth Park, enables us to hear the lions roar day and night. What a glorious sound, music to our ears when we listen to them, we can't help but smile at one another. The simple joys of living in the bush never end.
Last night we were invited to the home of Lesley and Andrew, along with friends Louise and Manie (a different Louise). We sat outdoors on their veranda, perfectly social-distanced by no less than two meters, enjoying the beautiful conversations and appetizers they served so graciously.
A number of their usual visitors magically appeared upon our arrival at Lesley and Andrew's lovely bush home, and again, we embraced the magic of this special place, its abundant wildlife, and of course, its unique people. How fortunate we are!
A few minutes ago, Tom took off for his first haircut in over a year, barring the "bowl over the head haircut" he gave himself some months ago while living in that hotel room in India. Photos will follow tomorrow. It will be fun to see his "new do" when he returns before too long.
All is well. We're content. Power is working. WiFi is working. By the end of today, our website will be up and running correctly. The sun is shining. The animals are visiting once again and enjoying the bananas. Happy day!
May you also be well and content!
Photo from one year ago today, February 4, 2020:
Tom, listening to our tour guide while in Udaipur, India, with the five-star Taj Lake Palace in the background. For more photos, please click here.