As much as we love being back in Marloth Park, we realize we need to adapt once again after being in the US for almost two months. No, it's not as if we were out and about much while there, but we quickly rolled back into our old ways of the conveniences offered in the US. Of course, prices on everything are reflected in the significant price differential.
But the differences aren't all wrapped up in making purchases. They are mainly centered around the nuances of daily life. Here are some examples:
Each time we go inside the house from the veranda, we have to bring our laptops and phones inside with us, even if we are going to the bathroom or getting a coffee cup and closing and closing the doors. There are two reasons for this. Some thieves watch the bush houses to see if anything valuable is left outside. Two, the baboons and monkeys could get into the house or damage the equipment outdoors.
It's a long drive to the market, about 25 minutes. The little local markets have very few items. Yesterday I needed sour cream to make salad dressing. There was none to be found anywhere in Marloth Park or any salad dressing other than Greek which neither of us likes.
Extra care must be taken when using the septic system and hot water.  Generally, the water pressure is low.
Load shedding: This occurred (power outage) last night from 7:00 pm to 9:30 pm and can occur twice to four times a day. It will happen again tonight at the same time as last night. We ensure we've had dinner, are doing the dishes, and have battery-operated lights handy.
WiFi can go out during load shedding or other times. Since Louise and Danie installed inverters for us, we'll have WiFi on most occasions to stream our shows at night.
There is no dishwasher at this house and never a clothes dryer. Zef and Vusi will do our laundry, but we'll do our own once it's busy here.
Extra caution must be exercised when driving to avoid hitting the animals crossing the road. This includes watching for snakes, rodents, dung beetles, and mongooses.
No TV on the main floor. It's not that we spend time watching TV; we don't. But we may check out news from time to time. Instead, we use our phones and laptops for news updates.
We must drive small, inexpensive cars due to recent increases in car rental prices. These car types don't handle the pot-hole-ridden dirt roads very well in Marloth Park.
Insects, mosquitoes, snakes, and other "creepy crawlers" are in the bush year-round, although they are considerably less right now since winter is approaching. (We are in the Southern Hemisphere, where the seasons are opposite the Northern Hemisphere). It's necessary to use powerful insect repellent at all times of the year on all exposed skin.
Limited shopping. If we need a clothing item, there isn't a local shop that will carry the products we'd be interested in buying. Online stores have inconsistent sizing, making it difficult to order anything online and feel assured it will fit. If we need non-clothing items, brand names are expensive since they are imported.
Shipping items from the US is costly. A typical 20-pound, 9 kg package can cost around the US $400, ZAR 6277 when it's necessary to use fast shipping through DHL or FedEx and pay customs fees when the items arrive.
Problems using ATMs. If an ATM is not associated with a specific bank and is located at a bank, it's challenging to get the machines to work to obtain cash. When we arrived in Johannesburg, we had to go to four ATMs to get one to work. This is common.
Due to Covid and employee shortages, it isn't easy to get responses from many service-orientated businesses.

An adorable male duiker stopped by.
Well, I suppose I could go on and on. But, what it boils down to is that we so appreciate the wildlife, the scenery, and the people, items such as the above are a small price to pay. In no time at all, we get into the groove, finding ourselves comfortable and fitting into the environment.
Last night's dinner of well-seasoned bacon-wrapped filet mignon, rice (for Tom), and a big salad was all we needed. We cooked on the braai whilel it was dark outside, and we still had electricity for lights. It was terrific dining at the outdoor table amid the night sounds of the bush.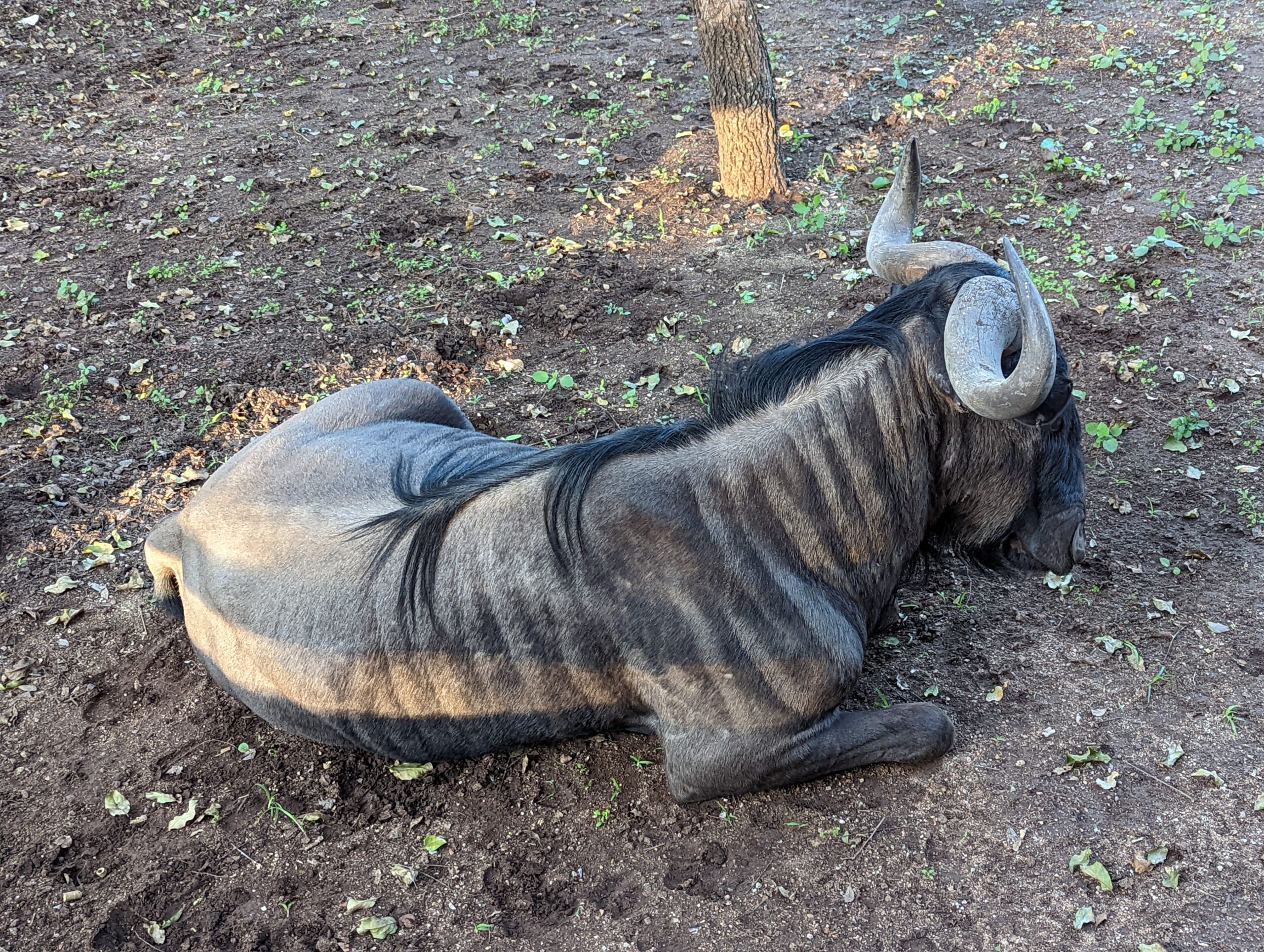 Yesterday, I made the terrible mistake of taking a two-hour nap during the day, which I never do. As a result, sleep was elusive last night. Today, I'll be more careful and not sleep until bedtime. Since we were infected with Covid, we both have been napping on and off during the day. Hopefully, soon, the need to do that will pass.
Be well.
Photo from one year ago today, May 26, 2021: