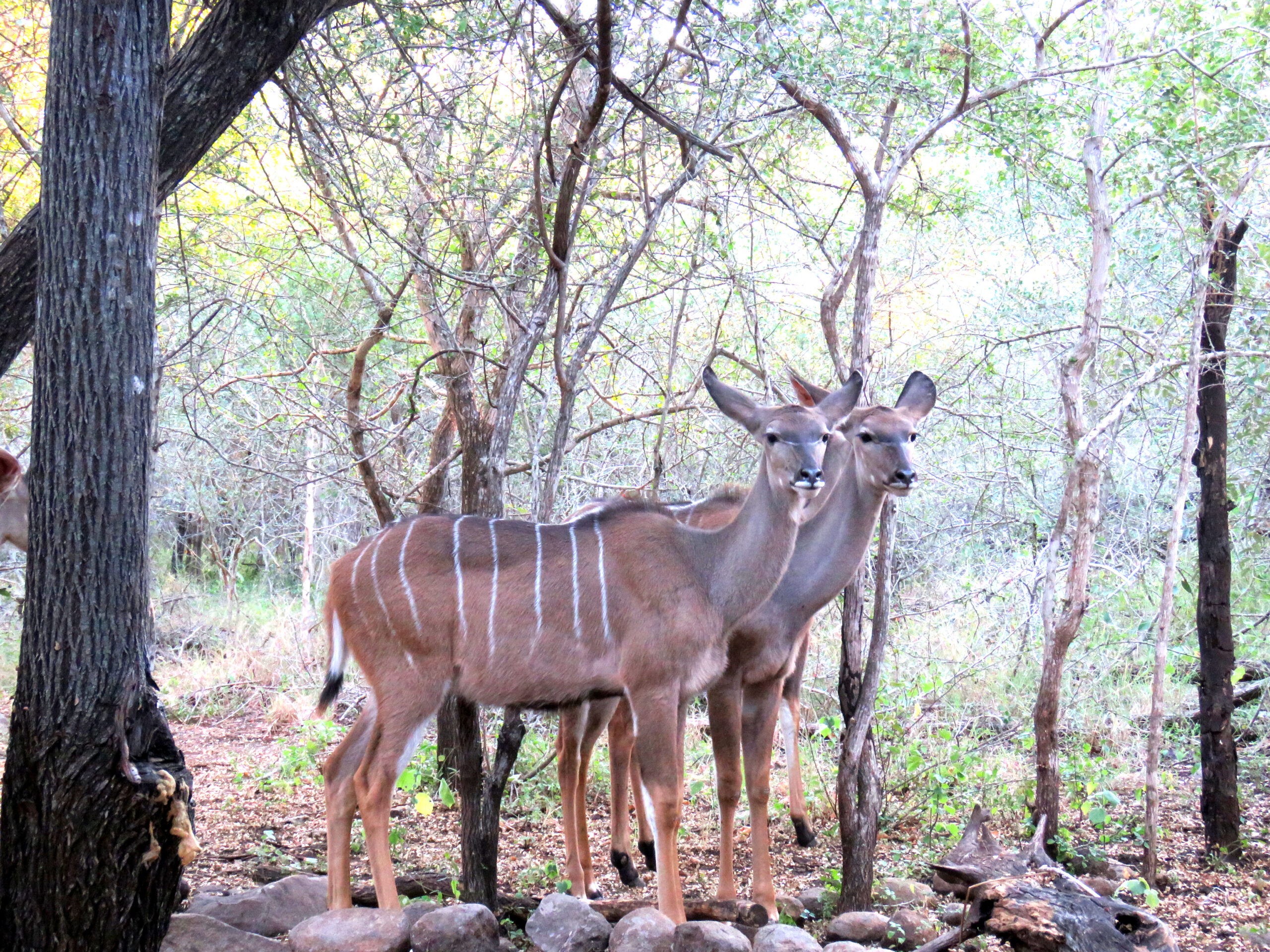 It was a good thing it wasn't hot last night. Sunday night, the power was out for almost 12 hours, and we couldn't use the air-con in the bedroom. On Saturday, in the middle of the night, I awoke Tom from a deep sleep and asked him why he was clapping. He wasn't clapping. The air-con was making a clapping sound every 10 to 20 minutes. What was that about? We shut it off, knowing the sound would keep waking us up.
We didn't want to disturb Louise over the weekend, so we tried it again last night, Monday, to discover the clapping continued. With a cool night, we used the fan instead, and that worked out fine. Today, Louise set up an afternoon appointment with Chris, the air-con guy, to come out this afternoon. It certainly is better to get air-con repairs handled on cool days like today. Next week it will be hot again when it is tough to get an appointment for a repair person to come out.
Soon, we'll be heading to Komatipoort to grocery shop and stop at the pharmacy for a few items. On our way, we'll stop at the home of the woman from whom we're renting the treadmill. The following payment for the upcoming three months is due now. I am so grateful I've had the treadmill to keep me in shape during these many lazy days in the bush.
Late in the afternoon, our friend and local author, Alan, and his girlfriend Fiona come for sundowners. When we return from the market, I'll get to work to make a few appetizers to serve during their visit. I'll make enough items, some of which I can eat, and thus, we won't be making dinner tonight.
Usually, happy hour continues until 8:00 pm, 2000 hours, or later, or when the mosquitoes and other insects are at their worst. It varies every evening, so we'll play it by ear and wrap up the evening when nature dictates. In any case, we're sure it will be another lovely evening with friends.
Socializing in Marloth Park has been kept to a minimum with Covid-19. Many are afraid to get together, even in small groups, especially after a few deaths from the dreaded virus here in the park. We only socialize with others whom we know are being careful like us.
Speaking of Covid-19, this morning, after applying for the vaccine four times, Louise finally got the SMS message stating my application was finally accepted. Now, we are waiting for a date and time for both of us. We hope this all works out with the timing before leaving South Africa on June 30th for our visa stamps.
Here again, we'll play it by ear. Our ultimate hope is that President Cyril Ramaphosa will extend visitor visas for yet another 90 days. That would be wonderful! If not, we'll make a plan, last minute, to fly out for a few days and then return.
I've already started making the appetizers for this evening. Right now, as I prepare this post, we have to leave to bring the money for the treadmill to the owner, and then we're off to Komatipoort. When we return, I'll finish this post.
We stopped at the home of the lovely woman who loaned us the treadmill, and we hit it off so well, we hope to socialize soon. We paid her the ZAR 1800, US $126, for the next 90 days.  It's been so helpful to me to have this piece of exercise equipment easily at my disposal.
We just returned from Komati after grocery shopping, a visit to the pharmacy and the liquor store. We have everything we'll need for the next few weeks. Everything has been put away. A few plates of the treats for tonight have been prepped. Soon, we'll set up the table. The house is clean and tidy after Vusi did another fantastic job this morning.
Now, Frank and The Misses are drinking water from the little container we set down for them with fresh water a few times each day. I'd forgotten to put the container down on the floor when we returned, and he made his funny noise at me to let me know he and The Misses wanted to drink.  The Imposter is here by himself, without his buddy, Narrow. Mom and Babies just left the garden after eating pellets.
Last night, just before going to sleep, I came out of the bedroom to fill a glass of water for my bedside table. I happened to turn on the outside light to take a peek to see if anyone was there. And there she was, Bossy (kudu) and one of her offspring, a handsome young male. Of course, they were staring at me through the glass door, wondering if pellets were served so late at night.
Sadly, I declined to offer pellets since the alarm had already been set, and I didn't want them coming around at night in the dark with expectations. I kept an eye out for them, and a short time later, they left. This morning they were back, and we tossed plenty of pellets their way. We often wonder where and when they hunker down at night and how long they sleep.
Most wild animals sleep in short bursts and for very few hours a day, from what we've read. It's ingrained in their DNA to keep out a watchful eye for predators. Here is Marloth Park. Few predators exist for most of the wildlife. But, still, they remain alert and diligent to protect themselves and their young.
At the far end of our garden, Lionspruit begins where lions Dezi and Fluffy live.  There are hundreds of other animals in Lionspruit, many possible meals for these two lions. It's an entirely different situation in Kruger National Park than here in peaceful and less-threatening Marloth Park.
Have a fantastic day!
Photo from one year ago today, April 20, 2020:
Hand-feeding Kookaburras in the garden, re-posted one year ago from Australia in 2017. They are carnivores, so I fed them raw, grass-fed ground beef. For more photos, please click here.