Note: Some of our readers are not receiving the daily email updates of our post. Some readers have reported that the post has gone to their spam folder which we suggest you check and unmark the post as spam. Our web people are working on this issue today. It should be resolved in the next 24 hours. In the interim, please continue to find us at www.worldwidewaftage.com.
When Karen and Rich told us about the nearby Manatee Viewing Center in Apollo Beach, Florida, we were interested. But, when they explained that it might be difficult to actually spot any manatees near the Tampa Electric Company, where the warm waters from the plant attract manatees, we hesitated to check it out.
When we took off for the grocery store, we decided to visit the center and see if we'd have safari luck. Since the manatees are not confined and may come and go at their leisure, we felt comfortable giving it a try. We avoid visiting caged and confined animals that should be in the wild. Although, on occasion, we visit rehabilitation centers, which is an entirely different scenario. especially when the intent is to return the wildlife to the wild, where they belong.
Not to be negative, but we anticipated a pricey entrance fee and the possibility of never seeing a manatee. Much to our surprise, entrance into the oceanfront setting was free to the public. As shown in our photos, the tourist-like location across the bay from the Tampa Electric Company, somewhat offset the eyesore of the massive power plant (not nuclear).
Many homes in the area have extensive views of the power plant. Perhaps those homeowners feel less intruded upon by this haven for manatees that has been generated (no pun intended) by such an intrusive structural complex so close to their homes.
On the Manatee Viewing Center's website, they write:
"Manatees love warm water. And by a stroke of POWERful luck, Tampa Electric can provide it to them! Our Big Bend Power Station in Apollo Beach circulates water from Tampa Bay for cooling, then sends the water flowing clean and warm back into the bay. The manatees leave colder waters to return to this warm and welcoming refuge in the winter months.
Because of this uniquely unusual migration, we've built the Manatee Viewing Center so everyone could have a chance to see manatees gather. Our discharge canal is a state and federally designated manatee sanctuary that provides critical protection from the cold for these unique, gentle animals.
Location: 6990 Dickman Rd., Apollo Beach, FL 33572
Hours: Open daily from November 1 – April 15, 10 a.m. to 5 p.m. Trails close at 4 p.m. We are closed on Thanksgiving Day, Christmas Day, and Easter. Have questions? Call us at 813-228-4289.
Tampa Electric is proud to offer free parking and admission to all who visit!"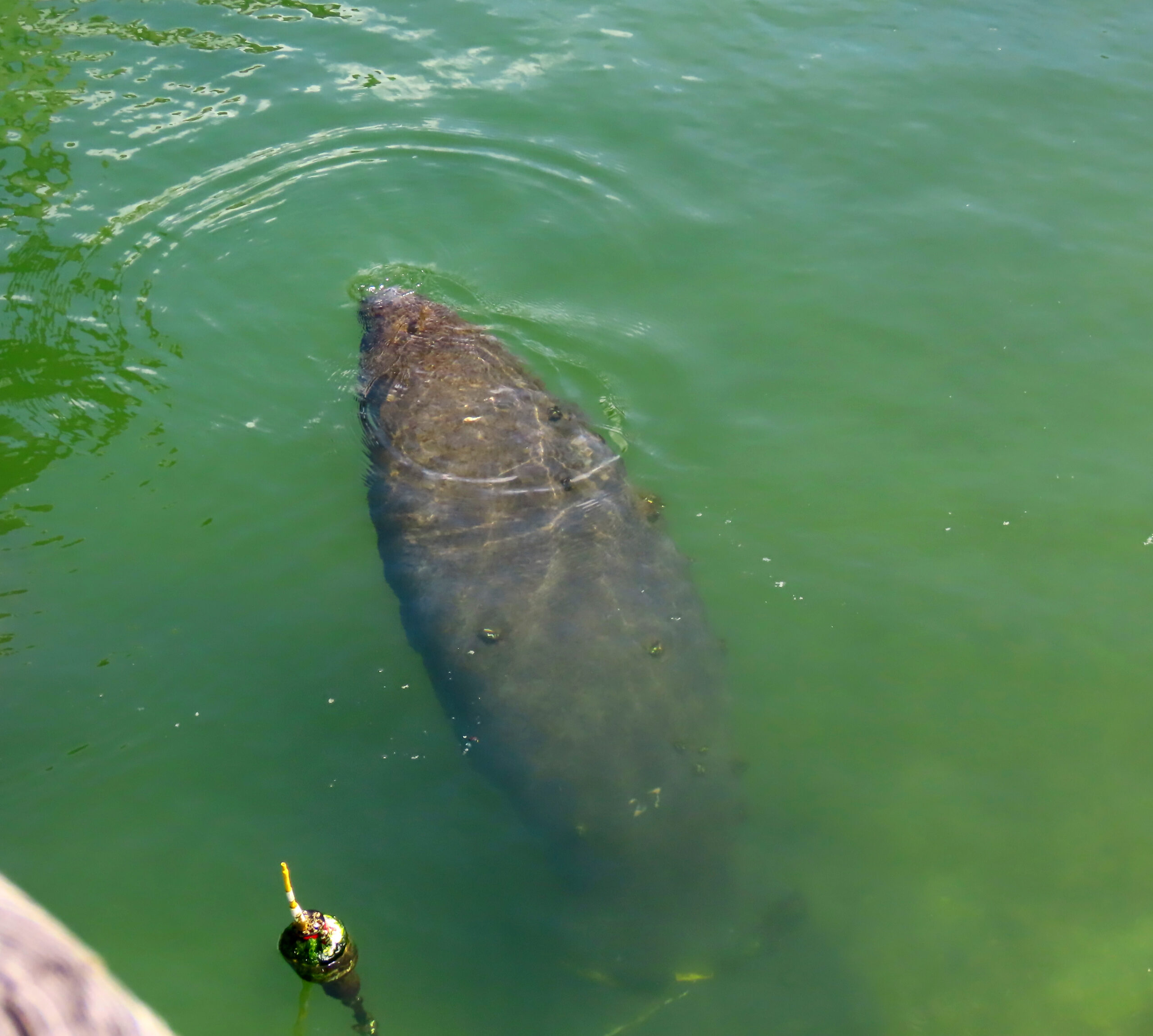 Tom, impatient fellow that he is, seemed ready to leave when we didn't see anything. When we arrived at the center to find the parking lot full, we persisted and found a good spot. After a short walk up a ramp, we made our way to the major viewing area, wondering if we'd get lucky.
But, knowing me, riddled with persistence and determination, I wanted to wait it out. Within five minutes, we saw manatees. I was almost squealing with delight. My high-pitched talking-to-animals-voice kicked in while my camera clicked feverishly to get a good photo.
Manatees don't rise above the waterline. Only their noses protrude for a quick moment to collect a good dose of air every five minutes or so. As long as we could see their blubbery bodies under the water, we knew at some point they'd come up for air. And they did.
In reality, it would take a scuba diver or snorkeler's underwater camera to get good shots of these peculiar massive creatures. We did the best we could under the circumstances and were thrilled to get the shots we did. Of course, I was thrilled, as always, to add yet another wonder of nature to our repertoire of online photos on our posts, and we're delighted to share them with our readers today.
We're sharing the photos we took between today and tomorrow's Part 2, a continuation of this story. We decided to break this up into two stories since we have to hurry to get out the door tomorrow to meet with friends Tom and Lois for lunch in Arcadia, Florida.
Have a fantastic day!
Photo from one year ago today, April 1, 2021: