Last night, our last night in Boveglio, there was a wedding in the centuries-old church
across the road. The smoke is a result of a short
 fireworks display
set off to celebrate the newlywed couple.
The four-hour drive to Venice was relatively uneventful although the traffic on the toll road was intense at times, moving fast with crazy driving typical for Italy weaving in and out of lanes with little regard for safety.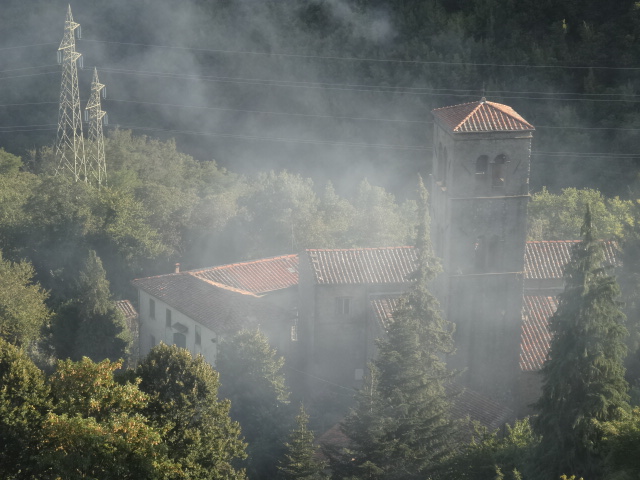 The dissipating smoke from the fireworks set off for a wedding.  Both set of bells in the bell tower rang simultaneously.  Tom timed the bell ringing at 20 minutes!  We giggled when saying that the bells were ringing as a goodbye to us!
Tom is a good driver, but his level of patience in traffic is lacking. From time to time, it was a nail biter. In charge of navigation, my task, in itself was daunting.
As we drove away from Boveglio.
With a serious lack of road signs, driving long distances in Italy is a challenge. During several stretches, we'd driven for miles unsure if we were on the correct road. How we managed to get here without ever taking a wrong turn baffles me. 
Our final view of Boveglio from the winding road in the mountains of Tuscany.
Although we have no phone service on our smartphones, we can access navigation.  However, in the mountainous and hilly roads, the signal would occasionally be lost, requiring a little monkeying around to keep the directions readily available.
Yesterday, we printed a map with line by line directions which were different from the navigation we pulled up on the phone. There are only so many ways to get from Boveglio to Venice. 
It was a busy morning on the road down the mountain, making each hairpin turn challenging.
Once we checked into our hotel, our luggage in our room, Tom took off to return the rental car, the sold rental car. Much to my delight, he returned in only 15 minutes, the task accomplished. Whew! Based on the two hours it took to pick up the car on June 16th when we arrived at the same Marco Polo Airport in Venice, we anticipated an equally long return. 
The hotel shuttle picked him up at the car rental drop off area, returning him to the hotel. Oddly, they didn't ask Tom to pay when he dropped off the car. We owed a balance of approximately Euro $1300 which most likely will appear on our credit card in a few days. 
While I was busy navigating our road trip, Tom counted tunnels
we entered for a grand total of 25.
Packing and moving out of the Boveglio house was not without challenges. Now down to only one large suitcase, one smaller wheelie each, plus one shared duffel bag and, one computer bag each, our load is considerably less heavy. The packing of these bags requires an enormous amount of planning with the contents consisting of everything we own.
Yesterday, we accomplished most of the packing, but saved the final "sucking" of the Space Bags until this morning. With numerous items drying on the clothes rack during the day along with the clothing we wore yesterday, we thought it would be no big deal to seal everything up this morning. 
Many tunnels were short, but a few may have been almost a mile long.
We won't do that again. As it turned out, I made a dumb error placing several of my belts in one of the plastic bags. Once the bag was sucked, one of the belt's sharp clasps tore a hole into the carefully packed bag, leaving us short one bag for my clothing.  
This required me to remove all of my clothes from 4 already sealed bags to rearrange everything, repacking it to fit into 3 bags.  Needless to say, I had to say goodbye to my tennis shoes, a swimsuit, a pair of white pants, and a few more shirts, all left for Lisa or whoever she may donate it to.  Tom also, had to repack his bags now that we had less luggage, leaving several items behind.
Goodbye to the lush hillside of Italy.  We've certainly enjoyed the views.
With the 220-wiring in Europe, the little Shark portable vacuum can only suck one bag in a 30=minute period before becoming overheated. In Dubai, we'd thought we'd burned out the vacuum's motor to later discover that once it cools. it works again, provided an ample resting period exists between uses. Without that vacuum, we'd literally have to get rid of another 35% of our clothing.
The bright end to one of the 25 tunnels we navigated today on our road trip to Venice.
This morning our plan was to leave by 9:00 am. We didn't walk out the door until 10:45 am.  We arrived in Venice with time to spare with another travel lesson learned: pack and close all bags the day prior to leaving, using the duffel bag for overflow. 
Another important task we decided to take on when we rented our first vacation home in Scottsdale. Arizona last November, is to leave the property in the same condition as when it was presented to us. With the spaciousness of the Boveglio house and the multiple rooms, we'd used to store "our stuff," leaving it as it was when we arrived required more work than we'd anticipated.
The fast-moving highways without shoulders prevent good photo-taking opportunities. 
Although Santina cleaned the house on Friday morning, we had our share of work to be completed in the last 24 hours: wash all the kitchen and bath towels, tablecloth, and linen napkins. Return furnishings we'd moved to accommodate our needs.  Defrost the freezer and clean the refrigerator, throwing out any leftover food into the organic bins, washing out plastic and glass containers for recycling.  Clean the stove, sweep the floors, clean the bathrooms, and on and on. 
By the time we left this morning, we were confident that we'd left the house in excellent condition. With more time, we'd have washed and dried the sheets. The necessity of outdoor drying made it impossible, although we did remove the bedding, leaving it in a laundry basket with the few towels we'd used to shower this morning.
Certainly, we aren't this tidy when staying in a hotel.  Living in a rented home, especially when we've been charged fair rates, leaves us feeling compelled to return it to its original state.
As we drove away from Boveglio, we saw Luca and his daughter on the road. With their several rental houses in Boveglio, they spend considerable time maintaining the homes and the grounds on the weekends. Once again, we expressed our heartfelt gratitude for the 2 1/2 month stay in their 300-year-old stone house, as we'd done yesterday when they stopped to say goodbye with multiple rounds of double cheek kissing.
Tonight, the hotel shuttle will take us out to a local restaurant for dinner, returning us when we're done, which we're both anticipating with enthusiasm. Once we were moving along the road at a good pace, neither of us wanted to stop to eat. With nary a morsel all day, I could eat my shoe if it was covered with a few slices of melted Italian cheese.
Tomorrow morning, off we go on our 15 plus hours,  three flights, two layover jaunt ending in the middle of the night. Most likely we'll be exhausted, requiring a full night's sleep to recover. Neither of us does well staying up all night as when we were younger.  
Stay tuned, folks.  We'll be back by on Tuesday with photos and stories of our ongoing travels.  Thanks for sharing the journey with us!