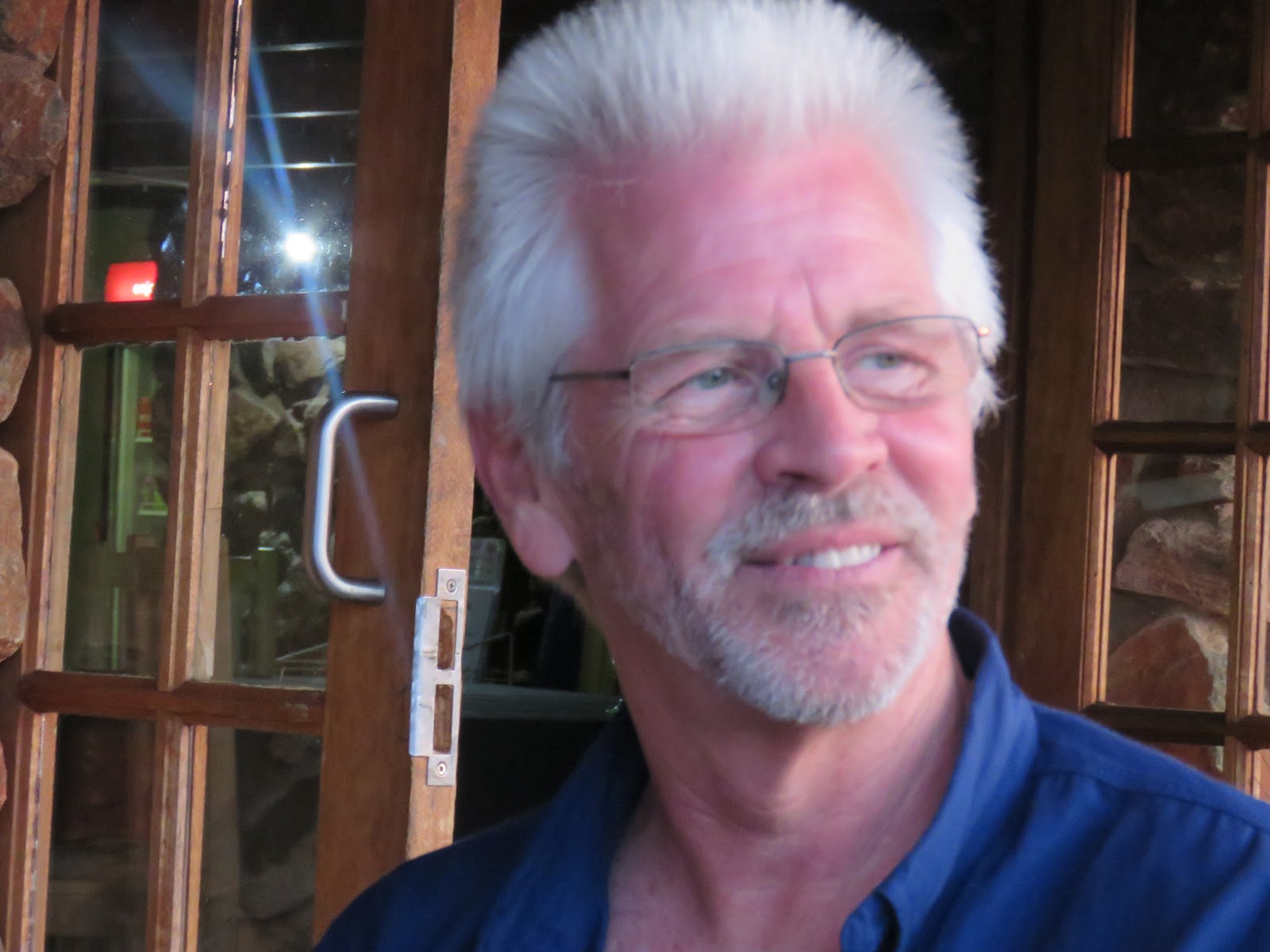 I

n this photo, taken at Aamazing River View in November 2018, on Saturday night with friends, I cut off the top of his "tall" fluffy hair but I like this photo of my guy, Tom.
Today's photos are from Tom's birthday party in Marloth Park on this date in 2018. For details, please click here.
Happy birthday to my dear husband Tom. I'm sorry it's so uneventful with no special meal, no drinks, no cake, and no presents. But the biggest gift of all has been the resilience both he and I have shared over the past nine months, in this monotonous hotel room, making the very best of a peculiar situation, day after day.
Beautiful platters of snacks that Rita and Gerhard prepared, along with a huge amount of decorations.
This morning Tom started rattling off all the countries where he spent his birthday over these past years of world travel. Here's the list:
2012 – Las Vegas, Nevada, USA
2013 – Marloth Park, South Africa
2014 – Pahoa, Big Island, Hawaii, USA
2015 – Pacific Harbour, Viti Levi, Fiji
2016 – Penguin, Tasmania, Australia
2017 – Buenos Aires, Argentina
2018 – Marloth Park, South Africa
2019 – Apache Junction, Arizona, USA
2020 – Mumbai, India
The outdoor table, set for 10.
This morning, much to our delight, dear friends Rita and Gerhard called us from the US to wish Tom a happy birthday. It was the two of them that hosted the surprise birthday party for Tom in Marloth Park in 2018, as shown in today's photos. It was fabulous to hear their voices and share our mutual memories of life in Marloth Park.
What great memories! We have had so many wonderful times over the past years with new friends throughout the world. Surely, we've been blessed and are very grateful, especially when we recall experiences we've had during the holidays and birthdays, including ours and that of our newly made friends.
Our hosts, Rita and Gerhard, couldn't have done anything more to make this a spectacular birthday for Tom and a celebration for all of us. Our heartfelt love and thanks to them both.
On Facebook today, birthday wishes for Tom are pouring in and we can't wait to begin reading them all soon. During this challenging time, these heartfelt wishes mean all the more to him and also to me.
Not intended to be over-mushy, overly-gushy, I can't help but add that these past months, however challenging, and often boring have not been as awful as one may think, Tom has been a rock for me, as well as being an endless source of laughter and entertainment. There are countless days and nights we've laughed so hard we cried, along with endless conversations about our situation, past exquisite memories, and dreams for the future.
Danie and Louise. We can't wait to see them soon!
Although at times, we stayed quiet for several hours in a day in our own little world (literally), we rarely, if ever, felt a sense of disharmony. Staying on an even keel for each other and for our own mental health and well-being has been our goal each and every new day. And, this dear readers, we've done well. No, there's nothing special about either of us. We just were determined.
As the days and nights blended into each other, we tackled one at a time, focusing on the goal in mind…to come out of this trying lockdown as the loving and caring couple as when going in. Today, on Tom's birthday, I thank him for his part in helping to keep me on an even keel while maintaining himself in a state of a consistently even disposition.  When one member of a couple accomplishes this, it's easy for the other to follow suit.
A few weeks earlier, Kathy and Rita nonchalantly asked Tom, "What's your favorite meal?"  He replied, "Meat, mashed potatoes, sweet corn, and green beans.  Well, look here! All his favorites and more, steamed cauliflower, potato salad, Greek salad, and spinach salad. What a fantastic meal!
So, happy 68th birthday, my love. Keep walking, keep talking, and keeping smiling. There will be many more birthdays to come, hopefully under less confining circumstances. You are dearly loved.
The bright light behind us wasn't the best vantage point in taking this photo. From left to right: Don, Kathye me, Tom, Danie, Gerhard with Louise and Rita in front.
I'm cutting this post short today. Let's get this party started!!!
Happy holidays to all!
Photo from one year ago today, December 23, 2019:
Rita and Gerhard gave Tom a birthday party in 2018. In this photo, Jandre, Danie, Kathy, Tom, me, Rita, Louise and Gerhard on the veranda overlooking the Crocodile River at Tom's birthday party last year. We had a memorable time! For more details, please click here.