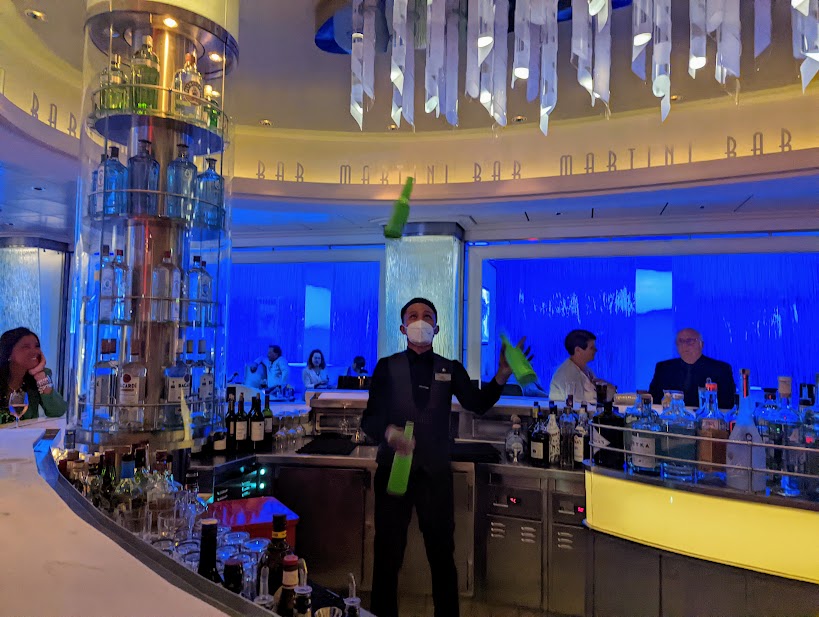 Many people are tested positive for Covid and have no symptoms. Others may experience a headache, sore throat, aches and pains, exhaustion, and coughing. Everyone is different in how they respond to testing positive. Today's post is about our experiences and maybe entirely different than others. Please contact your medical professional if you need support and assistance.
As mentioned in an earlier post, Tom was the first to experience symptoms. But his were vague and certainly didn't cause us to suspect he was infected. He was coughing a lot from acid reflux when he consumed sugar and bread, which for days he had done, with the bread basket served at dinner and the desserts with ice cream he ordered each night after dinner.
If I got sick from food, I wouldn't eat it, but apparently, Tom's desire for certain foods supersedes his desire to feel well. I keep my mouth shut, and he decides for himself. But, the coughing at night was keeping me awake, and I asked him to reconsider his food choices. He did stop the bread but not the desserts. He continued to cough,
At that point, about seven days into the 13-night cruise, we became concerned but didn't for a minute think it was Covid. After all, Tom has smoked off and on during the past 9½ years of world travel, and I do not influence his decision to quit entirely. Only he can make that decision.
Over a few days, his nose ran off and on. Here again, we both have allergies and can easily suffer periods of runny noses and frequent sneezing. Besides, I felt fine. Isn't Omicron highly contagious, and if he had symptoms, wouldn't I as well?
But on night #10, I had that bout of high blood pressure and excessively fast pulse. I attributed this to the two glasses of red wine I drank during the silent disco and an amount of dancing I hadn't done since I had open-heart surgery in 2019. Dr. Google confirmed that the blood pressure and fast pulse could easily have resulted in those two reactions.
How wrong I was to make that assumption on that stressful Monday night! I was experiencing the beginning symptoms of Covid that may or may not manifest in a person with cardiovascular disease. Ah, Covid is still mysterious in how those with comorbidities can react to its ravages. These types of uncertainties allow the virus to spread among others wildly.
On Tuesday, Tom's coughing was subsiding. After Monday's fitful night, I felt tired, and we went to our cabin right after dinner by 9:30 pm. I fell asleep by 10:00 pm, thinking a good night's sleep would make me feel great in the morning. But I did not. I awoke with a sore throat, feeling achy and utterly exhausted. Then I knew.
Immediately, I headed to the ship's medical clinic wearing my military-grade mask and was told to head back to my cabin and wait to hear from the doctor, as described in detail in the post a few days ago. Tom was advised to join me in the cabin. As you know, we both tested positive.
Now, here we are, taking an at-home test today at 3:00 pm that most likely still be positive and we won't be able to make tomorrow's Queen Mary 2 cruise, or even board a plane, to anywhere. After all, it's still only been three days since our positive tests on the ship. But, it may actually be day #5 for me and day #10 for Tom. We will test me today. If I am positive, there's no point in testing Tom until such a date when I'd test negative.
I began coughing fiercely for the past few days with a horrible dry cough. But yesterday, I realized I had brought along an electric nebulizer and medication for it that we'd purchased in lockdown in India, anticipating such an experience. What a lifesaver this has been. It has helped me tremendously in the past 24 hours, especially since I have asthma which is always an issue when I get a cold or flu. I feel like I am on the upswing, although I am still fragile and exhausted.
This afternoon at 3:00 pm, when I take my first test since I was diagnosed as positive. Then, I'll do another test tomorrow. At this point, we have considered several options. We will decide what we'll do and share the details with you here in tomorrow's post.
Have a fantastic day!
Photo from one year ago today, April 23, 2021: