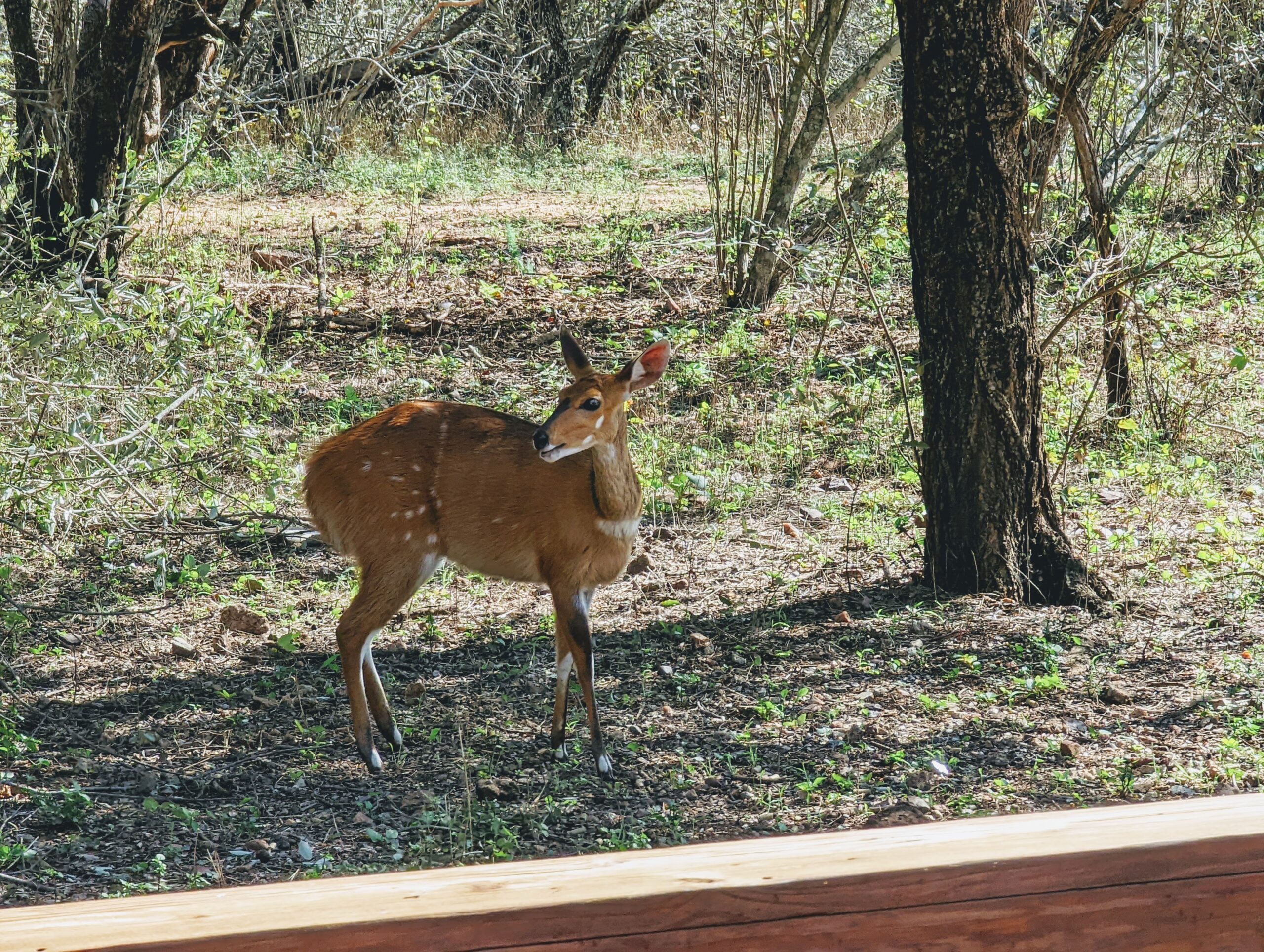 We are unpacked and sitting on the veranda, drinking coffee on a perfect weather day. We couldn't stay awake when we went to bed at 9:00 pm to watch another episode of Outlander on my new laptop. We turned off the computer and the portable speaker that helps Tom hear the shows we're streaming and drifted off.
We both woke up for a few minutes during the night but fell back to sleep after chatting a little. Today, we feel great. There is no jet lag, and most of the Covid symptoms are almost entirely gone except for an occasional cough, runny nose, and headache. Tom has fully recovered from pneumonia.
Last night we arrived at Jabula for dinner to a warm welcome from Dawn and assistant David, and other staff. We sat at the bar and had an adult beverage for the first time in over a month. I slowly sipped on two small glasses of Skinny Red wine that Dawn keeps stocked for me, and Tom had his usual Klipdrift brandy and Sprite Zero.
The food was perfect as always, but by 8:00 pm, we were on our way back to the house. We needed to sleep more than we needed to socialize. On Friday evening, we'll return to Jabula for dinner, and being rested; we'll enjoy the social time all the more.
As it turned out we lost several non-perishable food items we'd stored in the storeroom of this house while we were gone, including one bottle of perfume, when baboons had broken a window and got into the single cabinet and had gone through our stuff. They went through all four plastic bins looking for food but destroyed many items.
Zef and Vusi went through everything, tossed the damaged items, and cleaned off the salvageable items. Louise warned us to be very careful with doors open since baboons getting inside the house and wreaking havoc have been a real issue at this house. We can't ever go inside without closing all the doors, and all windows must be locked and closed when we leave.
We have been careful with this potential problem in the past and will be so again in this house. Speaking of the house, we love it here. We've managed to make to find a place for everything. Zef took our laundry today and will return it washed and dried tomorrow. For the first time in the bush, we'll have them do our laundry, which we'd always done ourselves in the past. There is a washer out in the back of the garden, and if we want to, we can wash a few items ourselves as needed.
Tonight, we will stay here and enjoy dining on the veranda. We've had several visitors so far, but it will take a few days for them to know we are here. So far, this morning, we've had impala, bushbucks, duikers, and warthogs. Yesterday, we had a massive band of mongoose stop by, but since we didn't have any paloney yet, we gave them some of our eggs until we went to Komati and shop sometime next week.
Soon, we drive to the little local market for a few items. I forgot to tell Louise when I made the grocery list I'd given her when I still had brain fog from Covid, which is improving each day.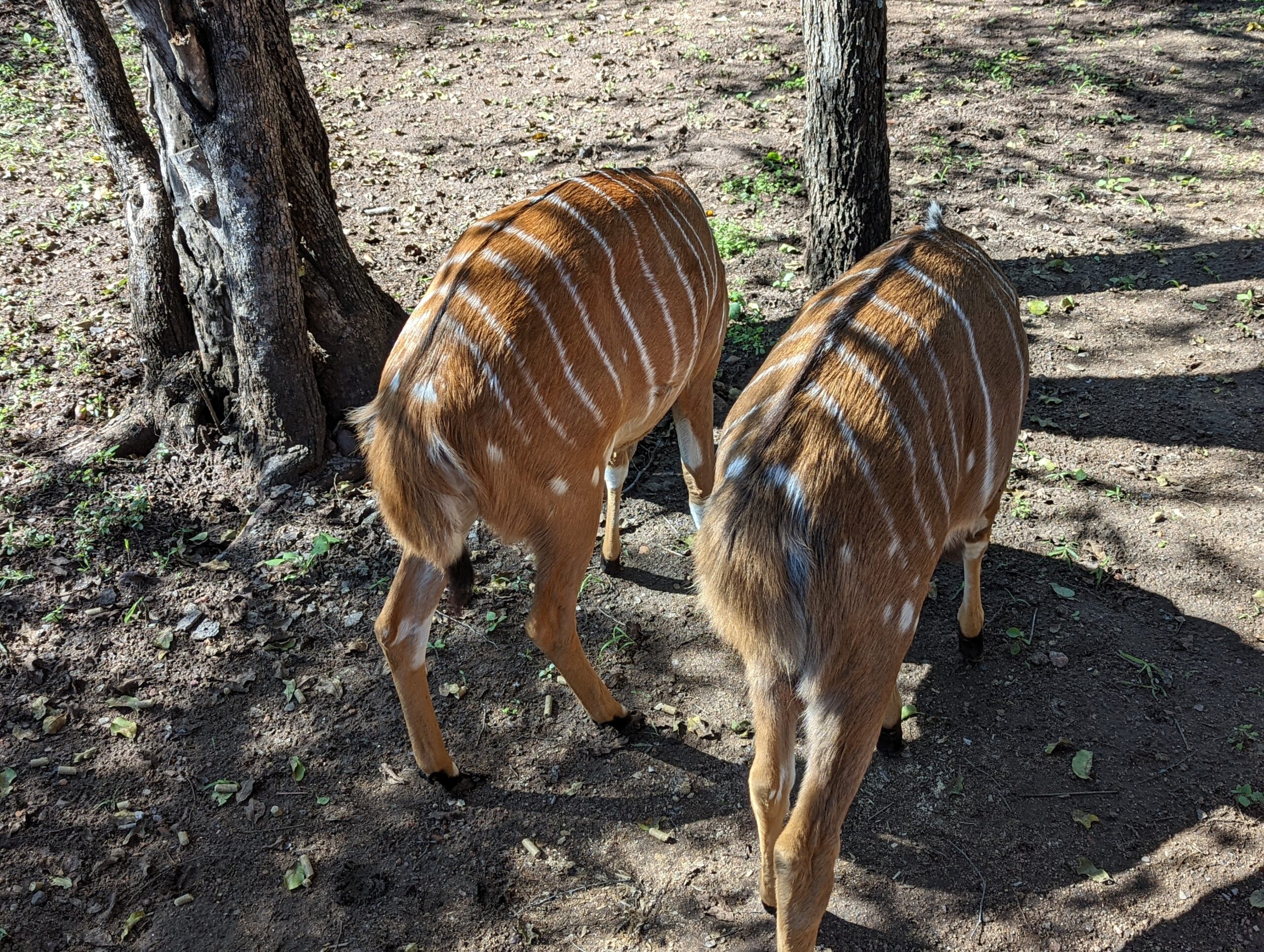 We are excited to share some photos finally. But, they were taken at a distance. I'll start using the camera and my phone since the camera has a better ability to zoom in. We're trying to keep the animals from coming up onto the veranda at this house based on the layout, the pool's wood surface, and the plants we're trying to protect in the garden.
Well, that's it for today, folks. Of course, we will be back with much more in days, weeks, and months. Soon, we will start working on where we'll go when our 90-day visa is up and report what we decide here.
Be well.
Photo from one day ago today, May 25, 2021: