Last night we headed to Royal Kruger Lodge in Marloth Park for owners Flo and JiJis, annual New Year's Eve Party. We brought along another cooked medium rare sliced prime rib and placed it on the table with all the other yummy delights the 35 guests had prepared for the event.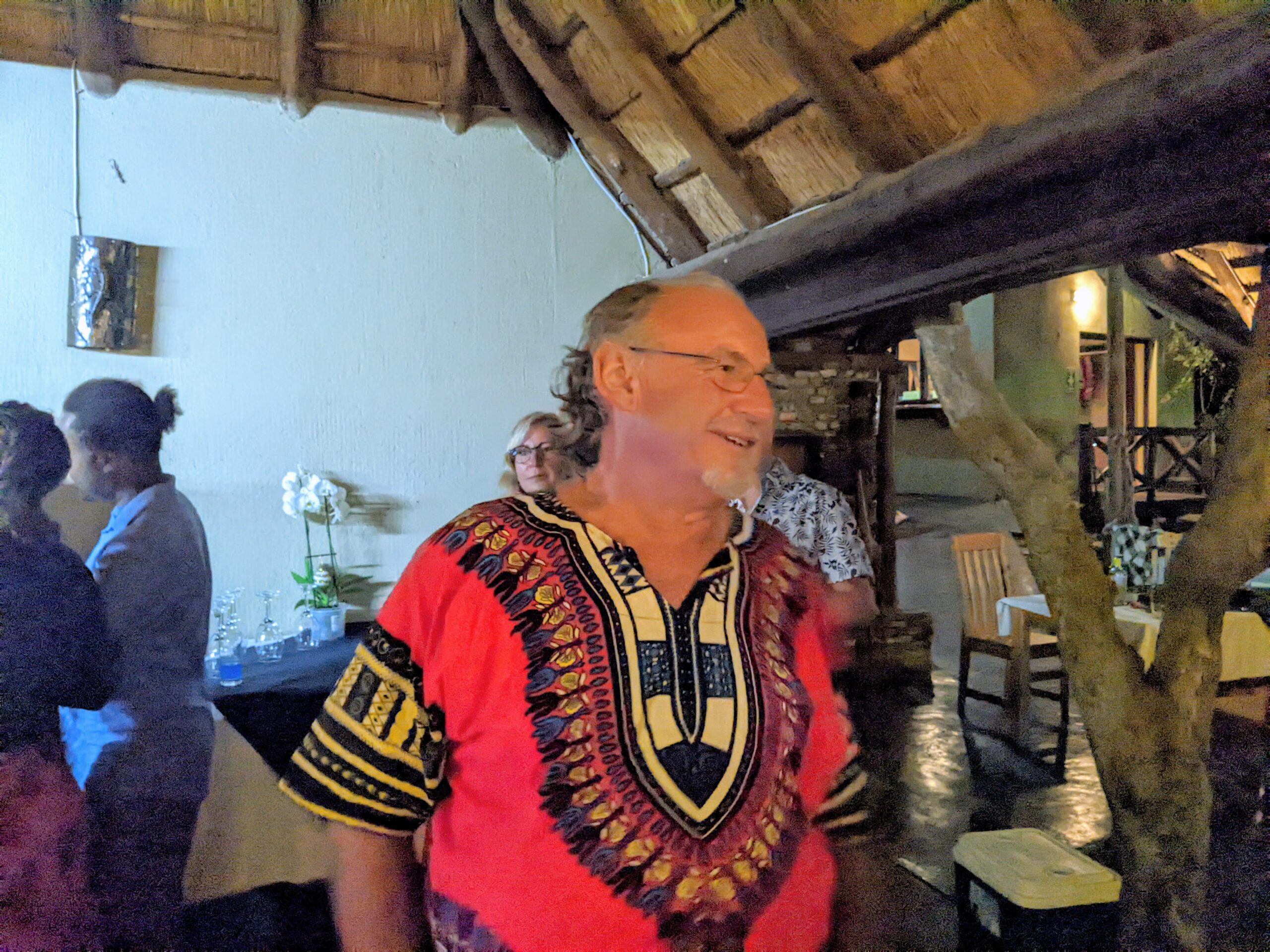 It just so happened that Flo's birthday is on January 1st, so her celebration is included in the event. We knew most of the people at the party that we'd met at one time or another at various events in Marloth Park. Jiji was behind the bar, busy as the deejay, playing fantastic dance songs that only added to the excitement of the evening in the beautiful covered outdoor area.
It was a good thing their veranda and outdoor party room had roofs since it had been pouring rain all afternoon, which finally tapered off later into the evening.
Shortly after us, Louise and Danie arrived. After welcoming hugs all around, Danie blurted out, "We have a surprise for you tonight!"
I added, "I hope that doesn't include throwing me into the pool at midnight." Danie insisted, "No, I wouldn't do that to you!" I was grateful for that and trusted he'd stick to his word. Neither Tom nor I could imagine what the surprise was awaiting us at some point during the evening.
We mingled with the guests, somehow always gravitating back toward Louise and Danie, such dear friends. Danie had this big grin on his face, and I kept wondering what was up. At one point, when Tom asked JiJi if many guests were staying at the resort, in error, he said, "We have a few guests, one a couple from Germany, named Gerhard." I didn't flinch but looked at Tom, never for a moment thinking it was our dear friends Rita and Gerhard, who are from Germany but have lived in the US for 30 years.
I then stated, "Gerhard is a common name in Germany." I never thought that he was talking about Rita and Gerhard for a moment. I had texted with them earlier in the day, wishing them Happy New Year, and they quickly responded. They must have been at the Flo and Jiji's resort in their hotel room when they got my message on Whatsapp. (Soon, they'll move to one to Louise's holiday homes and later to their favorite house on Hornbill).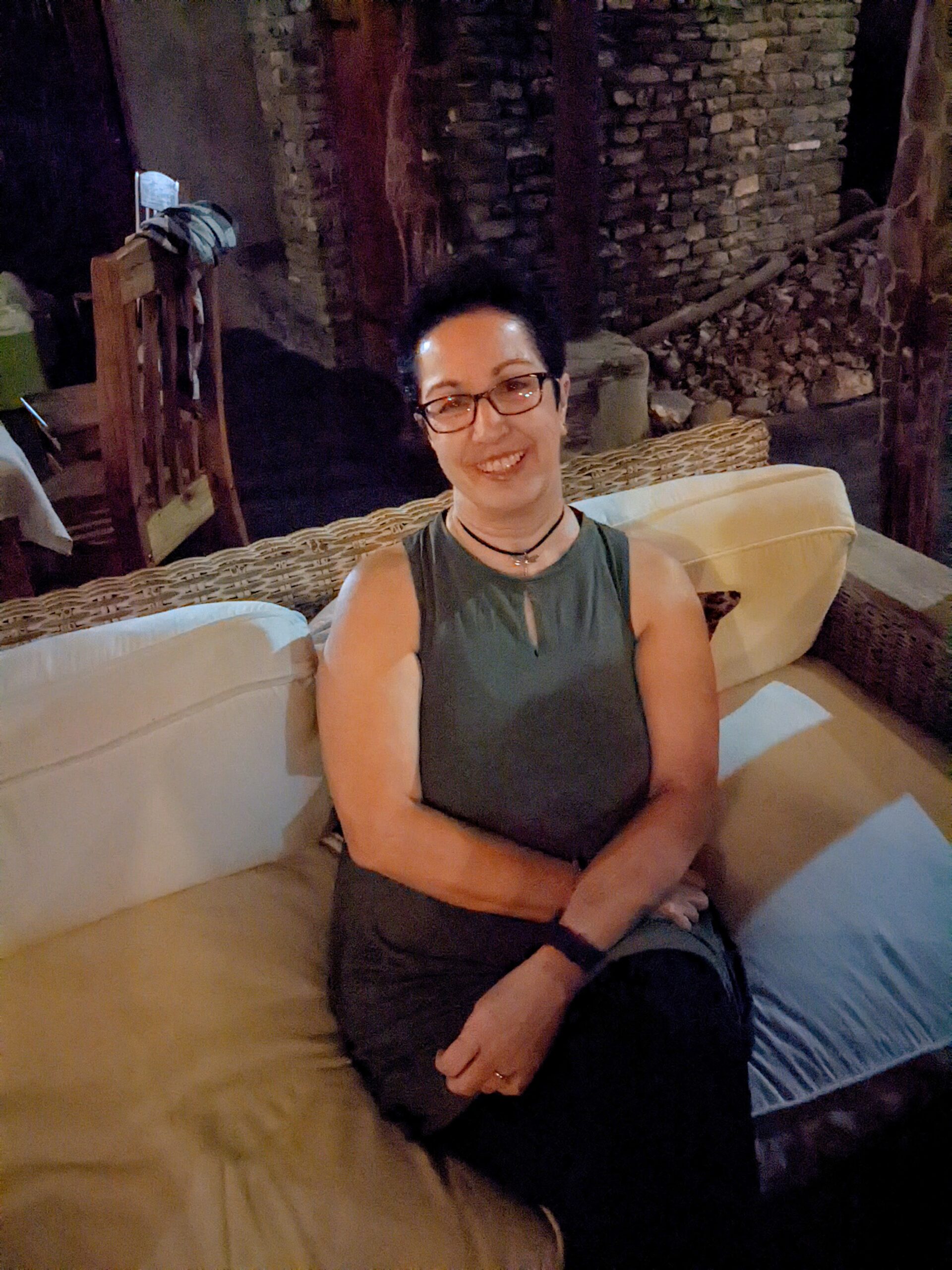 Well, of course, you know what's coming. At around 8:00 pm, 2000 hrs, while Tom and I were seated near one another talking to other guests, suddenly I looked up, and there stood Rita and Gerhard, grinning from ear to ear. We couldn't have been more surprised and delighted at the same time.
The hugs continued through the evening. We were so happy to see them and totally surprised. Now, during our remaining almost three months in the bush, we'll have such fun with them as we did earlier this year and in 2018. A few hours later, the dancing ramped up, and we were all on the dance floor. Midnight included lots more hugs and kisses. We didn't get home until after 1:00 am and didn't get to sleep until 2:30, awakening early this morning.
Today at 3:00 pm, 1500 hrs, they'll be arriving for sundowners and dinner. I've been busy in the kitchen prepping the food, the same meal we'd planned for ourselves for today, which will work out well. This afternoon, we'll prepare another prime rib on the braai, rice, garlic butter sauteed mushrooms cooked in red wine, rice, salad, and coconut flour biscuits.
We're grateful for a fantastic start to the new year and wish all of our family, friends, and readers a Happy New Year.
Photo from one year ago today, January 1, 2021:
This photo was posted one year ago while in lockdown in a hotel in Mumbai, India, on day #282. There she was, our first Bengal Tiger sighting in Bandhavgarh National Park. We couldn't have asked for a better vantage point. Safari luck prevailed one more time! See the link here. For the year-ago, "year in review," please click here.