The above video is intended for "adults only." We consider it a part of the wonder of nature, offering us a front row seat on how wildlife find their mates, court their potential mates, and ultimately propagate in the wild. Certainly, some may feel that this is inappropriate. We kindly ask, you do not write to us in this regard.
This is nature at its finest and for us, it is fascinating in providing us with an opportunity to witness the relationships among wildlife as they seek to preserve their species. Although warthogs do not appear on the list of endangered species, like all wild species, they have their place and their raison d'être on this beautiful Earth.
Whether it's love or purely instinct of the more intelligent animals, like warthogs, is irrelevant. Watching them interact during this busy mating season in Africa is educational and we must admit, at times, highly entertaining, when their behaviors are so unlike our own as humans, with some similarities in regard to "the chase."
No, most of us weren't courted by our significant others making "train noises." But, it's easy for most of us in relationships to recall the methods implemented by members of our species to express an interest. Whether it was a feature of one's appearance, their scent, often referred to as pheromones, words spoken, or a plethora of other signals humans utilize, knowingly or not, to let the other person become aware of their interest and intent,
Animals in the wild are no different. Their language among one another may not be known to us in most cases, but it's easy to detect, as we observe them in the wild, that they have no difficulty communicating with one another. Today's video and a few photos illustrate this point.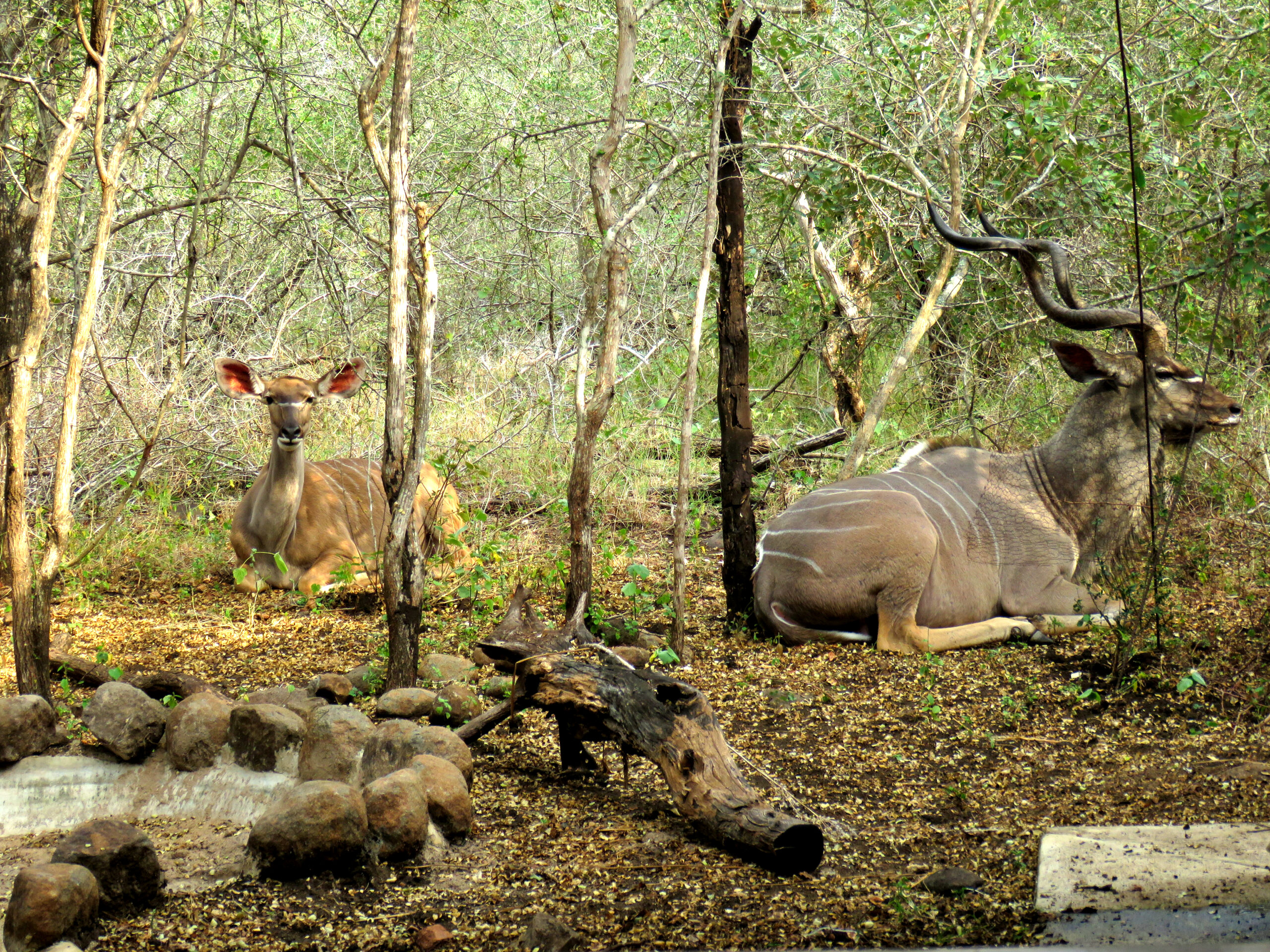 Who are we to say it's purely instinctual when the process can be so complex, as we currently observe each day? Living in the bush, day after day, we are gifted with the opportunity to observe these interactions, often subtle and gentle, and at other times, brazen and forthright as shown in the above warthog video.
We hope in many months to come, we'll see the "fruits of their labor" and be able to revel in the newborns nature has born to these precious animals. Only time will tell, if we will be able to stay. The warthog gestation period is from 152 to 183 days; the kudu is 240 days; and the bushbuck is 182 days.
On another note, last night, we had dinner with Linda and Ken at Jabula Lodge and Restaurant and had a fantastic evening. The food, as usual, was delicious, the service was beyond reproach and the four of us, as always, never had a lull in delightful conversation. Tom and I often arrive an hour before a planned meeting time with friends, to have fun sitting at the bar, chatting with owners Dawn and Leon and their trusty, warm and efficient manager, Lyn.
There were few guests when we arrived at 5:00 pm, 1700 hours, but after we took our table an hour later when Linda and Ken arrived, more and more diners filtered in. It feels safe there with the employees well masked and the tables sensibly socially distanced. Hand sanitizer is readily available in all areas.
Tonight, Linda and Ken are coming for dinner with sundowners with snacks beginning at 4:00 pm, 1600 hours. Dinner, suitable for all of our "ways of eating" will be served a few hours later. Today, it's surprisingly cool and windy, If it becomes any cooler, and stays this windy, we may have to dine indoors at the dining room table, which we did on another occasion when they were here, when it was raining in buckets.
We'll be back with more tomorrow as the adventures in the bush, nature at its finest, continue.
Have a fabulous weekend!
Photo from one year ago today, May 1, 2020:
A parade of elephants crossing a dirt road in Kruger. For more photos, please click here.