It's going well. We are enjoying the cruise, meeting people, and dining last night with readers Nancy and Bill in the Cuvee Main Dining Room. It was delightful to chat with this lovely couple, frequent travelers and cruisers who served as an inspiration for us.
Nancy and Bill are more than 12 plus years older than us and are mobile, active, and fit seniors who continue to thrive as travelers and property owners in the Villages senior community in central Florida. It was interesting to hear about their lives in the massive community geared to active, social seniors with ease of living with everything right at their fingertips.
Although we listened attentively to the nuances of that lifestyle, we realized it is not for us when the time comes that we may need to settle down. But, we were thrilled to know how much they are enjoying their lives, taking advantage of many experiences generally associated with the younger generation.
By 10:00 pm, we were back in our cabin. I'd slept poorly the previous night, our first night at sea, and desperately needed a good night. There was nothing about the ship or sailing that kept me awake. Most likely, my excitement to be traveling again kept my mind spinning at a feverish pace. Covid has undoubtedly impacted our travels over the past few years.
Now, back out to sea with minimal Covid protocols, we are experiencing an entirely familiar perspective from a few years ago, long before the pandemic. Less than one out of 50 passengers  (from what we can determine) are wearing masks. All staff, including entertainers, are masked at all times.
We can only pray that no one gets sick on this ship, but like many other cruise ships at sea at this time, there is often a breakout at some point. We are as careful as possible, avoid group events, do not shake hands or hug, and frequently wash and sanitize our hands.
There are sanitizing stations at the entrance and exit of all restaurants and entertainment venues and two little bottles of hand sanitizer in each cabin, one of which we carry with us at all times. Elevators are limited to four occupants, but that's easy to accomplish with the small number of passengers.
We have peace of mind with only 1288 passengers aboard this ship, which usually accommodates 2886 passengers, with a crew of 1250. It's no wonder we are getting such exemplary service when there are almost as many crew members as passengers.
There's been no mention of onboard Covid tests, which may occur further into the journey. We've only been sailing for less than two days, with 11 more to go. But, as is the case for most cruises, the time flies so quickly that suddenly it's over.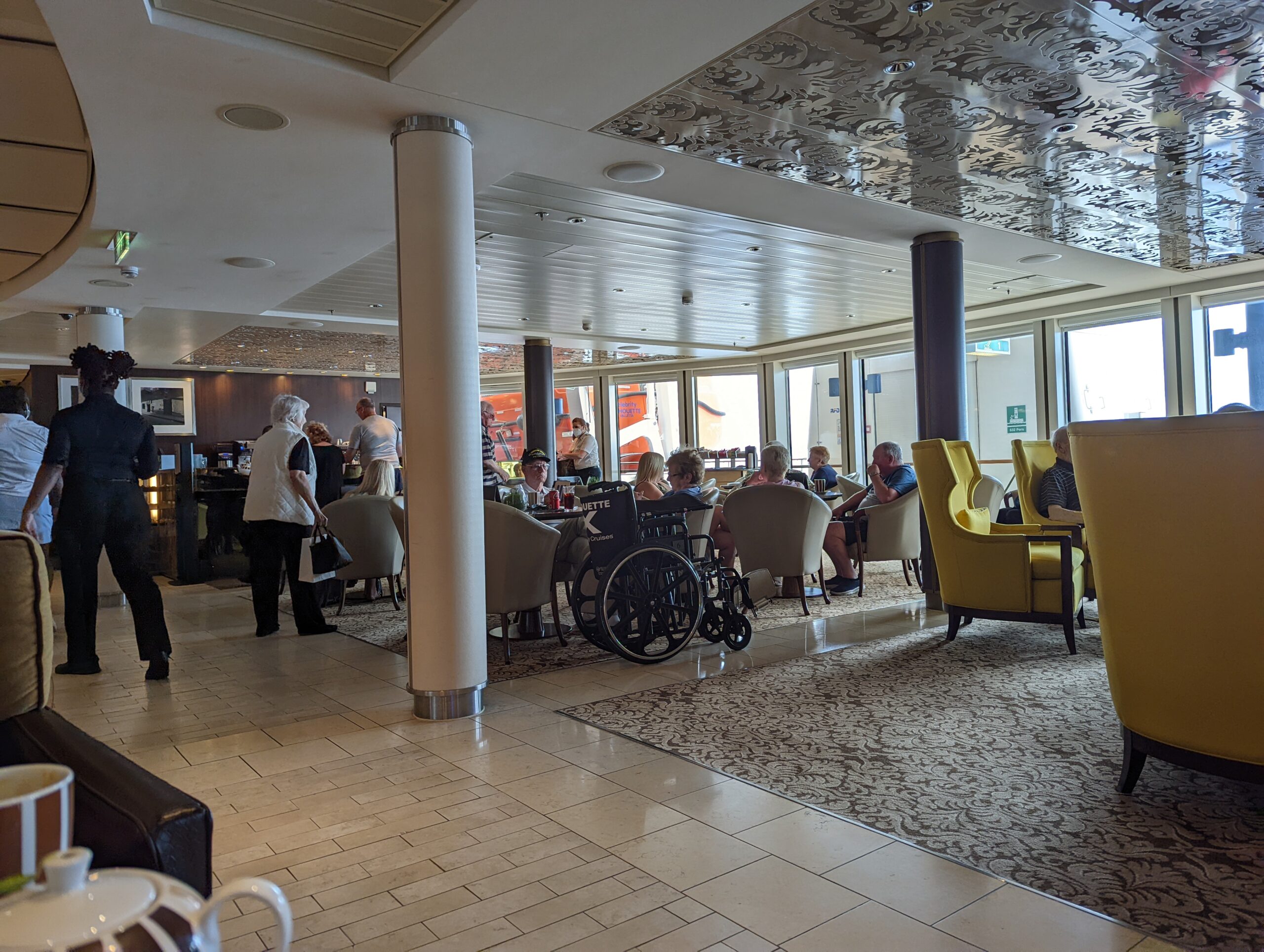 We wouldn't be interested in sailing permanently, which we're often asked. We wouldn't want the novelty to wear off. The occasional cruise keeps the experience fresh and anticipated on every occasion.
Today is another sea day as we make our way to Bermuda, arriving tomorrow morning. The seas are a little rough, but no one seems worse for the wear and is walking and active about the ship. As always, both Tom and I revel in each other's companionship and cheerful dispositions, making cruising all the more pleasurable.
Please check back tomorrow when we'll be posting the detailed list of every cruise we've been on since the onset of our world travels in 2012.
Thank you again for all of your kind wishes and supportive comments. It wouldn't be nearly as much fun without all of YOU!!!.
Photo from one year ago today, April 10, 2021: