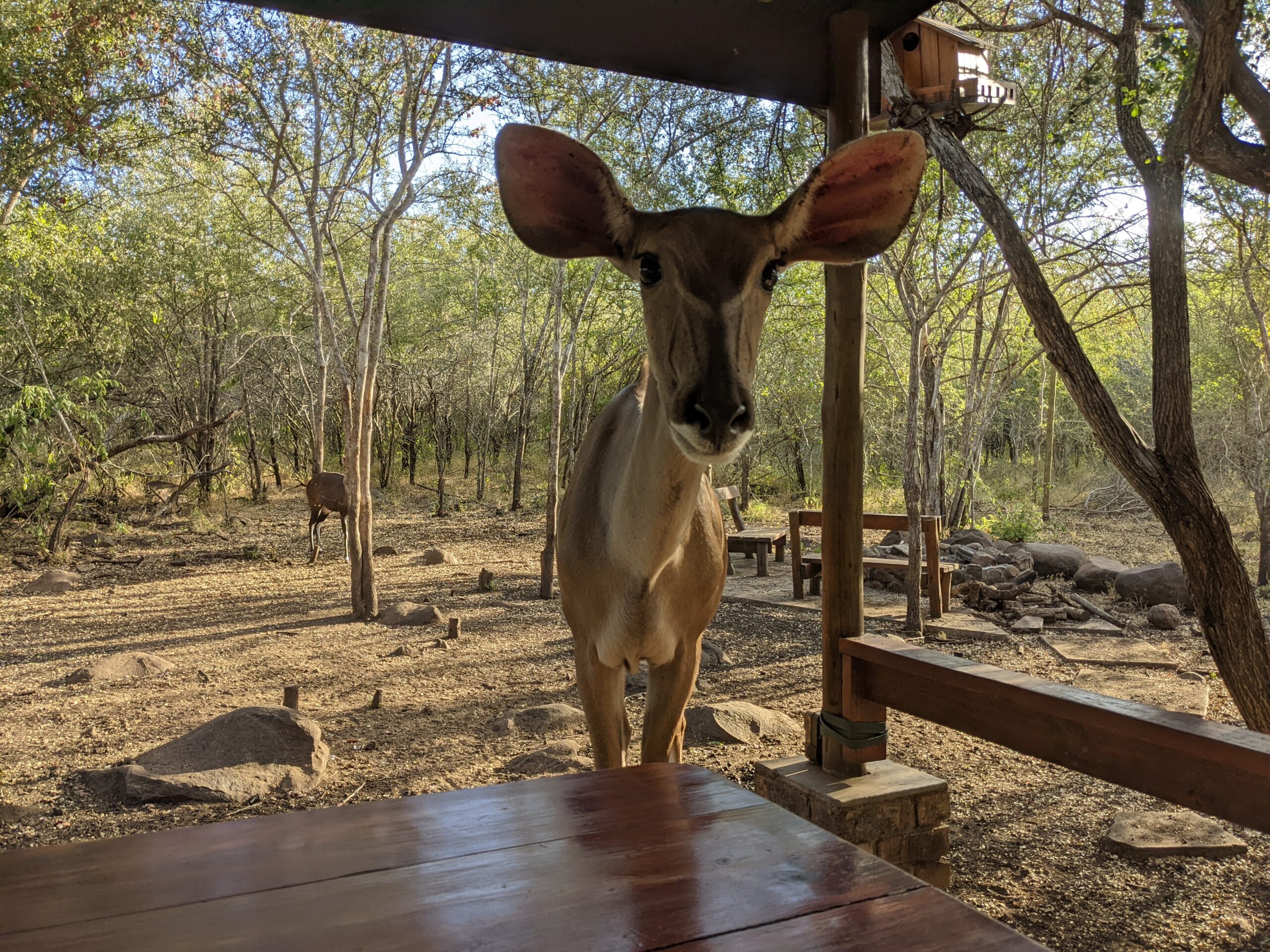 We are so done with this trip; we can't wait to be on the move. However, the two-day journey will be exhausting. A sense of enthusiasm and excitement will surely guide us through the two long days and nights until, once again, we are driving up to Louise and Danie's Info Centre to pick up the keys to our new house. Then, a two-minute drive to the house, around the corner from where they live.
If all goes as planned, we should be seeing their warm, smiling faces by 10:30 Tuesday morning. South Africa is nine hours later than here in Nevada. It will feel like 1:30 am Tuesday to us, but immediately, we adapt to the local time zones. We may have lost two nights of sleep at that point, but we'll stay awake until bedtime on Tuesday night, desperately trying to avoid taking a nap.
Hopefully, on Wednesday morning, we'll wake up to a sunny day with mild temperatures since it's almost winter in the Southern Hemisphere. Our favorite time in the bush was with the cooler temps, fewer mosquitos and other insects, and fewer snakes slithering around the garden. The nights will be very cool, and the days will be comparable to winter weather in Florida and Arizona in the US. Lovely.
I'll still wear repellent on exposed skin since we don't take any malaria prophylactics. But Tom, who never gets bit, doesn't have to give it a thought.
We'd packed our dry goods in plastic bins before we left on March 23, and they will be waiting in the house for us to unpack. Most likely, by Wednesday afternoon, we'll be entirely unpacked and can then settle into the beautiful routine of "life in the bush" we so much love; animals, friends, drives in the park to look for more wildlife, trips to nearby Kruger National Park to see the bigger game and weekly trips to the town of Komatipoort to grocery shop.
Once settled, we'll book appointments with Doc Theo to have him check us out as we continue to recover from Covid-19, which we contracted, as you know, on the last few days on Celebrity Silhouette, spending those two-day quarantined in a different balcony cabin on a specific deck where others who'd tested positive were also in isolation. It was a tough few days.
Not only were we served less than ideal room service meals, but when it was time to disembark, we were shuttled like cattle to the "Covid bus" to be dropped off at our respective hotels in Southampton, UK. We saw many other passengers with whom we'd conversed on that bus where we were all well masked (moot point). Did we give it to them or them to us? It didn't matter. No blaming is allowed in this scenario.
Since we arrived at the Leonardo Grand Harbour Hotel, where we stayed for seven nights, the time seems to have passed in a blur. I barely remember our trip to Marriott Hotel in Gatwick (close to London), where we stayed for another three days waiting for negative PCR tests so we could fly to Minnesota.
We had to cancel the cruise back across the Atlantic Ocean on the Queen Mary 2 and the flight from the disembarkation point in New York. We received a partial credit from Cunard for the cruise (which we'll deal with once back in SA) and credit with American Airlines for the missed flight from New York to Minnesota. We doubt we'll ever use the American Airlines credit since we seldom fly their routes, and there is a time limit on using the credit.
Gosh, we purchased all those dressy clothes for the Queen Mary 2 cruise, and now they hang in the closet, wondering when we'll ever wear them.
Amid all this madness, numerous situations occurred, all of which we posted here, which created more stress and frustration. Many resulted from "human error," mostly "theirs" and a little of ours. After all, one of the significant symptoms we both experienced was brain fog, which is finally beginning to recede a month later.
Fortunately, last night, the two Covid-19 PCR tests we had taken at CVS Pharmacy were negative. But, last night, before the results arrived, their website was down, and I was worried we wouldn't get the test results on time. I lost a few hours of sleep thinking about this. I needed the night's sleep since it was the last full night's sleep before Tuesday.
Now, I'm a bit tired, but I don't dare nap when we have to get up at 3:00 am, in a mere 15 hours. since it's around noon here now. We plan to have dinner early and try to sleep early, but we'll see how that goes. We rarely fall asleep before 11:00 pm.
We've already printed our negative Covid-19 test results and a copy of our 90-day rental agreement with Louise, which we may have to produce if asked why we want to stay for 90 days in South Africa. All we have left is to pack the toiletries we'll use tonight and tomorrow morning and our laptops with various cables and adapters into Tom's backpack.
Tonight, we'll eat in our room after picking up dinner in the resort's food court, where we both found items to our liking and suitable for my way of eating.
Hopefully, we are looking forward to the next few days being as stress-free as possible. Tomorrow, we'll prepare a new post during the six-plus hour layover in Newark before boarding the 15-hour flight to Johannesburg. We'll be back with you then! Thanks to everyone for all the well wishes!
Be well.
Photo from one year ago today, May 21, 2021: