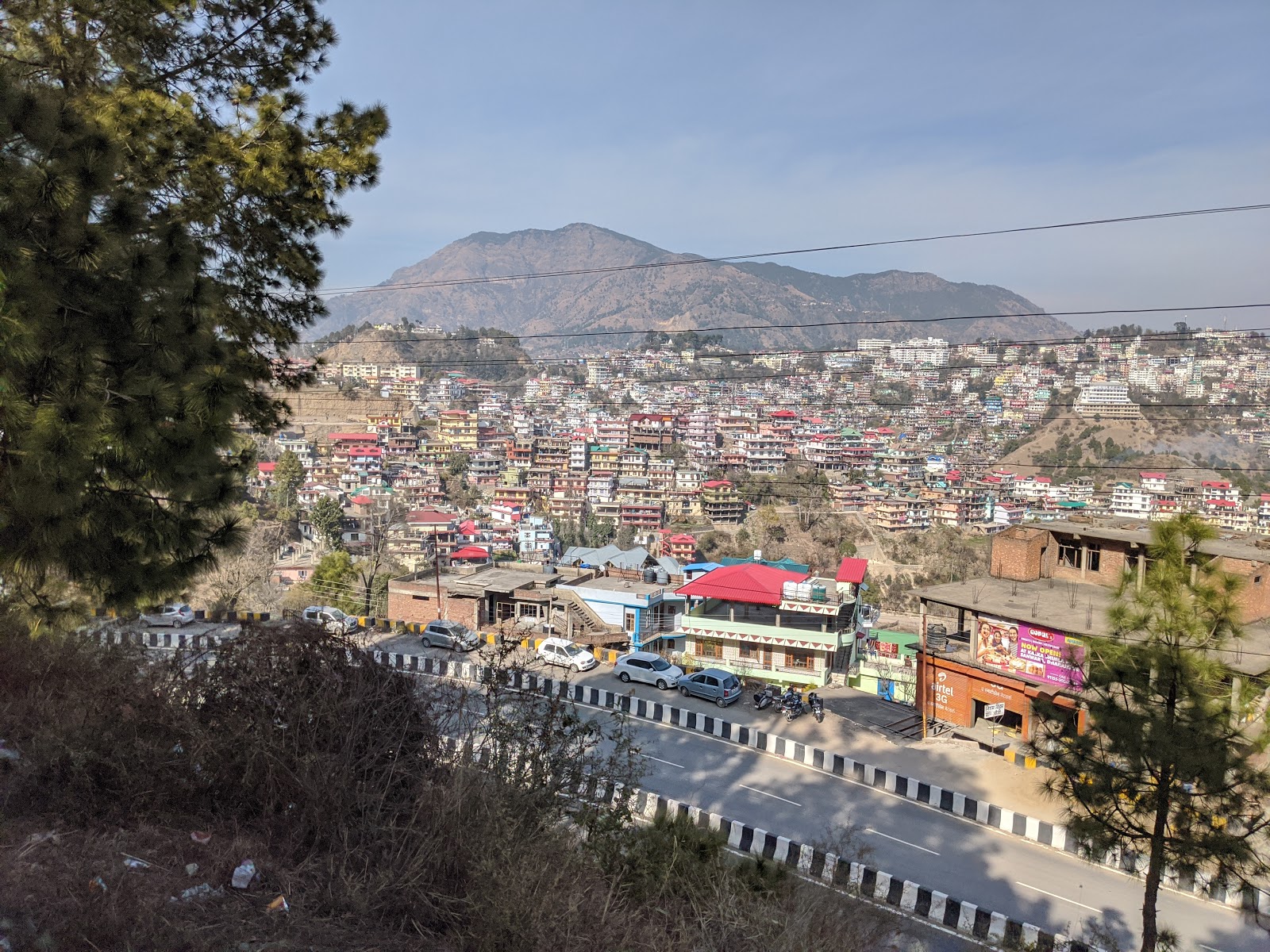 *Note: there are no photo captions today due to poor WiFi connection.

Yesterday consisted of a full day of travel. We started the day by meeting our Delhi guide in the hotel lobby at 6:45 am after we'd grabbed a quick bite to eat, We knew we wouldn't have access to food until 12 hours later.

After a harrowing ride to one of 46 train stations in Delhi our guide and a porter known as a "coolie" in India helped with our bags escorting us to our train car. Our guide showed us to our seats.
Our heavy bags were tossed onto the overhead compartment while we got settled in our assigned seats. The legroom was adequate. No doubt, this train from New Delhi to Kalka wasn't anything like the Maharajas Express but we were reasonably comfortable and at ease. 

Once the train departed the station we were served a variety of items in stages: bottled water,  juice cartons, tea, cookies, bread, and a hot fried vegetarian dish. Tom nibbled on the cookies and bread while I sipped on the hot tea. The four-hour ride to Kalka was uneventful. With the heavy fog and smog, we weren't able to see much of the passing scenery

We played with our phones while the time passed quickly. At 12:00 pm, we had to make our connection. Tom was worried about getting our bags moved to the other train. But, as expected, a steward helped us and we easily found our train, appropriate car and seats, and an easy spot for our luggage. No worries.

On what is referred to as the Himalayan Queen Toy Train we made our way to the historic town of Shimla, at the foothills of the Himalayan Mountains. Shimla is known as the summer capital of British rulers. 
As a matter of fact, the British TV series Indian Summers, which we thoroughly enjoyed, was filmed in Shimla.

The scenic five-hour train ride made its way through 103 tunnels, 800 bridges, and an incredible 900 curves.  We took many photos, but in parts, the smog and scratched windows impeded the view.
The distance to Shimla is a paltry 58 miles (93 km) but based on information we discovered, the winding mountain tracks and slow speed resulted in the over five-hour train ride.

Upon arrival in Shimla we had no idea how our driver would find us when there were dozens of cars pinned in the tiny parking lot. Magically, he appeared and helped load our bags and we were on our way to a tucked-in-the-hills Indian influenced Radisson Hotel.

Once we arrived at the hotel after quite a delay checking in, we were escorted to our room. When I attempted to begin the missed post due to travel day, my computer's blue screen prevented me from starting Windows 10. I tried every possible fix, but it was so severely corrupted, I was unable to get it started.
I hardly slept all night while worrying about a fix. This morning I spent another three hours trying to resolve the issues to no avail. The only alternative was to start over with a new laptop.

Today, I ordered a new Chromebook from Amazon India, which will be delivered to the hotel where we'll be from February 17th to the 20th. In the interim, I'll be using Tom's laptop which is a bit cumbersome for me since his keyboard was different from mine.
Today, we're hanging out at the hotel. Tomorrow, we'll be touring Shimla with our newest guide, Prince. We'll continue to take photos, but it will be easier for me when I have my own laptop.
Since today is the one year anniversary of my open heart surgery (referred to as a "heartaversary" during which we didn't post for two weeks, I won't be adding "Photo from one year ago" for the next few weeks. Thanks for your patience and we'll do our best with the photos.