It was fun to see the Celebrity Equinox at the pier in Naples, Italy,
the ship we'd boarded on January 21 on our way
to Belize, arriving on January 29, 2013.  It seems so long ago.
The area was not conducive to walking.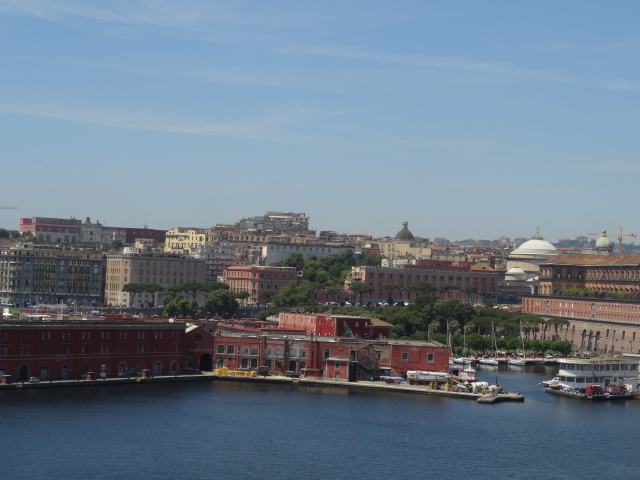 Views of the port in Naples, Italy.
Without boarding a bus, we really couldn't get a good shot of the area in front of our ship.
Every  time we've loaded our wireless Xcom Global MiFi when we are in port or near land, we've watched in wonder as the little hot pink light shines bright indicating we have a strong signal.
Staying  "connected" is an important piece of our worldwide travels, not only for posting our blog and photos each day but also staying in touch with family and friends, banking and financial matters including checking our credit card balances frequently, arranging connections for our next  move, future travels and cruises and of course, checking out information about areas we are visiting.
We look forward to returning to Naples this summer to
check out
some of it many historical sight.
Yesterday morning when we arrived in Civitavecchia Italy, the port entrance for visitors to Rome, a 90-minute bus ride, we lost the signal within minutes of connecting. Of course, we do have access for the ship's expensive and horribly slow connection, preferring to us it only when absolutely necessary, mostly when out to sea.
Shortly after losing the MiFi signal, I began the process of checking and rechecking all of our options to get the device working again, referring to the included manual and also online instructions, none of which worked.

Hopefully, this summer, we'll be able to identify some of these historical sights.
As a last resort, I contracted the company, Xcom Global for assistance. Their information states they have 24 hour tech support by email. Sending them an email at 10 am yesterday, Friday, we didn't hear back until this morning, Saturday.  Apparently, the 24 hour email tech support wasn't available and our 11 hour time difference required we wait to hear back until their regular office opened in San Diego, California.
Much to our dismay, after following their many step instructions to a "t" we still couldn't get service. Frustrating to say the least. They're closed on Sundays, the day we'll be out to sea, unable to use the service during that time anyway. Thus, we have no options until Monday.
The hilly terrain of Italy leaves us excited to explore.
We did consider that the signal may be "too weak" in these two areas in Italy to "grab" a signal.  It is possible that the problem lies there. We won't know for certain until we arrive in Greece on Monday, when we hope to get off the ship to explore Mykonos.
In Naples today, knowing we'll be coming back over the summer, we wandered off the ship on our own trying to find a few good advantage points for exploring and photo taking. Barely recovered from our illness, immune systems comprised, we felt it made no sense to get inside a germ-laden bus with other passengers to see the sights. 
As Tom and I have both stated all along, our health and well being will remain first and foremost in our travels. Since embarking on this cruise four days ago, I can honestly say we've never spent more time washing our hands. Hopefully, our somewhat obsessive behavior will serve us well to disembark on June 16th in good health.
On Tuesday, we'll arrive in Istanbul, Turkey having yet to hear if our ship will enter this highly charged area of political unrest.  We shall see and keep you posted, hopefully, with our Internet connection intact soon.