The entrance to our new vacation/holiday home we'll be renting in Marloth Park beginning on February 11th, aptly named "Orange…More Than Just a Colour."  For the link to this listing, please click here.
Yesterday, much to our delight, we wrapped up the first 89-day vacation/holiday rental for Marloth Park. Louise had promised she'd find us a great property that would work for our budget and yet meet our criteria.
This property she chose for us more than met our criteria. It's a virtual dream house in the South African bush, possessing all the features that make a living in the rugged terrain more comfortable and experiential.
In Africa, many houses have a name, especially in the Conservancy of Marloth Park. The house on which we paid a 50% deposit yesterday is peculiarly and perhaps aptly called "Orange…More Than Just a Colour."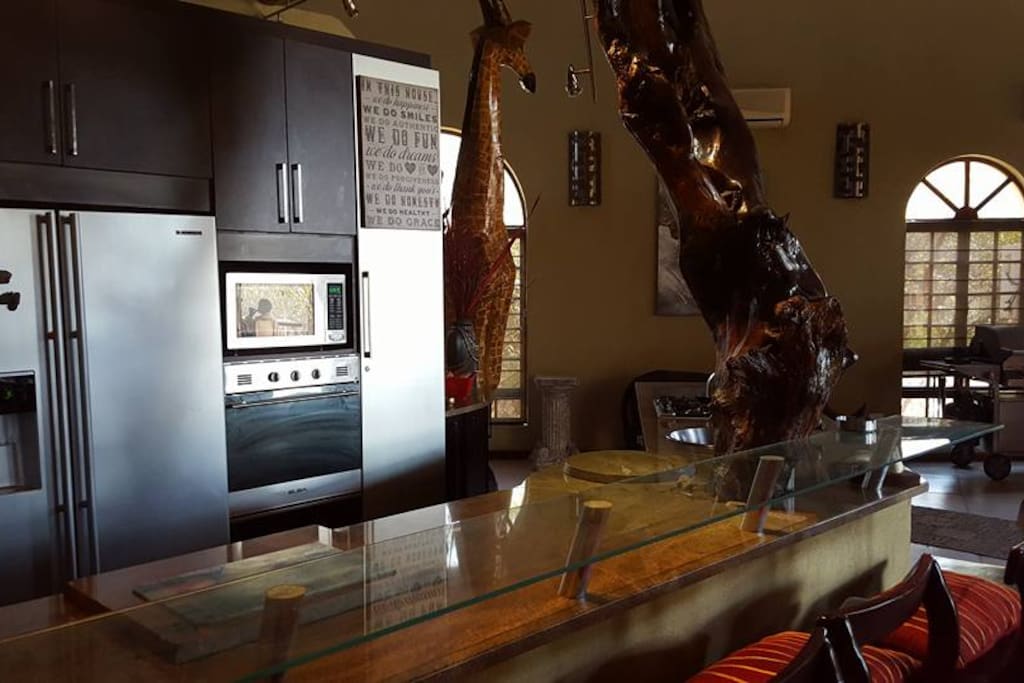 We're looking forward to cooking again in this modern kitchen after an 80-day hiatus.
The exterior orange-based color certainly prompted the house's name, but there is nothing gaudy or outlandish in its appearance or design. It is pure bliss by our standards, and we gratefully thank Louise, our friend, and property manager for Marloth Park, for making this happen for us.
Not only did she make this outstanding property affordable for us, but she also locked up our time slot from February 11, 2018, to May 11, 2018, a total of 89 days.  Once we arrive, we'll work with Louise to wrap up this or other properties we'll rent during our one-year stay in Africa.
We'll travel in and out of the country to satisfy the immigration requirements of a maximum of 90 days while we visit many other countries on the continent to fulfill our goals of expanding our African horizons.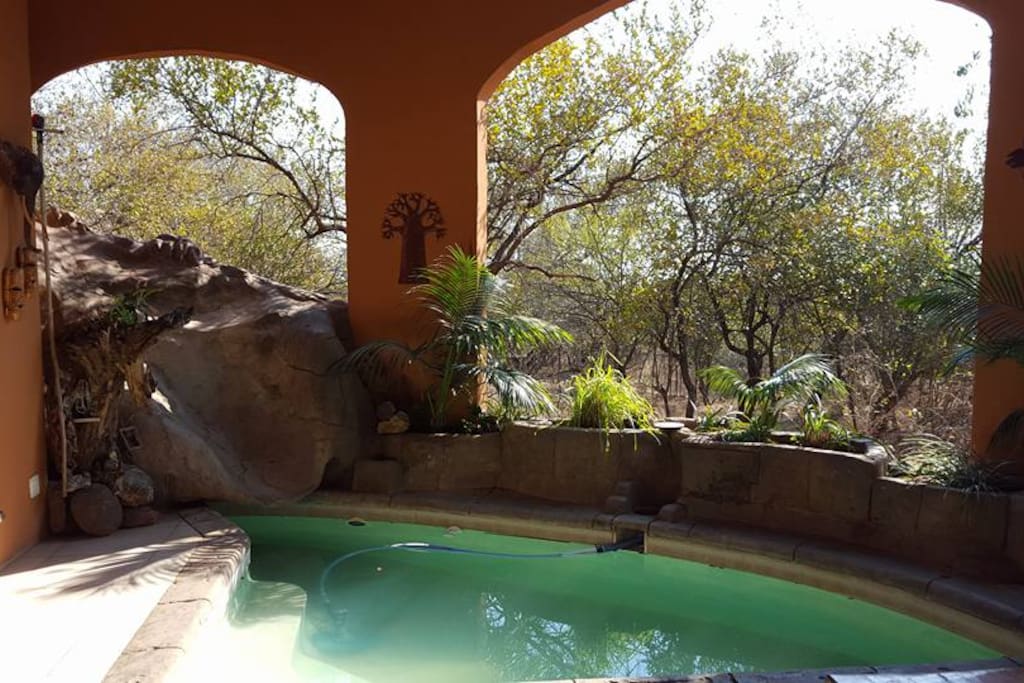 Most of the pools in Marloth are plunge pools intended for cooling off instead of swimming laps.
Of course, we'll share many more photos of this spectacular property located in our dream location during our lengthy upcoming stay, along with photos of our daily "visitors."
Our inspiration to return to Marloth Park was precipitated by two aspects. One was the bush setting with wild animals walking around the house, and two, the amazing friends we made while there in 2013/2014, all of whom we'll see when we're there and have stayed in contact with during the four years since we left.
Today, here in Palermo, Soho area of Buenos Aires, once again, we'll take off on foot and walk the streets of this fascinating area. Once the holidays end, we'll do a bit of sightseeing.
Tomorrow, we'll share most of our dining experiences over these past few days and more photos of life and culture in Buenos Aires, Argentina.

 Have a blissful day.
Photo from one year ago today, December 28, 2016:
On a walk across the street in Penguin, Tasmania, which is lined with a wide variety of blooming flowers, we spotted this unusual plant. For more photos, please click here.