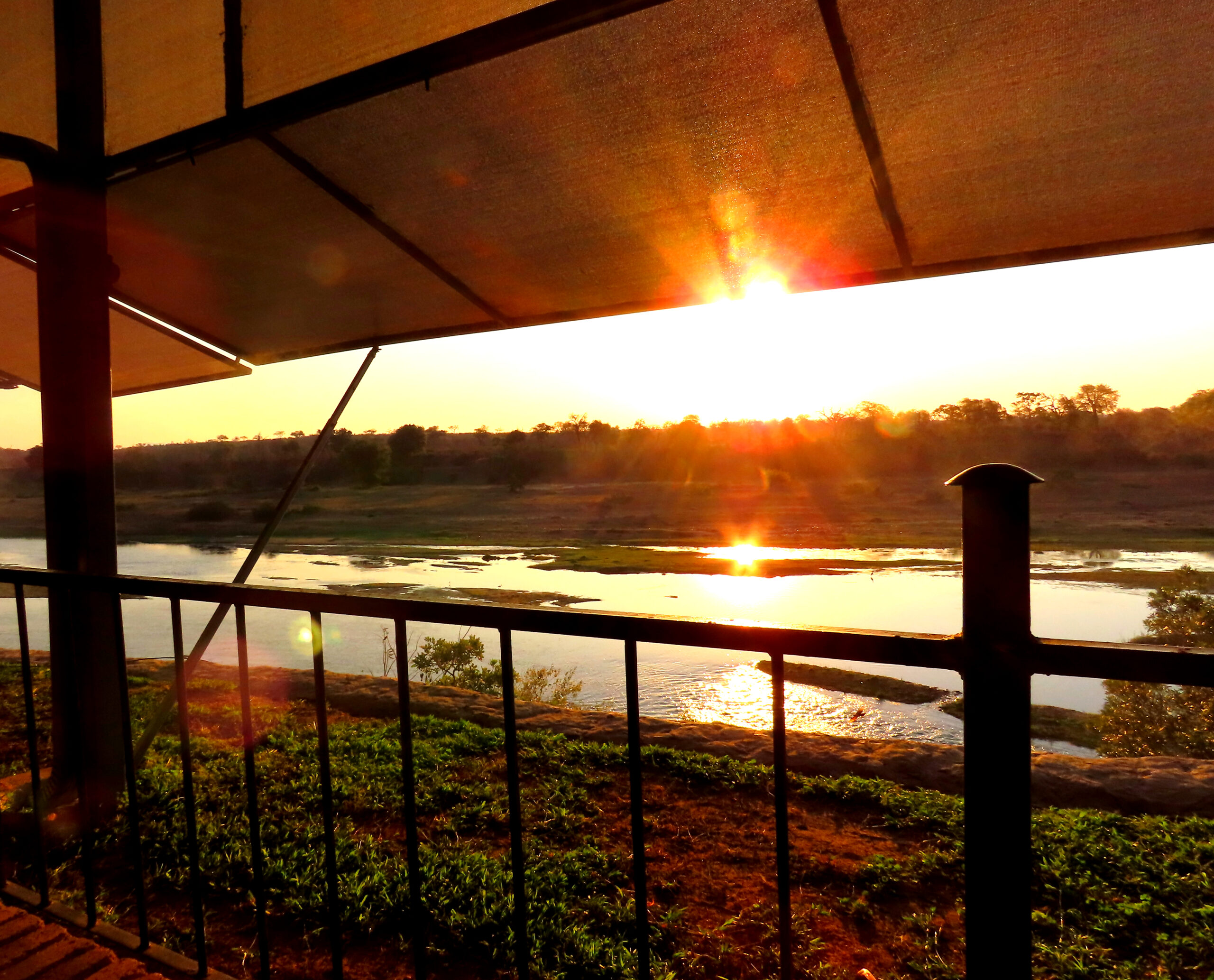 Once in a while, we dine at other restaurants besides Jabula, where we dine every Friday night and will do so as long as we're in Marloth Park. We feel it's essential to support the business of our friends, Dawn and Leon, owners of the popular, loved restaurant for its great food, playful ambiance, and exemplary service.
Last night, eight of us gathered at Amazing Kruger View (formerly known as Aamazing River View) as Rita and Gerhard's previous dinner out in the bush before they depart for the USA tomorrow. They won't be returning to Marloth Park until after we've left on January 23, 2022. Of course, we will miss them but will stay in touch via Whatsapp until we meet again.
Including in the group of eight beside us and Rita and Gerhard were Kathy and Don and Louise and Danie. What a perfect group we are. As always, the conversation flowed with ease. The food was quite good, and we may go there again on any day but a Friday.
It was sweltering last night as it is today. While we were at the restaurant dining outdoors, they used water misting pipes which helped keep it much cooler. Once we were situated at our table, we never gave the heat another thought. But today, it's different and already darned uncomfortable already at 10:49 am. It's 94F, 34C, and it's expected to rise to over 100F, 38C, by 2:00 pm, 1400 hrs.
We have our central air conditioning running, cooling the entire house, a huge expense in the summer months in our old lives. The only aircon is in the bedrooms and is very expensive to run, although it quickly cools the room with the door closed. Last night, we kept it on all night except when we had load shedding between 1:00 am and 3:30 am, during which I never slept a wink.
Supposedly, load shedding is suspended for an unknown period as of today. But, with this heat, I wouldn't be surprised if it's instituted again in the next few days when considerable power is utilized during heat spells. Often, as described by local property owners/managers of holiday houses, some holidaymakers leave on the aircon in their rental, on full blast, while they spend the day in Kruger. It's frustrating to hear about this since it impacts all of us when Eskom decides to stop power "to catch up" (So they say).
Ah, it's the nature of the beast. Yesterday it was almost as hot as today, and we did fine all day. It's much cooler inside, so we may sit on the sofa in the living room with the veranda door open, allowing us to see if any visitors come easily. If our wildlife friends come to call on such hot days, we certainly don't ignore them. We have fresh water in both levels of the bird feeder, water in a bit of cup for Frank and The Misses and the chicks, and food it offered freely.
This morning I got up early to use the oven to bake chicken breasts for tonight's dinner, hoping the house would cool off a little before the worst of the heat kicked in. Now, as I sit here next to Tom on the sofa, while we listen to Garage Logic, his favorite podcast from Minnesota, Frank and The Misses are eating the seeds and drinking the water. It always makes us smile to see them.
Yesterday morning when I got up, I noticed Frank was in the house once again. He loves coming inside to see what's going on. He scurried under this sofa when he saw me and headed out the door, which was still ajar from when he entered. We never stop laughing over Frank coming indoors.
The only other time we had a bird walk into our house was in Australia when a magpie loved walking around the kitchen, looking for morsels of food that may have dropped onto the floor when we last cooked a meal.  We call such activity "crumb patrol." In many countries, windows and doors are left wide open without screens, as is often the case here in Africa. Whereby in the US, if our kids left the door open, we'd holler, "Shut the door!"
You'd think that where there are many insects, both harmless and venomous, there would be screens on windows and doors in most countries. But both in Africa and Australia, where we have had the most insects, it would be different. Even In Italy, there were no screens, and we constantly were fighting off biting flies and horseflies. A bite from one of those flies lasted for days.
Oddly, we don't see a lot of flies here in Marloth Park. You'd think with all the animals and their dung, flies, would be prevalent. Instead, its bees, hornets, and other flying insects, along with multitudes of crawling, walking, and slithering creatures, more so as we rapidly approach summer in Africa.
We're used to all of this. That doesn't mean we don't get hot and sweaty. We do, but the more hot days we experience, the less we notice them. It's the same with insects. In our old lives, I'd scream if I saw a "bug." Now, I hardly pay any attention unless it's venomous and needs to be removed from the house. We'll do what we can to get it safely outdoors if we can.
In one week from today, we'll be on our way to Zambia, and we're looking forward to a pleasant trip. On Wednesday, we'll go to Komati to get a PCR test and have the results the following day, before we leave. Louise will print a copy for us along with a copy of our rental agreement when we re-enter, which is also a required document.
That's it for today, folks! Have a fantastic day!
Photo from one year ago today, October 14, 2020:
This photo was posted one year ago while in lockdown in a hotel in Mumbai, India, on day#205. Unable to get as close as we'd like due to the rough terrain in the Serengeti in 2013, we did our best to zoom in for this and other photos on the remaining wildebeests at the tail end of the Great Migration. For more, please click here.