It was a perfect morning. The Romantic Lion Couple appeared casual and at ease
under the shade of this tree. But, the air was filled with passionate tension.
Billows of fluffy clouds scattered the ocean blue sky. The air was fresh and cool washing a chill over us as we wriggled our butts in the vehicle into in our usual blanket-covered seats with cushy down pillows for back support. 
Dozing off and on, they both were oblivious to us such a short distance away.
Bundled in our parkas, hats on our heads, we were all raring to go. The bush breakfast behind us, our bellies full, "the tire pressure was checked" and a slight buzz of caffeine permeated our eager brains, anxious for another treasure in the bush. 
The female, occasionally opened an eye, checking out his next move.
It didn't take Anderson long to fulfill our hopes of more wonders, as he suddenly stopped the Land Cruiser with a slight jolt, quickly grabbing his powerful binoculars. Quiet and intense, he searched the horizon, seconds later saying, "We're on the move!" 
Although he appeared relaxed, he was well aware of the task at hand,
politely awaiting
the perfect opportunity.
Minutes later parked 25 feet from this tree, we practically held our breath to remain quiet, keeping our hands and cameras inside the Land Cruiser, willing to wait however long it took for the events to unfold. 
"She likes me.  She really likes me!" 
He looked at us as if seeking approval to move along.
There were two or three other safari vehicles for Anderson to maneuver around to get as close as possible. His ability to graciously position us to the best vantage point always pleased us. Once again, we expressed our gratitude to him, this time in whispered tones.
"I think it's time to get this show on the road!"
Determined to eventually continue on to Tanzania (me, the most excited about that prospect), seeing these two lions gave me a sense that if we would choose to watch this all day, I'd willingly forego Tanzania. 
To be witness to the beauty of procreation in the wild with the majestic lions was not to be missed. Nothing could drag us away.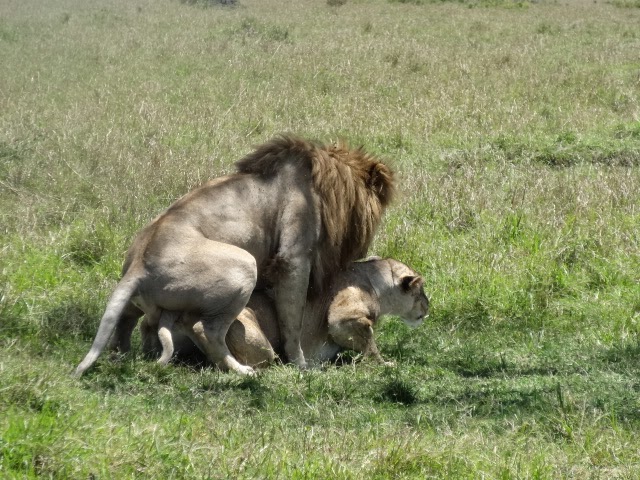 Actively engaged in mating before our eyes.
One might assume that to observe this fact of life in the flesh was based on our own voyeurism. Not the case. We watched this event with the same enthusiasm and interest we'd felt watching the hunt, the lion in the tree, the lion family living in the culvert, the elusive rhinos, and more.
I must admit, we all made a few rather hilarious comments in whispered tones as the activities unfolded, none of which will be shared here. We are human after all. David was videotaping while Tom particularly launched a few hilarious zingers which now were on David's video to later be removed (or not).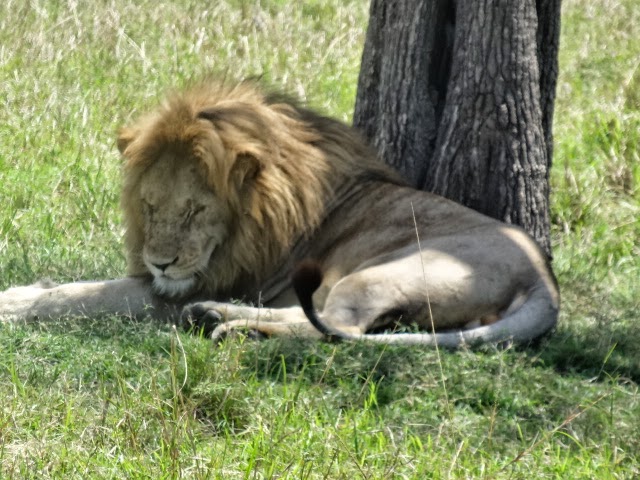 Afterward, he moved back to the tree in his usual spot, perhaps
contemplating his next move.
We all had to cover our mouths with our hands to muffle our laughter. Anderson laughed along with us, although most assuredly, he'd heard such comments in the past.
Settling in for what could prove to be a long wait, once again we all became quiet and entranced in the beauty of nature, our environment, the gift of the opportunity to see such life, and death, around us over these few days. 
He went back for another round while she quietly cooperated.  Anderson explained
this process could go on for hours.
We'd anticipated he might bite her,
growl, or
be aggressive in some manner.
But, he quietly and gently pursued her,
an exquisite sight to behold. We decided to move along to leave to
Romantic Lion couple with privacy and for us to continue with our plans to
drive to the border of Kenya and Tanzania.
We were pleasantly surprised when The Romantic Lion Couple wasted no time in giving us exactly what we'd hoped to see, as evidenced in these photos, Mother Nature at her finest, creating life.  
Their tree on the left, we drove away, with those same smiles on our faces knowing
that for some magical reason, we had a safari that couldn't have been more perfect,
more fulfilling, more life-changing than the 21 1/2 hours we spent with Anderson
in that sturdy Land Cruiser, bouncing too high heaven, feeling lucky, so lucky!
After 40 minutes, we were all ready to move on. Tanzania here we come, flies and all (story and photos shown in yesterday's post on October 14, 2013).
And we're still not done…