When I bolted out of bed this morning, feeling much better, after not coughing all night and getting adequate sleep, I said to Tom, "Let's go to Kruger as soon as we're ready to go out the door!"
In a matter of minutes, I was showered, dressed, and ready to go. Tom filled out the required entry form, grabbed the passports, filled our mugs with iced tea and ice while I grabbed a second-charged battery for the new camera, and we were out the door.
Knowing we have the interview at 4:00 pm, 1600 hrs, with the reporter from the newspaper in Minnesota, we knew going as early as we could be a must. Also, we wanted to leave ample time for me to prepare today's post and hopefully upload a few photos from our self-drive safari.
Many visitors prefer to enter Kruger in the early morning as soon as they open at dawn. For us, we are less picky about the time we go since we've been fortunate (i.e.safari luck") to see plenty of wildlife in the latter part of the morning and often during midday. One never knows when and where the animals will wander about the massive national park.
We were hoping for a good experience. But, as all of us know, getting great photos in Kruger is unpredictable. We always prepare ourselves for the possibility that time in the park can prove to be uneventful and disappointing. That wasn't the case today! At times, inclement weather can be a deterrent, but today, the sun shines with only a few scattered clouds.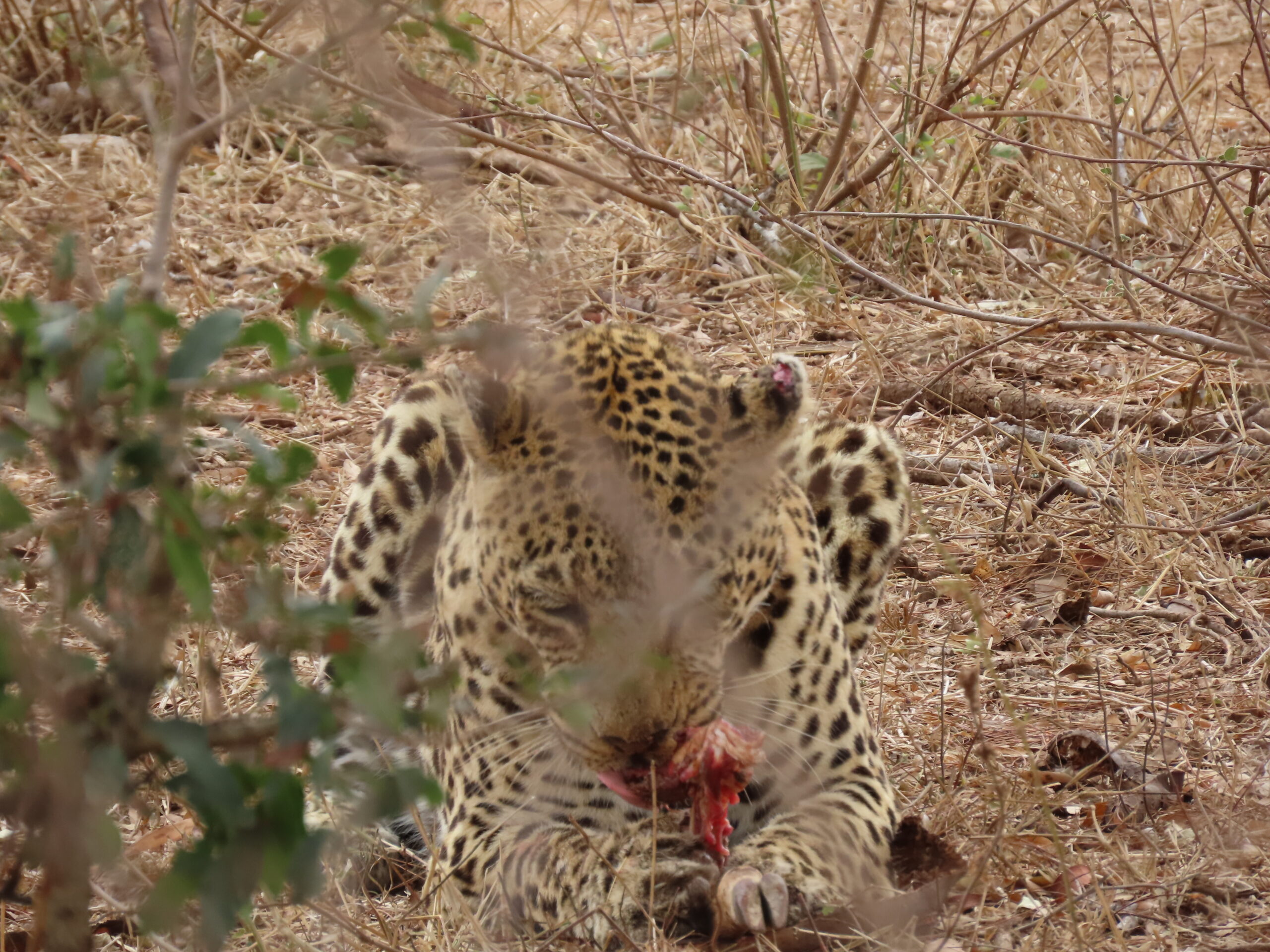 No, we didn't see the Big Five, as many strive to achieve. We saw two of the five; a leopard as shown in today's photos and a few elephants, which will be shared in the next few days as we go through all of our photos. As mentioned in the past, for us, seeing the Big Five is not necessarily a goal. We achieved this many times in South Africa, Kenya, Botswana, Zimbabwe, and Zambia on prior visits.
These days, we don't think in terms of the "Big Five." We're often looking for unique and unusual sightings, a lofty goal that is seldom achieved. But today, we had some thrills, especially our included photos of a leopard eating a kill near the Sabie River, not too far from Lower Sabie, where we always stop for a bathroom break or lunch at the Mugg & Bean Restaurant.
With my new camera in hand,  which I still need to learn more about, I had the basics down pat, sufficient to get a few good shots. But, the reality remains that wildlife is not always advantageous for amateur photographers, such as me.
After we were on our return drive toward the Crocodile Gate with no less than an hour until we'd reach the exit, we noticed about a half dozen cars poised on the side of the road with passengers holding cameras in hand in an attempt for a good shot. It was tricky. The leopard was deep in the bush, obstructed by vegetation and branches, and I didn't feel hopeful for a shot.
With Tom's expert maneuvering around other vehicles and my sheer will and determination, we found ourselves in a prime position where we stayed only for a few minutes to allow others to take whatever photos they could get. But, even in this choice location, regardless of how steady I held my hand, getting these few photos were far beyond my expertise.
Subsequently, I am sharing all that I managed to eke out, however blurry that may be. There was no time to sit there and focus for better shots. The people behind us were impatient and also wanted to take a few photos. So, dear readers, here they are.
Over the next few days, we'll share many exciting, albeit clearer, photos we managed to take along the way. Please check back for more over the next several days.
Have a fantastic and rewarding day!
Photo from one year ago today, August 11, 2020: