Us on the beach at the Lost Reef Resort where we stopped for lunch today.
Our delightful new friends and neighbors, also from Minnesota, invited us to join them to travel by car to Big Creek for all four of us to renew our visas, as opposed to riding on the Hokey Pokey boat and taking four cab rides.
Our Minnesota friends and Belize neighbors, Nancy and Roger.
Still recovering from our recent fall on the collapsing steps, it made more sense to ride in Nancy and Roger's SUV than to bounce around on the 20 minutes boat ride each way. We jumped at the chance. 
The pool by the sea at the Lost Reef Resort.
Besides, we so enjoy their company, we knew the process of going to the Immigration Department (a two hour round trip drive) would once again be a delightful experience. It was.
This is our final visa for Belize: Once we disembarked the Celebrity Equinox on January 29, 2013, another only a few short weeks ago and the third and final today. Visas in Belize are extended for 30 days only. Based on our upcoming departure on April 9, 2013, there was no way to avoid a third visa. No exceptions are made at immigration.
Great photo of this darling couple, Nancy and Roger, who own the villa next door to us.
Leaving at 10:00 am this morning, we arrived in Big Creek at 11:00 am, behind a good sized line of others seeking to renew their visas as well. The tiny office only holds five tourists at a time, leaving us to wait outside in the 90 degree humidity. With little breeze, we anxiously squeezed into the tiny air conditioned space when our turn came up.
The immigration officer asked, "Why are you here so early when your visas are good until March 20th?" I giggled to myself. 
Guests relaxing at the Lost Reef Resort
Tom explained the time frames we are in Belize and she nodded in understanding, extending each of our visas inside our passports to April 12, 2013, when we'll be long gone.
I couldn't help but add, "Old people are always early," in an effort to get a chuckle out of the overly serious immigration officer dressed in a military-type uniform. A wide grin spread over her face.  It worked.
Back in the SUV, Roger suggested lunch to which the three of us enthusiastically agreed that is on the way back to Placencia in the little town of Riverdale.  Owned by American friends, the Lost Reef Resort is a quaint, picturesque resort with an ambiance of relaxation away from the rest of the world.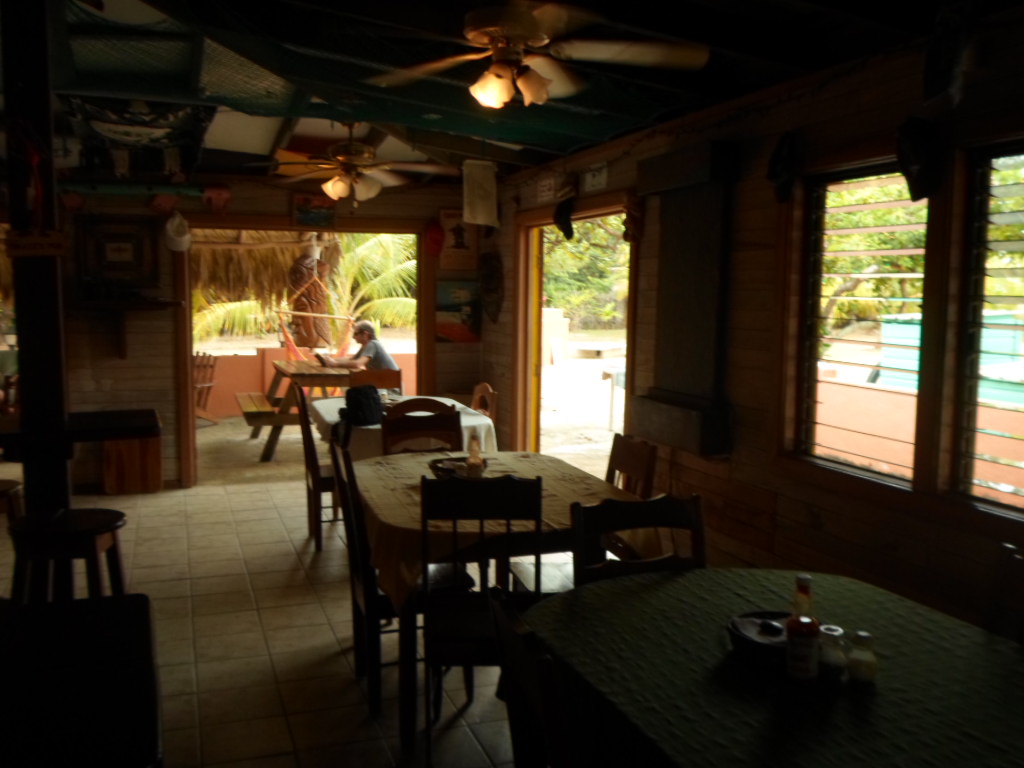 The restaurant at the Lost Reef Resort.
Often when dining out with my restricted diet, I tend to read and reread the menu looking for acceptable options.  No problem at the Lost Reef Resort. Their amiable chef was eager to please preparing a hearty grilled chicken salad with a wide array of fresh crisp vegetables. 
Nancy and Roger had what they described as delectable chicken wings and onion rings while Tom dined on a robust burger and fries (he "cheats" when we eat out).  Heir food was fresh, the service impeccable and the atmosphere charming. 
Lisa and her husband have owned a charming resort for seven years.
Lisa stopped by to visit our table, her warm demeanor, making us feel as if she'd known us forever. Seven years ago, she and her husband purchased the resort. He continues to work in the US splitting his time between the states and Belize, while Lisa stays behind running the resort. 
After lunch, we meandered out to the resort's beach, only steps from the restaurant.
It's not surprising that we've met several ex-pats that have found their way to Belize to begin anew in this land of white sand beaches, balmy ocean breezes, unique architecture, and friendly people. 
Unfortunately, for some ex-pats who buy or start a business in resort communities throughout the world, find themselves working harder and longer than they ever worked in their home country. The appearing idyllic life of "getting away from it all" is not always as easy a life as it may seem.  For others, it proves to be the fulfillment of a lifelong dream.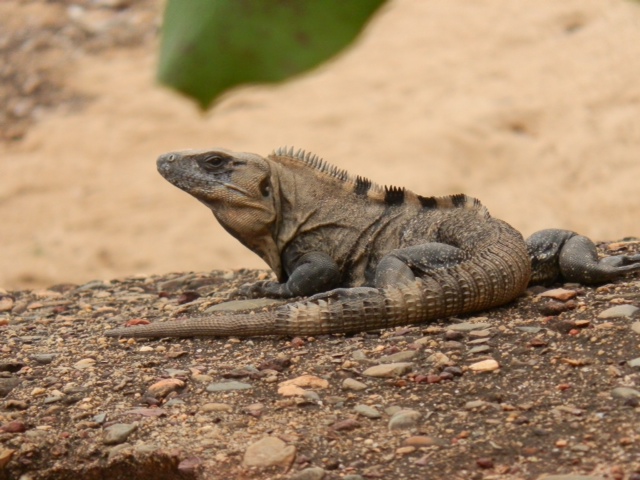 This adorable little guy stayed put allowing us to take this fine photo.
For us, we'll stay on the move, making new friends, experiencing new cultures, and reveling in the gifts Mother Nature has bestowed on us all to savor each and every day.