In a little while, we'll be heading to Nelspruit once again to collect the results from sealed envelopes to determine if our requests for visa extensions have been approved. Once again, the long and arduous drive is ahead of us. Knowing we had to leave early this morning prevented me from getting a good night's sleep. I didn't nod off until 2:00 am, awakening at 5:15.
I'm feeling raggedy today and will be happy to return to Marloth Park by noon with, hopefully, good news. So far, there's no word on our April 8 cruise canceling. In a few more weeks, we'll book our flight to Florida and begin thinking about sorting our stuff and starting to pack. We've been here almost 13 months. We were away for less than six weeks during that period, once to the US for a month to get vaccinated and another time to Zambia, getting new visa stamps in the process.
During these 13 months, on one occasion, President Cyril Ramaphosa extended foreign national's visas for 90 days due to the pandemic, which certainly helped us. Today, we look forward to good news so we can stay until the end of March. That's not very far away. If all goes well today, we could be leaving here in a little over six weeks.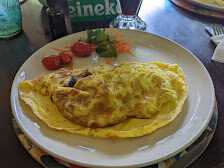 Yesterday was another scorcher with high temps, high humidity, and subsequently, a high dew point. When we returned from Komati, put away all the groceries, and finished and uploaded the post, I was in no mood for cooking dinner. We decided to eat out.
We left the house about 5:15, heading to Bos Restaurant in the Bush Centre. But first, we had to stop at the Field Security Office to get a new battery for the house key fob they provide at the office across the parking lot from Bos. From there we went to Bos. But, after carefully reviewing their menu, I couldn't find anything I could eat. Everything was soaked in sweet sauces.
There wasn't a plain piece of fish or chicken to be had. We had one drink at the bar and left, driving the short distance to Giraffe Restaurant, where I knew they had a decent grilled chicken salad. Tom ordered the chicken schnitzel with chips (fries). The meal was good, the service excellent, and the ambiance was pleasant.
Although doors are always wide open at restaurants in Marloth Park, they keep their air-con on in hot weather, which seems to keep the establishment relatively comfortable on sweltering days and night. We ran into some people we knew, chatted for a bit, and then sat at a table and enjoyed our meal.
We are now back from Nelspruit. Our visa extensions were approved, giving us until April 30 to leave the country. We aren't surprised it worked out this way. Had it not been for Omicron terrifying the world, we'd be in Florida today at Karen and Rich's wedding. It was disappointing to have to change our plans. But now, we're OK with the new plan, as much as we'd have preferred to be at their wedding.
Tonight will surely be a fun night at Jabula with eight of us for dinner at a big table on the veranda. It will be wonderful to catch up with old friends we haven't seen since 2019.
I am wrapping it up a little short today. Although now much of a napper, I think a quick nap is on the agenda today. With the detour of my walking goals due to this morning's trip to Nelspruit, I will still try to walk as much as possible before we leave for dinner later today.
Have a pleasant weekend!
Photo from one year ago today, February 11, 2021