When the WiFi is out in the house/area, the only way we can post is using the Google Fi data on my phone or using the phone as a hotspot to connect my laptop. In both cases, the cost is high, making posting for the day too costly when I'd be using data during the several hours necessary to complete the day's story.
Miracle of all miracles, the WiFi was restored a few hours later, and now we can post as usual. As we've mentioned many times, "This is Africa," and the infrastructure is unstable and unpredictable. It's a factor that everyone who lives here must accept as a fact of life.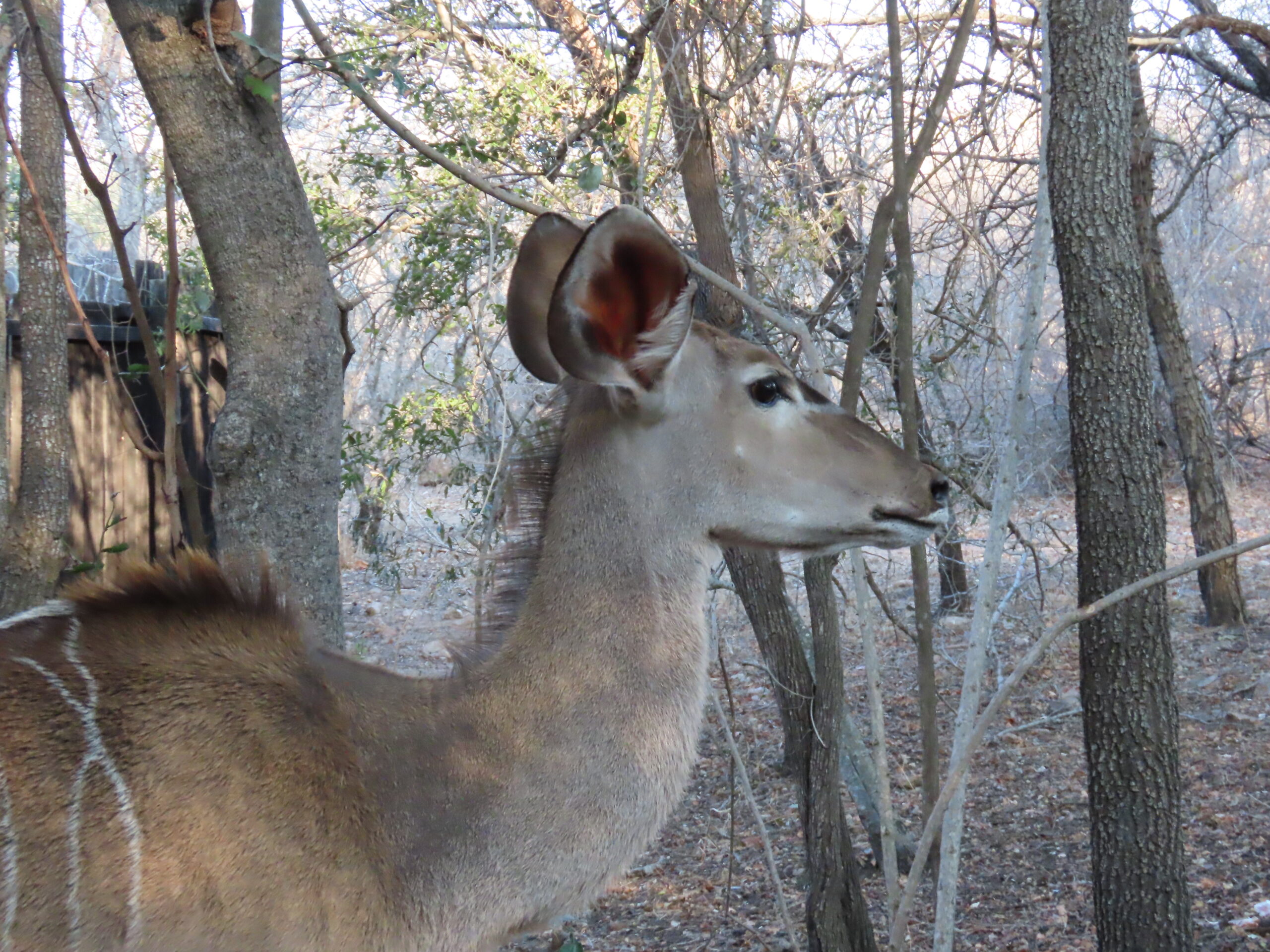 So, now that we're able to post today, we're pleased to be able to post photos from yesterday's enjoyable party at Frikkee's Dam, located inside Lionspruit, located within the borders of Marloth Park. We hadn't been to Frikkee's Dam since we arrived here in January but had during our past visits several occasions.
It's a private gathering of a group of us that have attended over the years. Everyone brings food to share, potluck-style. We made our usual Brunch Eggs that were a big hit, with only a small amount left to get home. Since it had sat out all day, we decided not to eat the leftovers but instead feed them to the mongoose, who are carnivores, and the meat, egg, and cheese dish was a treat for them this morning.
It was funny when Tom tossed out bite-sized pieces this morning, when Peter, Paul, and Mary competed with the mongoose for the leftovers. Generally, pigs only eat vegetation. But, on occasion, they show interest in bones and certain types of meat. There was bacon in the Brunch Eggs. We wondered how they enjoyed eating bacon, pigs that they are!
The time spent from 11;30 am until 5:30 pm when we finally packed up our stuff and left, was delightful every moment. The conversations were interesting and varied, and it was easy to join into any robust chatter at any point. It was fun to see people we hadn't seen since the last time we attended a gathering at Frikkee's Dam, back in 2018.
It was interesting to hear varying views of Covid-19 and the vaccine. Some in our group didn't believe the vaccine was safe, and it was fascinating to listen to their viewpoint. Most of the attendees were already vaccinated, but a few were not due to age or preference. But the conversation was always civilized and considerate, accepting one another's opinions.
The Friskkee's Dam braai area had been renovated in the past few years, providing a cleaner, more friendly space for a braai. We all enjoyed the new setting, which was easier to walk about with less awful tree roots causing tripping hazards in the past. Plus, the fence was lowered, and it was easier to see wildlife drinking from the lake while we stayed safely behind the fence.,
Back at our house (since we'd eaten very little at the event), we cooked a light meal of a few hamburgers (no buns) topped with cheddar cheese along with a small salad for me. We streamed a few episodes of a good show we've been watching on Hulu, Big Sky, finishing up season one's episodes. Season two will begin in the latter part of September.
It was a busy morning in the garden. We were swamped, tending to the needs of our visitors. We had eight bushbucks, seven kudus, two duikers, 20+ mongooses, and as Tom said, a _ _ _ _ load of pigs. Of course, Frank and The Misses stopped by a few times, with the four Go-Away birds carrying on noisily in the background. Little was often seen hovering nearby, partaking in any morsels he could garner in the process.
Rita and Gerhard have returned from their road trip to the Drakensburg Mountains, and today at 1530 hours, 3:30 pm, they will pick us up to head to Buckler's Africa Lodge to watch the sunset, the Crocodile River for wildlife sightings, all followed up by dinner on their veranda. It will be excellent to see them again after almost two weeks since they left.
Have a lovely day!
Photo from one year ago today, August 30, 2020:
One year ago, this photo was posted in lockdown in Mumbai, India, on day #159. This was the shortest (height) car either of us has ever seen, spotted in youth Kensington, England, in 2014. I can only imagine that getting out of it would require rolling out the door onto the street and then standing up. For more, please click here.