This rock formation connotes where the Pacific and Atlantic Oceans meet at Cape Horn.
"Sightings from the Veranda while Cruising"
Evening photo last night. The sun didn't fully set until almost 11:00 pm.
It was only around 6:00 am that we were situated in Cafe al Bacio. The ship is humming with announcements over the loudspeaker, with the passengers' enthusiasm palpable as we sail from the Pacific Ocean to the Atlantic Ocean via Cape Horn, South America.
Tom said he was nearly blown away by high winds when he took this photo early this morning as we approached Cape Horn.
It's hard to believe we are currently in Cape Horn that explorers discovered long ago, uninhabited weather-dominated acclaimed "end of the world," known as the last visible landmass, before reaching Antarctica.
Rock formations at Cape Horn.
This is of particular interest to us based on the fact that we'll be heading to Antarctica in a mere 38 days. Taking this specific cruise before the upcoming cruise has proven highly beneficial to our understanding and appreciation for this remote part of the world.
Here is a map of this area from this site: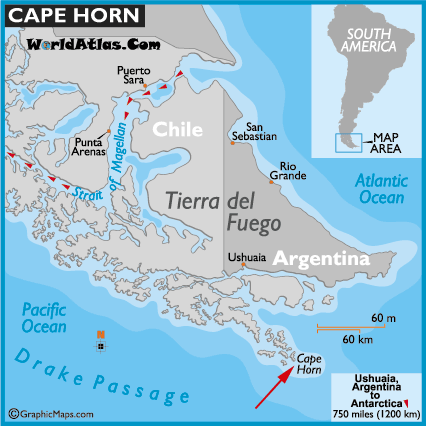 Map of the most southerly tip of South America, Cape Horn, where we're currently sailing.
 From this site, more on Cape Horn:
"Cape Horn (Spanish: Cabo de Hornos) is the southernmost headland of the Tierra del Fuego archipelago of southern Chile and is located on the small Hornos Island. Although not the most southerly point of South America (which are the Diego Ramírez Islands), Cape Horn marks the northern boundary of the Drake Passage and marks where the Atlantic and Pacific Oceans meet.
Cape Horn was discovered and first rounded by the Dutchman Willem Schouten, who named it Kaap Hoorn after the city of Hoorn in the Netherlands. For decades, Cape Horn was a significant milestone on the clipper route, by which sailing ships carried trade around the world. The waters around Cape Horn are particularly hazardous, owing to strong winds, large waves, strong currents, and icebergs; these dangers have made it notorious as a sailors' graveyard.
Sailing around the Horn is widely regarded as one of the significant challenges in yachting. The need for ships to round Cape Horn was significantly reduced by the opening of the Panama Canal in 1914. Thus a few recreational sailors continue to sail this route, sometimes as part of a circumnavigation of the globe. Almost all of these choose routes through the channels to the north of the Cape. (Many take a detour through the islands and anchor to wait for fair weather to visit Horn Island or sail around it to replicate a rounding of this historic point). Several major ocean yacht races, notably the Volvo Ocean Race, the VELUX 5 Oceans, and the Vendée Globe, sail around the world via the Horn. Speed records for round-the-world sailing are recognized for following this route.
Many rock formations are named, but with the slow Wi-Fi right now, we're unable to do much research.
Cape Horn is located on Isla Hornos in the Hermite Islands group, at the southern end of the Tierra del Fuego archipelago.  It marks the north edge of the Drake Passage, the strait between South America and Antarctica. It is located in Cabo de Hornos National Park.
Cape Horn is the southern limit of the range of the Magellanic penguin. The cape lies within Chilean territorial waters, and the Chilean Navy maintains a station on Hoorn Island, consisting of a residence, utility building, chapel, and lighthouse.  A short distance from the central station is a memorial, including a large sculpture made by Chilean sculptor
José Balcells
 featuring the silhouette of an 
albatross
, in remembrance of the sailors who died while attempting to "round the Horn." It was erected in 1992 through the initiative of the Chilean Section of the Cape Horn Captains Brotherhood.[ The terrain is entirely treeless, although quite lush owing to frequent precipitation.
Two 
lighthouses
are located near or in Cape Horn. The one located in the Chilean Navy Station is the more accessible and visited and is commonly referred to as the Cape Horn lighthouse. However, the Chilean Navy station, including the lighthouse (
ARLS
 CHI-030, 

55°57′48.5″S

 

67°13′14.2″W

) and the memorial, are not located on Cape Horn (which is difficult to access either by land or sea), but on another land point about one-mile east-northeast.
Views of Cape Horn from the ship's bow.
On Cape Horn proper is a smaller 4-meter (13-foot) fiberglass light tower, with a focal plane of 40 meters (130 feet) and a range of about 21 kilometers (13 miles). This is the authentic Cape Horn lighthouse (ARLS CHI-006, 

55°58′38.3″S

 

67°15′45.5″W

), and as such the world's southernmost traditional lighthouse.  A few minor aids to navigation are located farther south, including one in the Diego Ramírez Islands and several in Antarctica.
The climate in the region is generally cool, owing to the southern latitude. There are no weather stations in the islands, including Cape Horn, but a study in 1882–1883 found an annual rainfall of 1,357 millimeters (53.4 inches), with an average annual temperature of 5.2 °C (41.4 °F). Winds were reported to average 30 kilometers per hour (8.33 m/s; 18.64 mph), (5
Bf
), with squalls of over 100 kilometers per hour (27.78 m/s; 62.14 mph), (10 Bf) occurring in all seasons.
There are 278 days of rainfall (70 days snow) and 2,000 millimeters (79 inches) of annual rainfall.
Cloud coverage is generally extensive, with averages from 5.2 eighths in May and July to 6.4 eighths in December and January.  Precipitation is high throughout the year: the weather station on the nearby Diego Ramirez Islands, 109 kilometers (68 mi) south-west in the Drake Passage, shows the greatest rainfall in March, averaging 137.4 millimeters (5.41 in); while October, which has the least rainfall, still averages 93.7 millimeters (3.69 in). Wind conditions are generally severe, particularly in winter. In summer, the wind at Cape Horn is gale force up to 5% of the time, with generally good visibility; however, in winter, gale-force winds occur up to 30% of the time, often with poor visibility.
Ship in the area heading further south to Antarctica.
Many stories are told of hazardous journeys "around the Horn," most describing fierce storms. Charles Darwin wrote: "One sight of such a coast is enough to make a landsman dream for a week about shipwrecks, peril, and death."
We had planned to post the story of yesterday's visit to Ushuaia but based on today's sailing to Cape Horn. We decided to postpone it until tomorrow, which will be a sea day. We're excited to share the photos from Ushuaia as well.
Cape Horn is not one single spot.  It's a series of islands and rock formations.
Last night, at the Captain's Club party from 5:00 to 7:00 pm, we thoroughly enjoyed the company of another new couple. We continue to enjoy meeting travelers from all over the world on this cruise, especially during the relaxed and easy environment of the Captain's Club.
I took a break from the group at around 6:30. At the same time, management staff from the specialty restaurants stopped by to ask me to meet the chef from two of the specialty restaurants where we'll be dining over the next few days, subsequently preparing stories here with photos of the memorable dining experiences.
Albatross statue at the top of a hill in Cape Horn by Jose Balcells as a memorial to sailors who lost their lives at Cabo de Homes, Cape Horn Chili.
At dinner, we sat at a round table for 10, again meeting more passengers we'd yet to meet. Later, several of us danced at the silent disco party in the area of the solarium pool.  It was cold in that area, and we both had to bundle up to stay warm, even with our rambunctious dancing to the music.
Today, we'll need a nap. We're both a bit sluggish after getting to bed at midnight and arising by 5:00 am. Tomorrow, we'll be back with our fabulous photos of Ushuaia, one of the most exciting towns we've visited during this 30-night cruise, which ends one week from today.
Lighthouse in Cape Horn.  For this Cape Horn lighthouse fable, please click here.
May those of you who celebrate enjoy holiday festivities safely and with much merriment.
  Photo from one year ago today, December 16, 2016:
Fran and Terry hosted our evening ou at a local cafe. During our evening, we met other locals in Penguin Tasmania. For more details, please click here.