There's Tom, happy as a clam as we make our way in a lifeboat 

to the shore of Dubrovnik, Croatia.
Note: To all of our readers visiting our site via a smartphone, please click the "View web version" tab under the word "Home" at the bottom of the page to access the web version enabling you to access all of our archives on the right side of the page. We'll be updating our site in a few months, making these extra steps unnecessary. Thank you. 
Today's photos are from June 14, 2013, while in Dubrovnik, Croatia. See the link here for more details.
When we decided to revise our site about six months ago, we had to plan to begin the process in early May, at which time we'd previously expected to be in Bath, England, for part of the month and then on to Scotland.

Well, as we all know so well, everything changed for us and the world in March when we began the lockdown in Mumbai, India. When May 6th came around when Kate, the developer and I, had previously decided we'd start working on the new site, I let the date come and go.

Croatia is located in Central and Southeast Europe, on the coast of the Adriatic Sea. It borders Hungary to the northeast, Serbia to the east, Bosnia and Herzegovina, Montenegro to the southeast, and Slovenia to the northwest.
But, it stayed on my mind. I couldn't get it out of my mind. Blogger was in the process of making significant changes, our advertiser links were old and stale, and after over eight years of posting, we were due for a new look.
We were hoping by changing our site and the look of our sponsors, we might have an opportunity to increase our revenue sufficiently to cover the costs of maintaining our site. 
This Windstar small cruise ship preparing to dock in Dubrovnik enhanced the view as we made our way into the harbor.
As we've mentioned in the past, we don't continue this site for money-making purposes. However, we'd love to have an opportunity to cover the costs of our annual maintenance better. By improving optimization, readership, and use of our sponsor links, this can be accomplished.

All we ask of our readers is to consider using our links, which don't cost you a penny more than it would if you visited them through their site and to pass on our site to those you know who may enjoy reading our story, whether day by day or on occasion.
The walled city of Dubrovnik.
At the end of May, I contacted Kate, and we began the lengthy process of creating a new version of our site which will be as easy to read as the old site, if not easier. Also, reading it on your smartphone will be a breeze compared to the cumbersome process we've had to date.

I am speculating that by the end of June, our new site will go "live." Our link will be the same, so if you have it bookmarked, you won't need to do anything. If you'd like to receive our posts daily in your email, you'll only need to subscribe as indicated on the new home page. 
One of the features on our new site will be "About Us," a current synopsis of our years of world travel. In the past few days, as requested by Kate as one of my many tasks to aid in this process was to rewrite a more current version of "About Us." Our former such link wasn't defined clearly but now will be so on the new site.
No more than a few feet from the tender, we were greeted 

with the charm 

of this historical city.
I thought today would be a good day to share this update with our readers. Please feel free to share any comments with us. Sorry it's so long, but it has been a long journey, especially with incidents of late.
"June 14, 2020
Traveling the world for eight years and the surprises never end…
Whether it's the sighting of a herd of lions walking along the road in Kruger National Park in South Africa or the breathtaking view of the Taj Mahal in Agra, India, the experiences of our daily lives as world travelers often leaves our mouths agape with the sheer wonder of it all.
Amid all of the spine-tingling adventures, life can dish out some surprises of its own that set our magical years-long journey into a flurry of fear, apprehension, and uncertainty. After visiting all seven continents over the past almost eight years, including Antarctica in 2018, our lives have been a continuous stream of jaw-dropping experiences leaving us in awe of the world around us.
Many of the narrow streets had stairways leading to more narrow streets.
AYes, from time to time, we stumbled upon obstacles. After embarking on this exquisite journey on October 31, 2012, little, did we know that we'd encounter the challenges that befell us in 2019 and 2020? Yes, from time to time somehow, with our fast-growing experience and determined resiliency, we figured it all out, whether a booking error precipitated by our own doing or a situation over which we had no control, as a solid husband and wife team, we relied upon our resources and one another to find a solution, overall maintaining a high level of confidence, always with a sense of humor,  that in the end "everything would work out."
And, in every case, it did work out. The most devastating of them all was when at the end of January 2019, during a routine visit to the local doctor in Komatipoort, South Africa, to refill a few prescriptions before heading to Kenya, it was discovered I had a previously undiagnosed cardiovascular disease resulting in three of my four coronary arteries being 100% blocked.
It was determined that emergency open-heart surgery was my only option when stents were impossible after having an angiogram at the small hospital in Nelspruit, South Africa, an hour drive from our rented holiday home in the bush, in Marloth Park, a wildlife conservancy. 
Could it be more enticing?
We were terrified. How could this happen? I'd exercised all of my life, was slim and fit and had always maintained a healthy diet. Our lives, save for an occasional stressful travel day, were relatively stress-free. My dreadful situation was beyond my control. It was hereditary.
Several convoluted experiences transpired over many months, making a recovery after the February 12, 2019 surgery seemingly never-ending. After four times in the operating room, nine days in intensive care, three weeks in the hospital, and the resulting infections in both my legs from where the grafts were taken, requiring two more surgeries and a second hospital stay, it felt like our travel days were over.
Surprisingly, through it all, while my husband Tom, who became the most devoted and patient caregiver one could imagine, we never once discussed quitting our world journey. After three months of my attempting to recover, twe carried on, leaving South Africa o travel to Ireland, which was on our itinerary at that juncture. We rented a car and drove for 3 ½ hours to Connemara to a gorgeous seaside holiday home where recovery was far into the future. As I continued to struggle, we avoided what appeared to be the inevitable conversation, one ultimately we never had.
After three months in Ireland, we embarked upon a 12-night cruise from Amsterdam, which included hours of walking tours in St. Petersburg. I could barely walk. I didn't complain. We continued. Tom was always supportive, and we held back when necessary.
From there we spent two months in England and Wales staying in four locations. Finally, I began to sense recovery was on the horizon. Still, we never discussed ending our journey. On October 24, 2019, we sailed from Southampton, England, to the US for a two-month visit with family.
This parrot was sitting atop a woman's head.
On January 29, 2020, we traveled for over 30 hours (with layovers) from Phoenix, Arizona, to Mumbai, India. I was feeling great. We made it through, are excited about the future, and hope to continue our years-long journey.
On February 2, 2020, we began an extraordinary one week journey on the world-renowned Maharajas Express Train from Mumbai to Delhi, after which we began a 55-night private tour of the country of India. What a glorious experience!
We were scheduled to sail out of Mumbai on April 3, 2020, on a 29-night cruise on the Viking Sun to Greenwich, England. During the tour, we stayed on top of the worldwide news of Covid-19, continually aware of the rampant infections in China and Italy and other parts of the world, also on cruise ships.
It was March 10, 2020. We were notified the cruise was canceled. It was at that point. We decided to end the 55-night tour with over three weeks remaining. We needed to get back to Mumbai, close to the airport, to determine what we'd do from there.
Twice, we stopped for beverages, once by ourselves and a 
second time when joining 
our new friends, Nicole and Gerry.
WAfter considerable discussion, we decided to fly to our favorite place to hunker down until the virus ran its course. We finally made it to Mumbai with a flurry of activity; a flight from Madurai, India, to Mumbai, canceled and rescheduled.
Immediately, after arriving at the hotel in Mumbai where we'd stay the first few days when we'd reached at the end of January, we booked a flight to South Africa, via Kenya and a house in the bush with the help dear friend Louise. We repacked our bags to comply with baggage restrictions.

On March 20th, we arrived at Mumbai's Chhatrapati Shivaji International Airport at 3:30 am, in preparation to board the first leg of the long journey to South Africa. After hours in the queue at the airport and waiting for almost an hour at the check-in desk, we were turned away.
We could not travel to South Africa. They were and still are rejecting all foreign nationals from entering the country. With our luggage in tow and a dreadful taxi ride back to the hotel (the driver was lost), we checked back in with a plan to figure something out. The Mumbai airport was closing in 36 hours. No international flights.
One may ask, why didn't we return to the US at that point? For several reasons, one, Covid-19 was rapidly escalating in the US, and I'm at high risk: asthma, heart disease, and age. The thought of making our way through multiple airports was terrifying at this point. Secondly, our international health insurance only covers us while "outside the US." Thirdly, we have no home in the US. We had no choice but to "wait it out" in a safe hotel in Mumbai.
Another view of the square as we worked our way back to the lifeboat.
After four nights passed, the hotel informed us they were closing and sent us on a wild goose chase to another hotel they confirmed had booked us. Once we arrived, we were told we hadn't been booked into the hotel, and most hotels other than a few were closing by the hour. In essence, we had nowhere to go.
We checked holiday homes online, but owners weren't interested in renting to foreign nationals, especially US citizens, rapidly climbing cases. Most hotels in the city were closed. Taxis and tuk-tuks weren't allowed to operate. Need I say, we were apprehensive.

We were offered a room at a government-arranged hotel, but all the patrons were suspected Covid-19 cases on a 14-day quarantine. We passed.
The architecture continued to be impressive.
With the kind help from the hotel manager at The Orchid Hotel, which was closing and not accepting bookings, he found us the beautiful Mumbai Courtyard by Marriott hotel that would take us but under the condition that they too could close at any time and leave us stranded.
That is where we waited in lockdown for many months in a comfortable air-conditioned hotel room with excellent WiFi, kindly supportive staff, food supplies rapidly dwindling,  and the constant concern that they too will close with only 20 rooms occupied by guests such as us, out of 334 rooms.

We lived day by day, hoping the hotel would remain open, hoping eventually the virus would pass, the airports will open. We'll be on our way to South Africa, which at this juncture won't allow any foreign nationals to fly into their country until perhaps as late as 2021.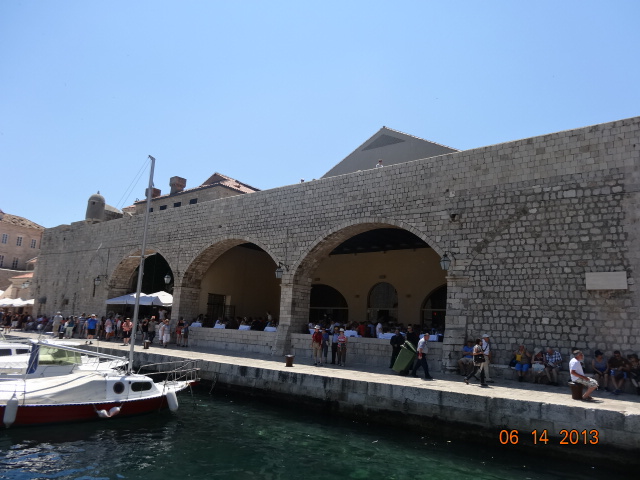 At the pier, as we were boarding the lifeboat for our return to the ship.
Can we wait it out? Only time will tell. In the interim, we draw upon our emotional reserves, our dedication to one another, and our passion for continuing to see us through yet another challenging time in our journey. We can do this. And yes, we'll carry on…
For details of our almost 8-year journey, please find us here:
Thank you, dear readers, for getting through this long story you've read in one way or another, over and over throughout the years.
May your day be filled with peace, safety, and comfort as we all make our way through these challenging times.
Photo from one year ago today, June 14, 2019:
Fishermen in Connemara, Ireland, heading out to collect salmon cages. For more photos, please click here.