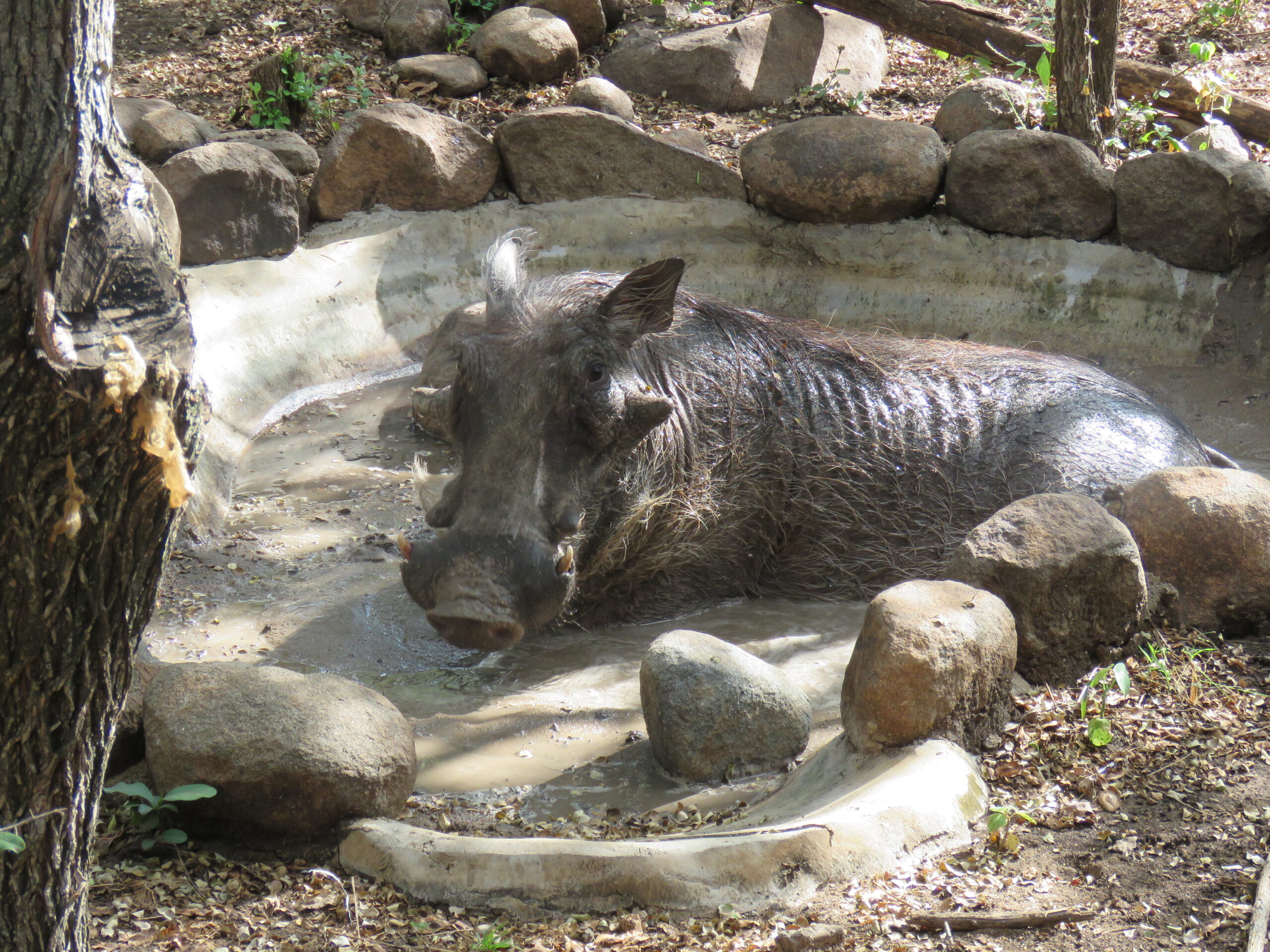 Here's our new video of "Pig in the Pond": https://www.youtube.com/watch?v=yw4uSqCK_1o
Just when we think we don't have enough photos to share here, something unique happens in the bush, and once again, we're in business, ready to post a new story with accompanying photos. If we wait patiently, it will happen. Late yesterday afternoon was no exception.
OK, I get it. You may be tired of hearing about warthogs and their hysterical antics. But, the reality remains…we see more warthogs at this particular house in the bush than we'd seen in past houses in 2013/2014, 2018/2019. Undoubtedly, we've embraced this fact and named most of the pigs, many due to their physical characteristics or peculiar behavior.
Today, we introduce you to I.B., short for "Itchy Butt." We've never seen anything like it. Yes, we've had a Pig in the Pond in 2018/2019, when Little, whom we seldom see now, since Tiny, has become "King of the Garden" entered the pond, and we wrote a story about him, entitled, "Pig in the Pond, Pig on the Porch, Pig in the Parlor. See that post here.
Little not only entered the pond, but he also came up the seven slippery steps to the veranda (the porch) and entered the living room (thus, the parlor). We continue to laugh over that story even a few years later. And now, this new pig, who arrived late yesterday afternoon with a severe itch, spent considerable time in our cement pond.
During the first few months since we arrived in Marloth Park in 2021, it rained non-stop for days and days, leaving mosquitoes breeding in every pool of water, including cement ponds. The cement pond outside our bedroom window was filled with vegetation, creating an ideal breeding ground for mosquitoes.
Moses, an employee of Louise and Danie, stopped by one day and emptied the pond's vegetation and water, filling it with sand. Well, it continued to rain and the cement pond filled with water once again. No doubt, more mosquitoes are breeding in the pond, although the small amount of water continues to evaporate during the past dry weeks.
Yesterday afternoon, as we lounged on the veranda, watching various animals stop by, including bushbucks, kudus, Frank and The Misses, and of course, numerous warthogs. I'd stepped inside to put away the laundry when I heard Tom yell out to me, "Get the camera! Pig in the pond!"
And there was I.B., rolling around in the mud and remaining water in the cement pond, mainly attempting to scratch his itchy hindquarters. He was on a mission, scratching against the boulders lining the pond, using the sand at the bottom to scratch. During one hour, he entered the pond three times, exhibiting the same behavior on each occasion. Later, when he exited the pond, he practically visited every surface in the garden to help him get a good scratch.
Of course, we felt sorry for him. There was nothing we could do to help him. After all, this is nature. When warthogs have medical issues, the rangers don't attend to them. There are many warthogs in Marloth Park, and their healthy and sturdy constitutions prevent the park from providing medical care for them. They usually recover from most injuries and illnesses on their own. It's a rare occasion that a carcass of a warthog is discovered in the bush.
If they have life-threatening injuries or illnesses, typically, they are found and euthanized and delivered to Lionspruit for Dezi and Fluffy's next meal. Marloth Park residents are good at informing the rangers when such serious situations occur. But, an itchy butt is not necessarily a life-threatening situation. After we'd taken photos of his bloody behind, it looked so much better when he returned this morning. We were relieved to see the improvement.
It's a fantastic experience to watch wildlife all day and evening, learning their behavior, nuances, and special needs. Observing the behavior of wildlife is a rare opportunity and experience. Watching wildlife in zoos doesn't provide such an opportunity. It's only a feature of being in the wild among them, watching them and interacting with them, day after day. For this, we are humbled and grateful.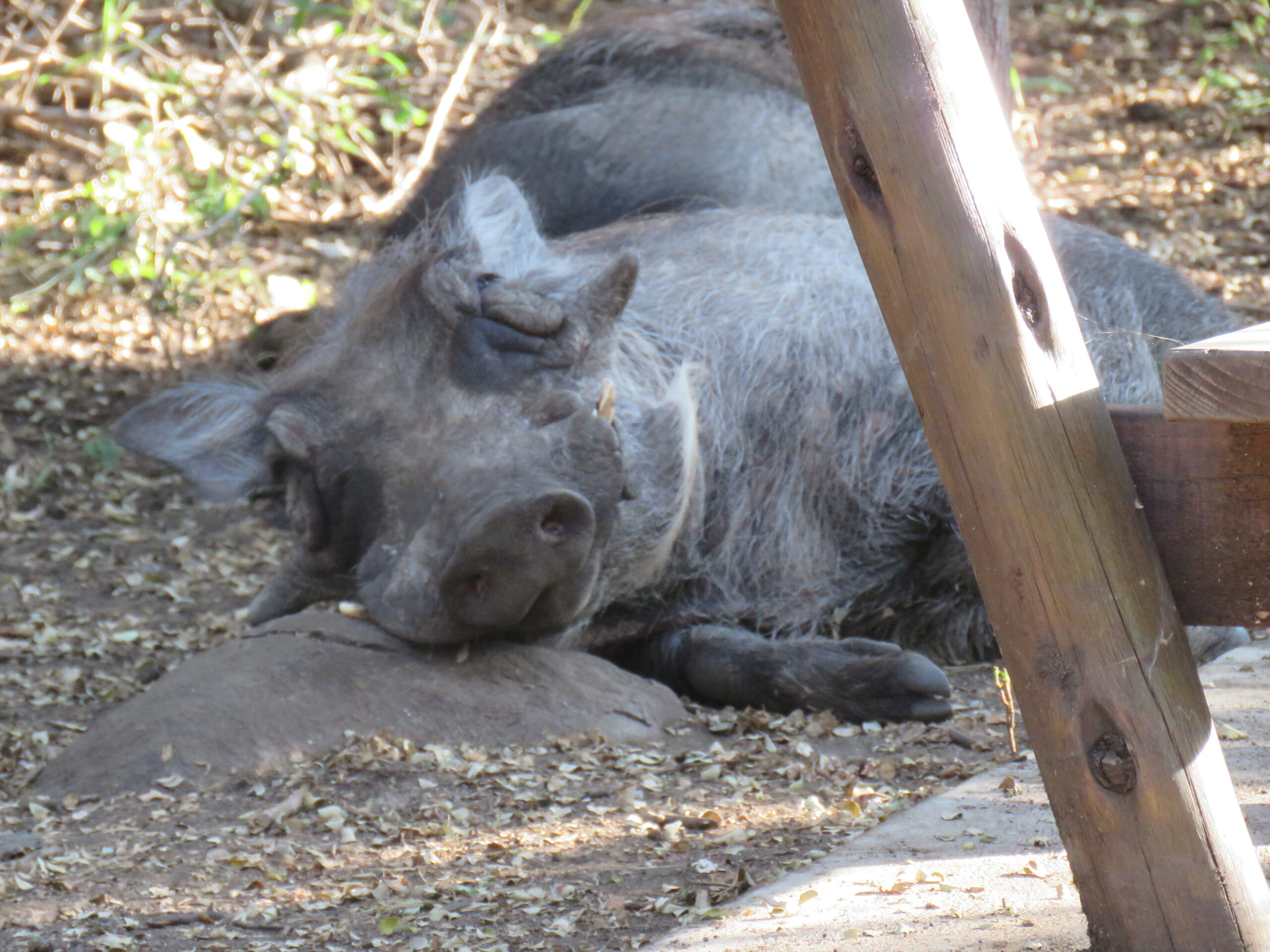 Be well.
Photo from one year ago today, April 6, 2020:
Beautiful orchid we spotted in our travels from this post. For the year-ago post, please click here.