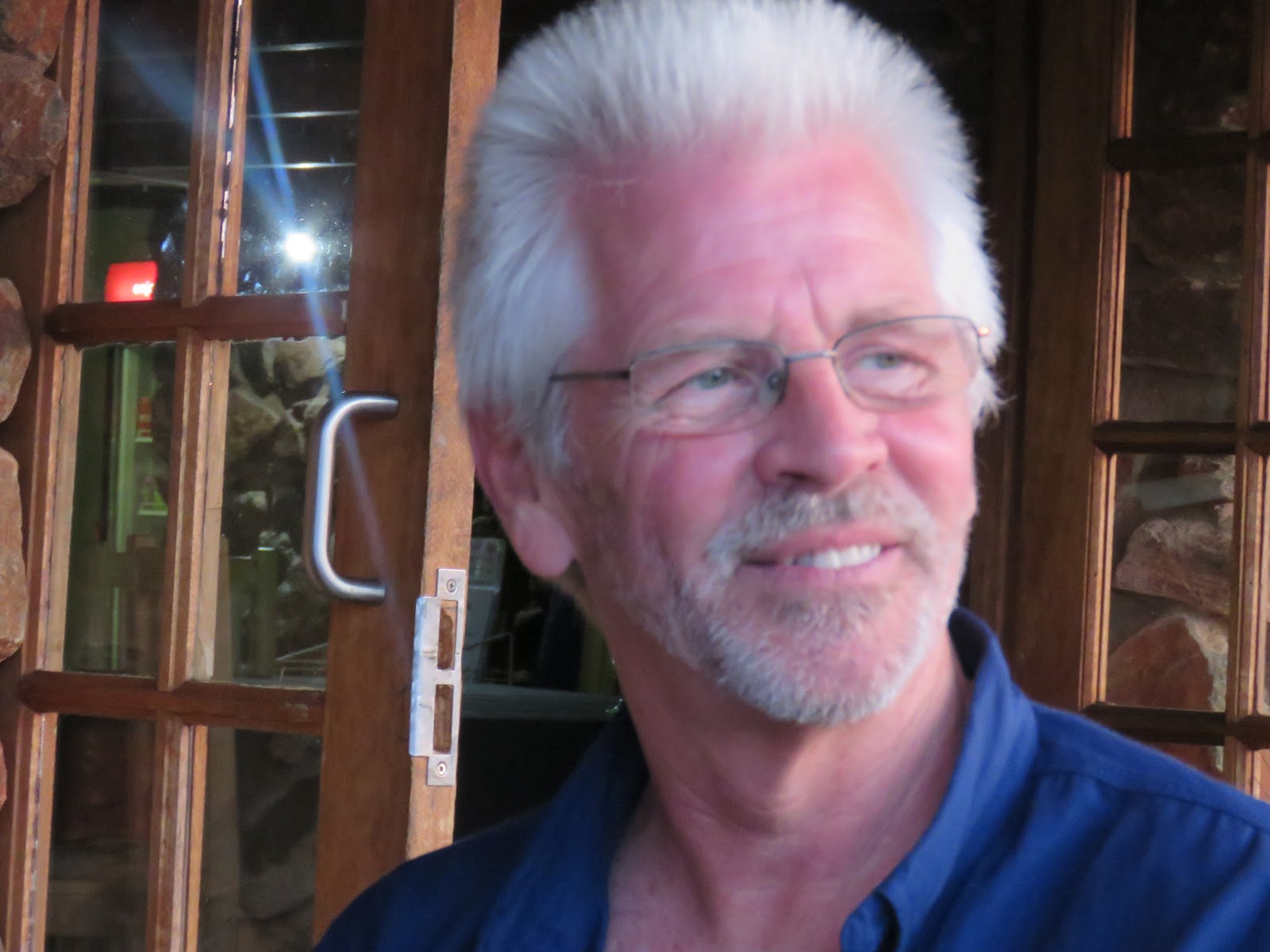 In this photo, taken at Aamazing River View on Saturday night with friends, I cut off the top of his "tall" fluffy hair, but I like this photo of my guy, Tom.
"Sighting of the Day in the Bush"
Zebras in the garden, including a pregnant mare.  
Today's post is going to be short and to the point. It's very late in the afternoon as I type at this moment. We always put our laptops away for the evening while enjoying the wildlife in the garden and dinner on the veranda. Doing a post at night has been a rare occurrence.

Neither of us using any digital equipment until later in the evening when we may watch one episode of a favorite series on my laptop or play with our phones when we go to bed, reading and playing mindless games.
Today's lion photos were taken at a considerable distance from the fence between Marloth Park and Kruger. Excuse the lack of clarity, please.
This morning shortly after I awakened, while Tom watched last night's Minnesota Vikings football game, streaming on NFL GamePass, the power went out. This is not unusual in Marloth Park, but generally, it comes back on before dark.

When the power goes out, the Wi-Fi also goes out, and there is no way for me to do the post. I have an offline app I can use, but my almost-four-year-old laptop's battery won't last more than 90 minutes without being recharged.
A mom and her playful cub.
If I used all my battery power, we'd be left in total darkness when we come inside from the veranda where we may have spent the evening in the dark with no lights to see the wildlife and no lights to accompany our meal, let alone the need to prepare our dinner without power.

We save my laptop's battery for that one show we may watch at 2200 hrs (10:00 pm) before we'd go to sleep. On top of that concern is that today, still spring, not summer, the temperature has been 40C (102F). Not having aircon by bedtime could result in a highly uncomfortable night.
Two lovely females.
So, instead of sitting around, frustrated and bored in the awful heat, we jumped into the new not-so-little red car (with excellent aircon) and headed to Kruger. One expects that on such hot days, the wildlife would stay undercover and many do.

But today was exceptional, and we had many excellent sightings we'll share in tomorrow's post. This time, we didn't stop at the Mugg & Bean in Lower Sabie for breakfast since I had to eat something before I took the required six Prednisone tablets before 9:00 am for my outrageous case of pepper tick bites.
Her cub was suckling.
Luckily, the tablets are working, and the situation is resolving nicely. However, I'm plagued with the awful side effect of insomnia. The first night I took one of the Ambien prescribed by Doc Theo to help me sleep at night during the 12 day-course of medication.

But after reading about the dangers of this mind-altering drug, I decided I would not take another.  Instead, I've had a fitful night's sleep without using any sleep aids of any type as I'm drifting in and out every hour or so. Overall, though, I've had five to six hours of intermittent sleep and feel fine.
Such adorableness for such fierce animals.
This morning I fell back to sleep for an hour which helped tremendously after Tom watched the game. Not out of bed until 8:00 am, the power went out moments after I got up. I showered and dressed in the dark.  

Tom was frustrated being unable to watch the remainder of the game, and I could not do the post. Thus, we decided, as we've done during past power outages, a trip to Kruger was in order.  By 9:00 am, we were on our way, hoping the power would be restored when we returned.
Two females who almost appear to be posing.
It wasn't back on when we walked in the door five hours later. I was concerned about the food in the refrigerator, not so much the chest freezer. Of course, Louise was all over this situation, and the electrician and Wi-Fi guy was here in no time, and now at 1615 hours (4:15 pm), we're back in business…lights, aircon, and Wi-Fi. Thanks to Louise, Jacques (the Wi-Fi guy), and Moses (the electrician) for restoring the power in the house.

(As a footnote, the power was out in Marloth Park, but when it's restored, some properties may need to be attended to to get things back up and running correctly. So was the case here.)
Two females with the persistent cub nipping at mom's leg.
Soon, it's time to prep the veranda for the evening's excitement. Since we returned today, we've had tons of visitors, including Wildebeest Willie, Mom Warthog, Four Tiny Babies, several Ms. Bushbucks and Babies, two Mr. Bushbucks, zillions of helmeted guineafowl, and Mr. and Ms. Duiker.  

They were all here at once shortly after we returned from Kruger. They scattered when the service staff came to help but surely will be here again as soon as we set up the veranda.  This happens every night promptly at 1700 hrs (5:00 pm).  Go figure.

See you tomorrow with new and exciting Kruger photos! The Vikings won. Tom is ecstatic.

Have a fantastic evening!
 Photo from one year ago today, November 26, 2017:
A tour boat under tarps at the marina in the Grand Cayman Islands, a port of call off the ship where we met a couple who'd seen our site and are now also traveling the world. For details and their photo, please click here.